Fashion Trends of 2013
You Decide: What Was the Absolute Best Trend of 2013?
Even if 2013 seemed to fly by, it was a year that managed to fit in a lot of trends — some that we're planning on bringing straight into the New Year, and others that we'd rather forget. Glance over all the big ones here, and then let us know which you'd nominate as your favorite of the year by voting at the bottom.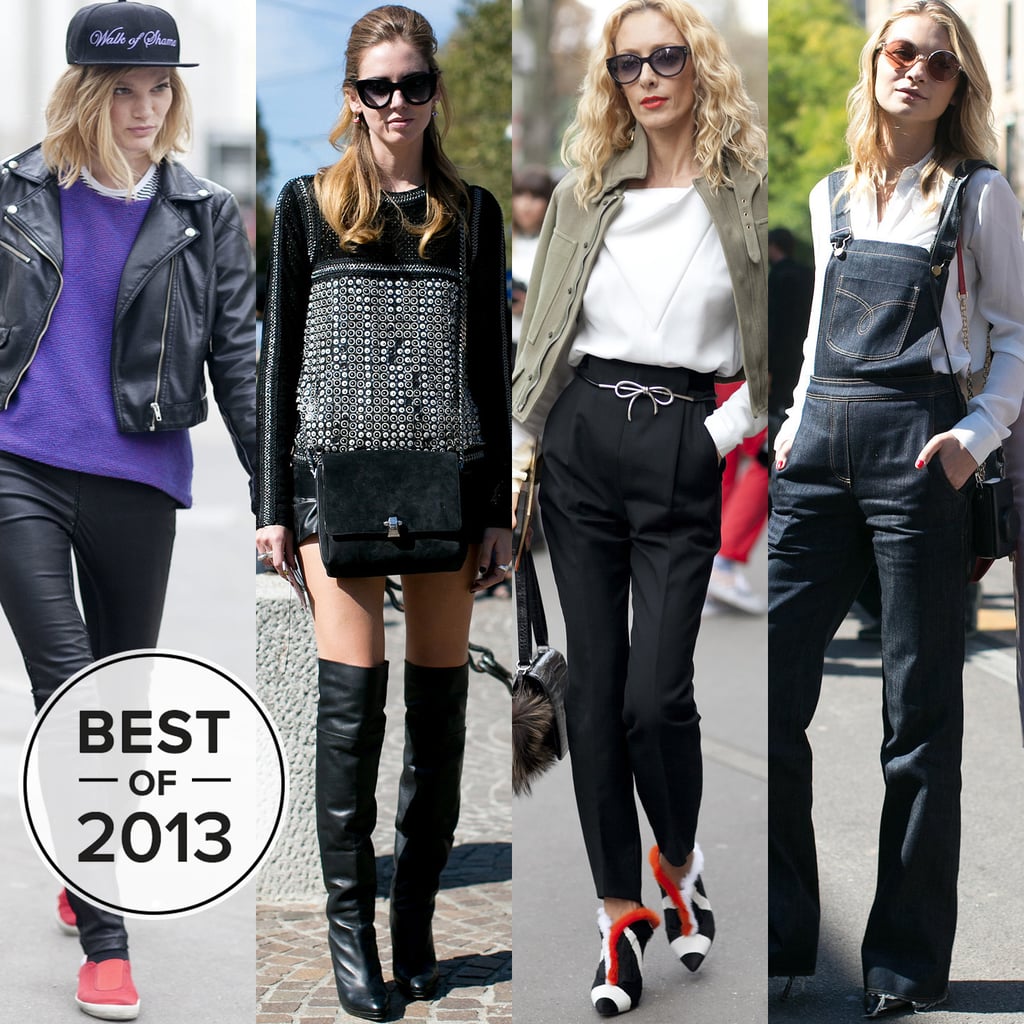 Baseball hats went from the sports field to the runway this year and were spotted mixing up all manners of outfits. Off-duty models added the accessory to their de facto uniform of skinny jeans and worn-in tees, while other ladies dressed theirs up by pairing leather, cashmere, or embellished styles with dresses.
Over-the-knee boots were one of the sexiest items on the year's style report. Heeled or flat, the tall boots were spotted around town with short dresses and then jeans once Fall arrived. Designers responded with a whole host of options, though our hearts really belonged to this 3.1 Phillip Lim pair.
Fur-covered heels, practical or not, made the jump from the catwalk to the sidewalk. The whimsical shoes went from the all-out fuzzy styles initially spotted at Céline to the more manageable pairs Fendi introduced.
Overalls hadn't been a part of our lexicon since the middle school years, and suddenly, they reemerged! It makes sense that in a jean-obsessed world, we'd need to branch out from all the skinnies and try something different.

Mini bags took the designer shapes and silhouettes we were familiar with and shrunk them down. The magic trick provided lighter crossbody styles that could be worn for an entirely different purpose than their big sisters and, happily, also knocked a little bit off the price tag. Minis came from Saint Laurent, Givenchy, and Marc Jacobs, but the name that made the biggest splash was Pashli.
Crop tops were so prominent this year, they might've usurped gowns as the one item we knew we'd spot on a red carpet. Lily Collins showed off a few different versions, but it was Miley Cyrus who was queen of the look.
Parody t-shirts that provided cheeky twists on all manners of designers and brands might've been the most affordable It item we've ever seen, 2013 or not. Brian Lichtenberg really kicked it off, but others were quick to take up the torch. And no one was safe: Miu Miu, Fendi, and Balmain all received the treatment.
Camo left the countryside and went international, a clear fact due to its massive street style presence. It wasn't all casual, either. Designers like Michael Kors and Christopher Kane presented their takes on the print, too.