Let the street-style vets inspire you, let the new Fall goodies entice you — and know that dressing for Fashion Week can be done on any budget. Want to call our bluff? We've happily obliged and put our money behind three similar girl-meets-boy street-style ensembles — all with their own respective price points. One won't cost you more than $150, the other just under $500, and the last, a total splurge that rings in just under $2,000. Whatever your spending limit, we've got you covered.
For $150: The Budget Buyer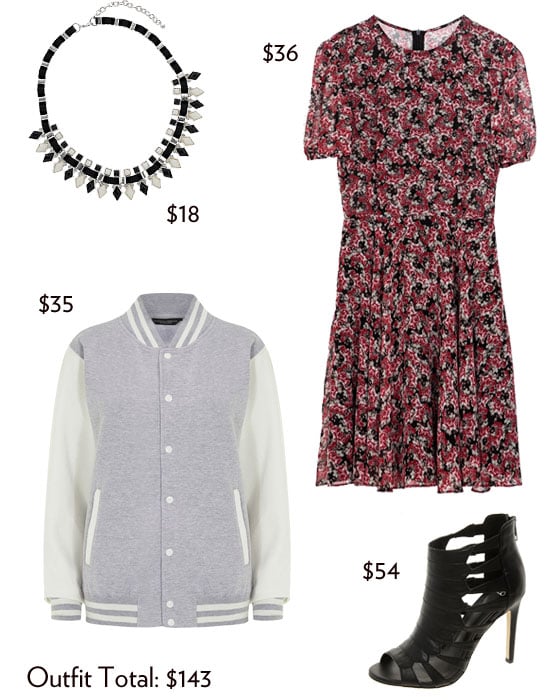 Embrace a little '90s nostalgia with a floral day dress — but don't stop there. Make it statement-worthy with a flashy necklace and cage booties, then top it all off with a sporty kick, via a Fall-essential varsity jacket. Et voila! You've still got enough left over to score a coffee on your way to the tents.
Shop clockwise from top left: Wallis black stone diamond collar ($18, originally 32), Zara floral print dress ($36), ASOS Tribe sandal boots ($54, originally $76), Dorothy Perkins gray varsity jacket ($35, originally $57)
To see what we put together for $500 and for $2,000, keep clicking!
For $500: The Savvy Shopper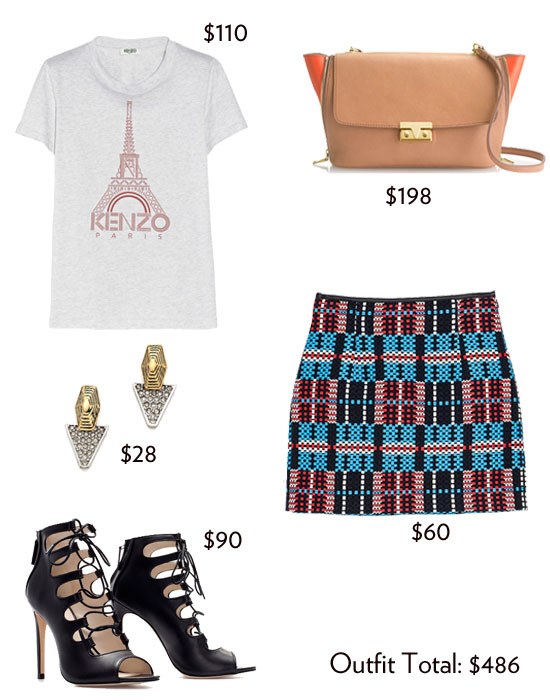 If you're looking to spend a little more, invest in a few great standouts, like Kenzo's covetable tee, a versatile leather bag, and a pair of affordable — but totally jaw-dropping — heels. As for the rest, a printed skirt will make your outfit pop and a great pair of everyday earrings will perk up your look even on Sunday when you're losing steam — and outfit creativity. With money to spare, treat yourself to a post-Fashion Week brunch.
Shop clockwise from top left: Kenzo Eiffel Tower print t-shirt ($110), J.Crew Goodwinn purse ($198), Zara patterned mini skirt ($60), Zara leather lace-up ankle boot shoe ($90), Madewell pave drop earrings ($28)
For $2,000: The Fashion Pro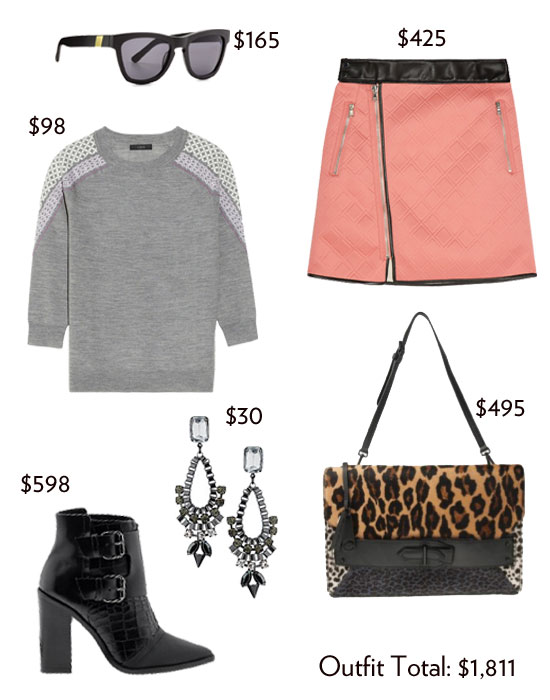 Looking to go all out this Fashion Week? Then arm yourself in straight-from-the-runway 3.1 Phillip Lim, slick Westward Leaning shades, and a pair of perfect Fall boots (that you'll wear all season). We love how the J.Crew knit adds sweetness up top and a leopard-print bag in hand shouts notice me! without having to say anything at all. And, since we've stayed well under the budget, go ahead and get that pre-Fashion Week facial!
Shop clockwise from top left: Westward Leaning No. 2.1 sunglasses ($165), Phillip Lim embossed neoprene-effect jersey skirt ($425), 10 Crosby Derek Lam mixed leopard folio clutch ($495), Tibi Piper ankle boots ($598), Topshop rhinestone drop earrings ($30), J.Crew Tippi embroidered merino sweater ($98)