Fashion Week Street Style Pencil Skirt Trend
The NYFW Style Crowd Takes the Pencil Skirt Beyond the 9-to-5
Pencil skirts may just be the new miniskirts, as evidenced by the crew of street-style pros and celebs taking to the New York Fashion Week scene with a fresh spin on the once-office staple. Truth be told, we used to associate our pencil skirts with the corporate set, the obligatory buy when a "business casual" dress code is enforced. Now we're embracing the more feminine, polished silhouette — which makes juxtapositions with a slouchy tee or edgy leather jacket all the more striking. The proof is all right here — trendsetters and insiders who've traded stem-baring minis for body-conscious, but entirely sophisticated, pencil skirts that they've styled up every which way from the very minimalist to the athletic inspired.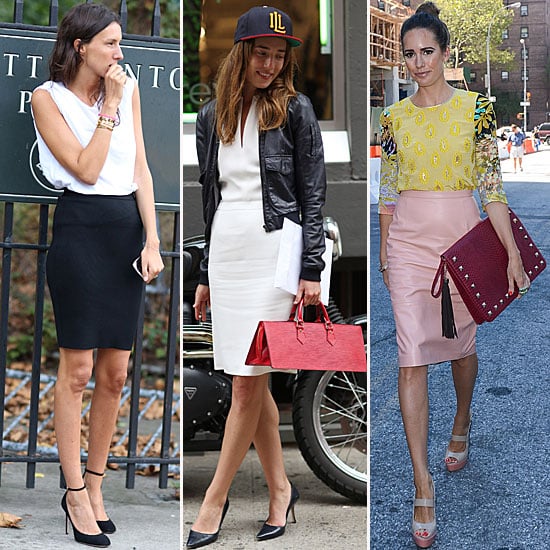 A few of our favorite street stylers' takes on the trend.
Just keep reading for more trendspotting and styling tips to outfit the look on your own.

The celebrity set, like (from left to right) Mandy Moore, Jamie Chung, and Allison Williams also showed off the pencil — working it in rich fabrications and moody leather hues, perfect for Fall. Here's how you can channel the sophisticate-cum-cool ensemble on your own:
Invest in a great, flattering pencil skirt silhouette. This cut works on most body types, but if you're pear shaped, look for ones that hit above the knee rather than cut off your leg line at the calf.
Look to interesting textures, prints, or a leather finish to set your pencil skirt apart from the stereotypical office set.
There are no rules when it comes to topping off a pencil skirt, so there's no need to finish with a blazer or ladylike topper. Play up the contrast between the streamlined bottom and a slouchy sweater for Fall; or add intrigue with a vintage printed t-shirt and a statement necklace.
Lastly, pencil skirts look best with heels, so eek out a pair of pointed-toe pumps or ankle-strap heels to elongate the leg line. Now shop our editors' picks to find the pencil skirt that suits you best!

Source: Greg Kessler, IMAXtree