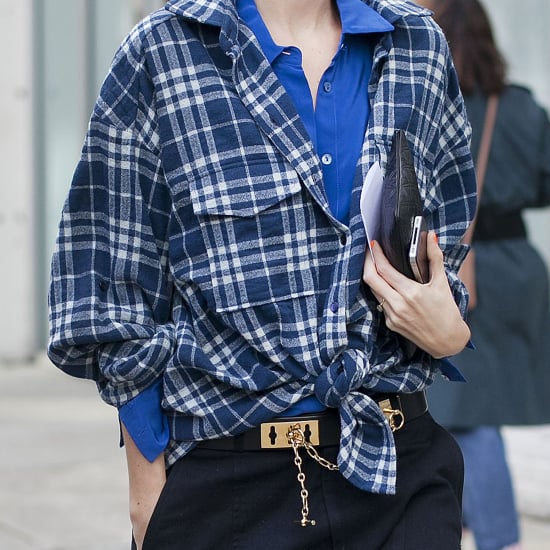 Come Fashion Week, our editors live and die by a few simple rules — for instance, never forget your iPhone charger. Of course, that's not all the wisdom we've inherited on the go. You learn quickly how to survive at the tents — where to change shoes, how to avoid blisters, and where to find a decent cup of coffee in a hurry. Now, we're making one of the most stressful weeks of the year a little easier, one tip at a time. Read on for our editors' simple solutions to making Fashion Week a little more manageable.
Before You Go
Plan your wardrobe: You don't want to be late for a show because you couldn't figure out what to wear with those leopard pants you just bought. Play dress-up before the week starts, so you're prepared with a week of foolproof FW outfits good to go and already hanging in order in your closet.
Break in your shoes: Wear them around the apartment a few days before. Proper break-in protocol includes, but is not limited to, stretching them out by wearing with chunky socks and icing the insides of both heels.
Get a manicure and blowout: They make you feel put-together even when you're sitting across from a front row of seriously styled celebs.
Map out your day: Write out your daily schedule, including all pertinent info (cross streets, publicist contacts, Twitter and Instagram handles).
Connect with friends: Having someone with an office or apartment near the tents can be a godsend. Figure out who they are ahead of time, so you can make arrangements to swing by.
Spend quality time with loved ones (and pets!) pre-FW: Fashion Week leaves little or no time for the other people in your life, so it's good to get in some quality time with them before your life is taken over.
While You're There
Prep for social: Before you walk into any show, arm yourself with the designer's Twitter and Instagram handles, along with any special hashtag, so that your rapid-fire tweeting will not be slowed by having to look up accounts.
Be polite: So many people cop major attitude, and killing with kindness goes much farther.
Get the lay of the land: Stake out the nearest chargers, places to grab a seat, and bathrooms. If you're running around between shows, you'll save some time if you know where you're headed.
Hydrate and snack: Not to sound like your mother, but remember to drink plenty of water and nourish your body with a protein bar at the very least. You don't want to risk feeling faint mid-runway show.
Get some sleep: Don't end up being the girl who's surviving on espresso and hope. Be sure to get as much sleep as you can. You might not get as much done if you're getting shut-eye, but the work you do produce will be much, much better.
Live a little: Above all, remember to stop and have fun, and don't take it too seriously.
In Your Bag
Advil: Top of our list! Always have some on you. Nothing like getting a headache in a show and having nowhere nearby to run to.
Starbucks card: It's the best place near the tents to get caffeinated, a quick marshmallow bar, and some WiFi!
Dry shampoo: When you don't have time to run home and shower, this will give your hair a boost.
Snacks: Carry Kind bars and, of course, mints or gum.
Band-Aids: Consider an assortment, including Band-Aid friction stick, clear waterproof bandages, and cushier blister Band-Aids.
Blotting papers: You can't wash your face, but you can eliminate grease on the go.
Sunglasses: Our secret weapon against tired eyes.
Chargers: Be prepared for your long days at the tents with your iPhone, camera, iPad, and laptop chargers.
Flats: To deal with shoe emergencies or when your feet are just too tired.
Umbrella: You won't want to arrive at your next show soaked.