Fashion Week Survival Tips Fall 2013
The 10 Foolproof Fashion Week Survival Tips We Live (and Style) By
We've come to terms with the fact that for all of Fashion Week's excitement and glamour, it also demands long hours, little to no sleep, and an implicit expectation to look our best even when we're not exactly feeling fresh as a daisy. Not to worry, after seasons of crammed schedules, late nights, and more than one shoe-related mishap, we've certainly worked out many of the secrets of Fashion Week-goer success. With New York's Fall 2013 mayhem kicking off in a matter of days, we're here to share our foolproof survival tips straight from the Lincoln Center-Milk Studios-and everything in between battlefield.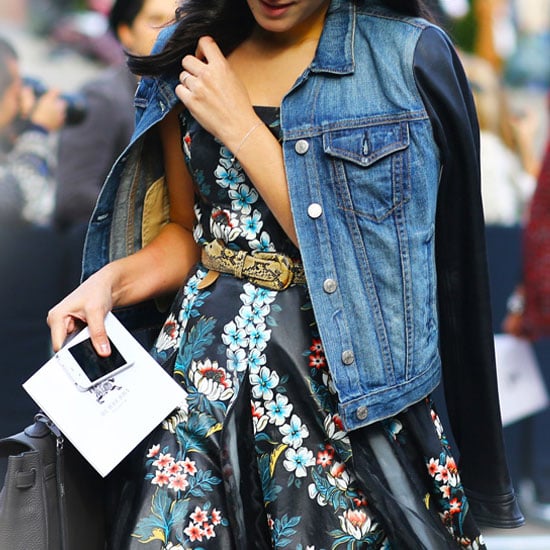 The Fashion-Week Warrior Checklist:
Pre-primp. Believe us, treating yourself to a mani/pedi and fresh haircut (or blowout) will make you feel so much better once Fashion Week kicks off. That said, make an appointment a few days before the madness hits, and might we suggest, gel manicures are the perfect option since there will be no time for touch-ups!
Band-Aids. We cannot stress this enough: Band-Aids are crucial amidst the Fashion Week hustle and bustle. You may love your brand-new Louboutins, but trust us, they may not love you back yet. To avoid the pain and awkward limp-walk that comes with blister territory, tote a travel-sized kit of bandages with you. Luckily, these adhesive saviors are so compact, no one needs to know you're a First-Aid center on heels.
Snack attack. Here's the thing — the whole three-meals a day thing ceases to exist during this heightened time of presentations, runway shows, and afterparties. And, if you're not careful, you'll easily find yourself subsisting on a liquid diet of coffee, champagne, and Perrier, aka it's not sustainable or energy inducing. Make sure you've got snacks at the ready. We're partial to raw almonds and KIND mini bars, which provide us with equal amounts of protein and antioxidants.
Map out your wardrobe. Practice what you preach: organization. In this case, it's worth your while to have the general gist of what you're going to wear each day (and to what events), so you can maximize on sleep time and on getting out the door in the mornings as efficiently as possible. Ideally, you'll have a solid mix of sleek staples (silky blouses, one amazingly tailored black sheath, killer heels, and so on) and an arsenal of statement accents to offset the basics. Whatever your personal style may be, anticipate your energy levels to wane by day five; thus, having an outfit plan set into motion is key.
Let the survival-mode tips keep on coming — after the break.
Gear up. We know it can be a bit more cumbersome, but having a phone charger and camera on standby is handy. First off, your precious do-it-all phone can only stay at full charge for so long, and honestly, we don't even want to think about how we'd keep everything straight without them powered up. So, the charger comes with. Next, as much as we rely on our awesome iPhone cameras to document our surroundings, a camera takes much better pictures, at a higher resolution, and when you really want to capture the details of a great shoe or a dress's standout embellishments, you know a phone camera won't cut it.
Bag minimalism. Be real about your bag-lady situation. It's not feasible to play the one-bag-per-show game unless, well, you're staying at the Empire Hotel across the street from the Lincoln Center. Our stylish solution? Choose a chic handbag option that carries what's necessary, looks great with everything you're wearing, and holds an ample amount of run-of-shows. Then, the only other bag you really need to worry about is your afterparty fare — a cute clutch should suffice.
Mints. Between the countless cups of coffee and tea consumed, we're sure it's time for a breath refresher. Whether you prefer spearmint gum or Altoids mints, it's probably not a bad idea to keep these guys nearby. Plus, you never know when you might secure a last-minute interview with Diane von Furstenberg or a front-row starlet.
Beauty essentials. We're assuming there won't be time to run home and pamper throughout the day, so your safest bet is keeping a quick stash of makeup pick-me-ups. Of course, these items should be minimalist classics: a matte red lipstick, an eye-brightening pencil, and concealer. When you're not reapplying, remember the best way to keep your face fresh is to stay hydrated and get as much sleep and sustenance as possible.
Shoe maintenance. The worst thing you could do to yourself (or one of them) is break out a new pair of heels for a day of running from show to show. Be good to your feet, and wear them around the apartment a few days before. Proper break-in protocol includes, but is not limited to: stretching them out by wearing with chunky socks and icing the insides of both heels.
Keep calm. Yes, it sounds impossible to even fathom the thought of "keeping calm" during fashion week, but there are a few things you can do to lessen your stress level. First, map out your week so you know exactly where you have to be at all times and fill out all of those nitty gritty details in your calendar. Runway show locations, addresses, twitter handles, etc. — the more you know ahead of time, the better, Also, be realistic with yourself; don't RSVP for back-to-back shows or appointments that are clearly across town from one another. Remember how hard it is to catch a cab during fashion week?
Additional reporting by Chi Diem Chau
Source: Phil Oh