Whether you're headed to Burning Man, Coachella [1], Bonnaroo [2], Pitchfork, Afropunk, Glastonbury, Lollapalooza, Outside Lands, or any other popular lineup in the books, the best music festival outfits are the ones that showcase your true personality. While these events take place worldwide, they all celebrate the power of community and togetherness while promoting independence. Everyone can choose which stage they flock to, how many headliners they see, and, of course, their outfits.
This year's festival trends [3] are grounded in the '90s and early aughts, with a touch of whimsy or fantastical elements thanks to influence from "Bridgerton [4]"'s Regencycore [5] and "Euphoria [6]"'s dream-like edge. Whether you're looking for ways to repurpose bodysuits and swimwear [7] with your cutoffs and cowboy boots or seeking bohemian inspiration for your free-flowing maxis, fringe, crochet, or fedoras, there are many different ideas to see and shop.
Ahead, find a breakdown of each festival's signature aesthetic, scope out some festival must haves, and scroll through the latest street style from recent festivities to consider ways you can reuse pieces you already own. You'll be surprised what new combinations come to light when you add some tinted lenses or team two different textures you'd never think to wear simultaneously.

Burning Man Outfits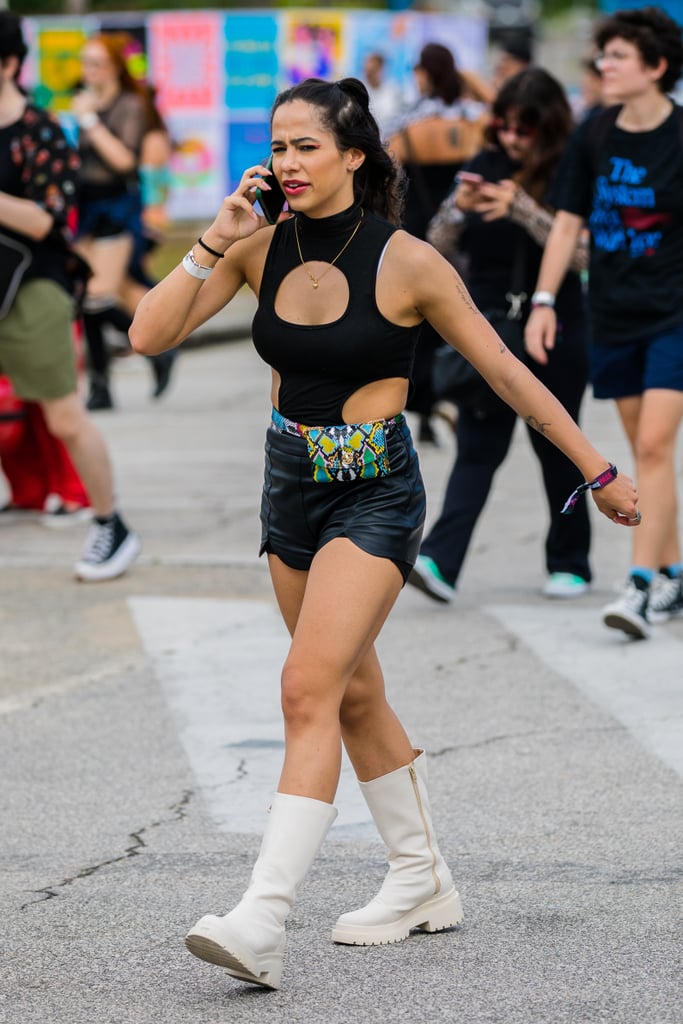 Burning Man is a festival in Black Rock City, a desert in Nevada, dedicated to showcasing community, art, and self-expression. Due to the heat and the fact that everyone is encouraged to participate in the entertainment or creation, lightweight pieces are crucial, as well as a creative, statement-making item or two to help showcase your personality. Consider tough, flat boots for getting around and easy and expressive outfits.
Coachella Outfits
In recent years, Coachella [9] has become more of a spectacle where those who take the stage and those who are there to enjoy the performances like to make a statement. Coachella outfits have veered more toward costume territory, so consider a bold matching set or a pair of statement shoes and plenty of accessories for your time in Palm Springs.
Bonnaroo Outfits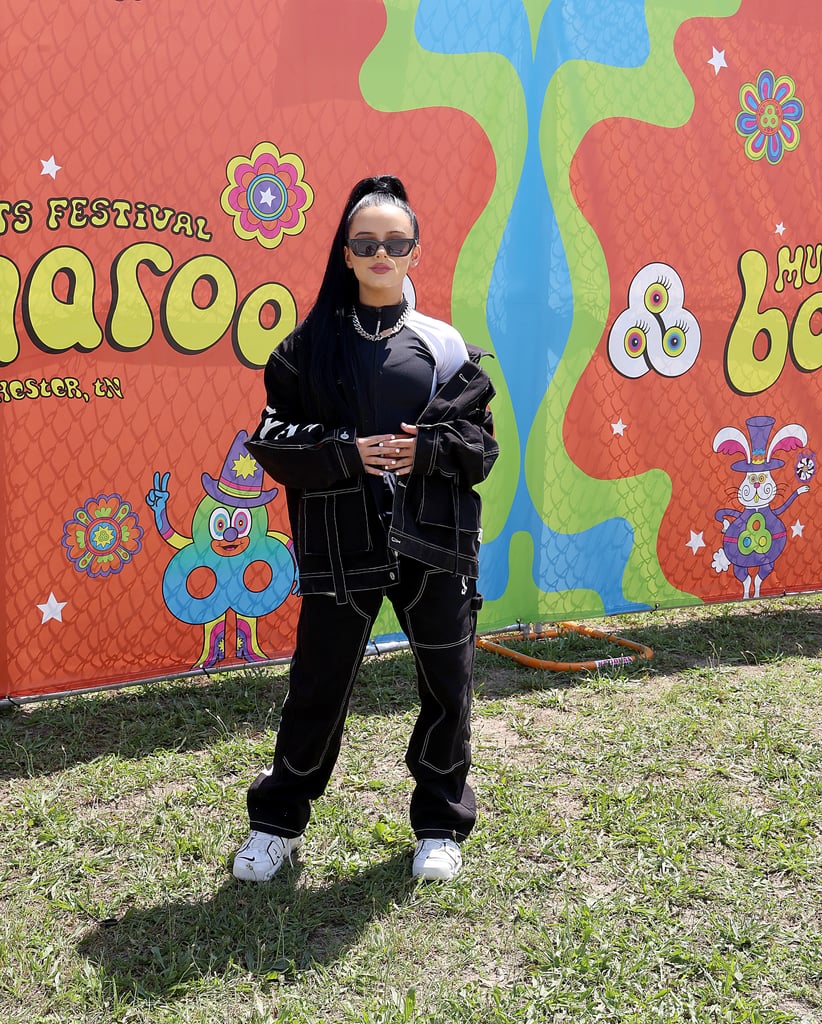 Bonnaroo [10], which takes place in Tennessee, maintains an aesthetic that can be considered more of a casual-cool street vibe. Consider chunky sneakers and a great pair of pants with details that showcase your style — perhaps teamed with a crop top or an oversize band tee.
Festival Dress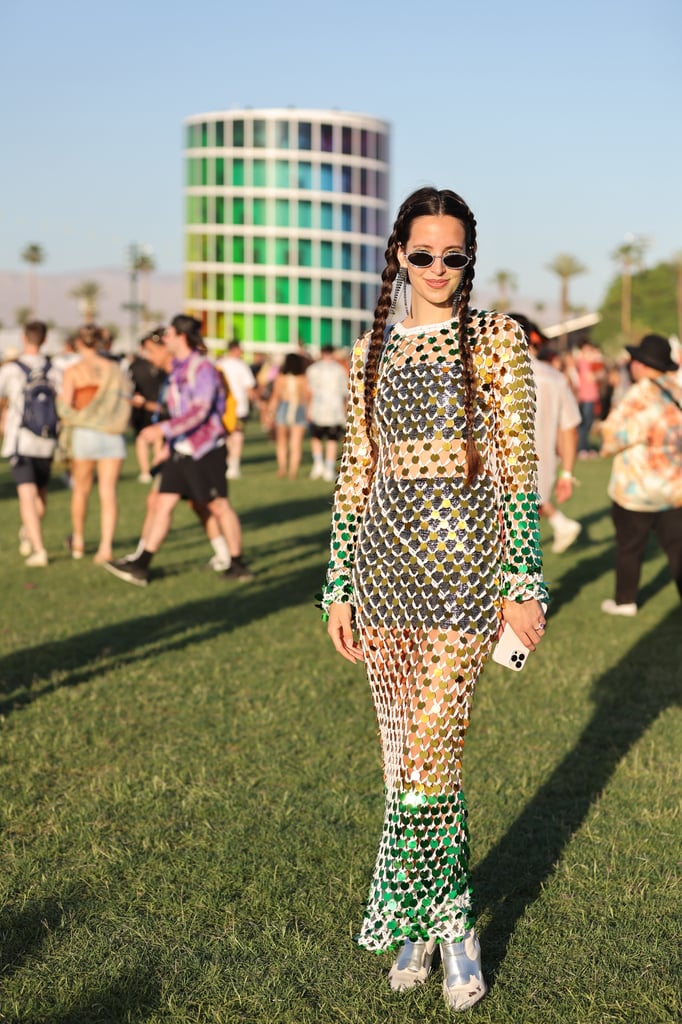 Look for a dress you can layer over other lightweight pieces, such as a bralette and hot pants [11], but not just so you can shed your overlay in the heat. Festivals tend to be sweaty, sunny, and dusty, so think of a mesh sheath as additional protection. Bonus points if yours has sequins, like this 12th Tribe Diana Silver Disco Dress [12] ($92), so it reflects the light.
Festival Tops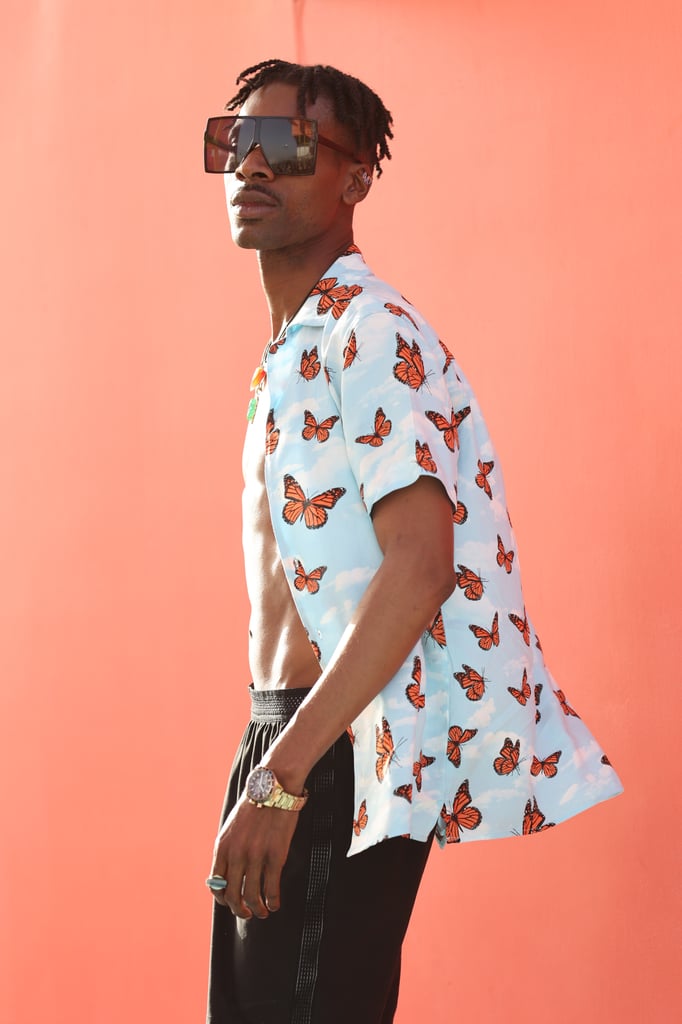 Colorful, printed button-downs, like this Rag & Bone Avery Viscose Print Shirt [14] ($225), are gender-inclusive and can be worn either open or closed. Style them with denim or over a T-shirt dress for an added kitschy pattern.
Festival Tops
Another staple top at festivals is anything crochet with '70s influence that you can pair with oversize, tinted sunglasses; plenty of layered necklaces; and high-waisted slacks. While there are plenty of these to be found at your favorite retailers, we also love shopping small-owned brands on Etsy for handmade styles like this Crochet Granny Square Knitted Vest [15] ($69).
Festival Shoes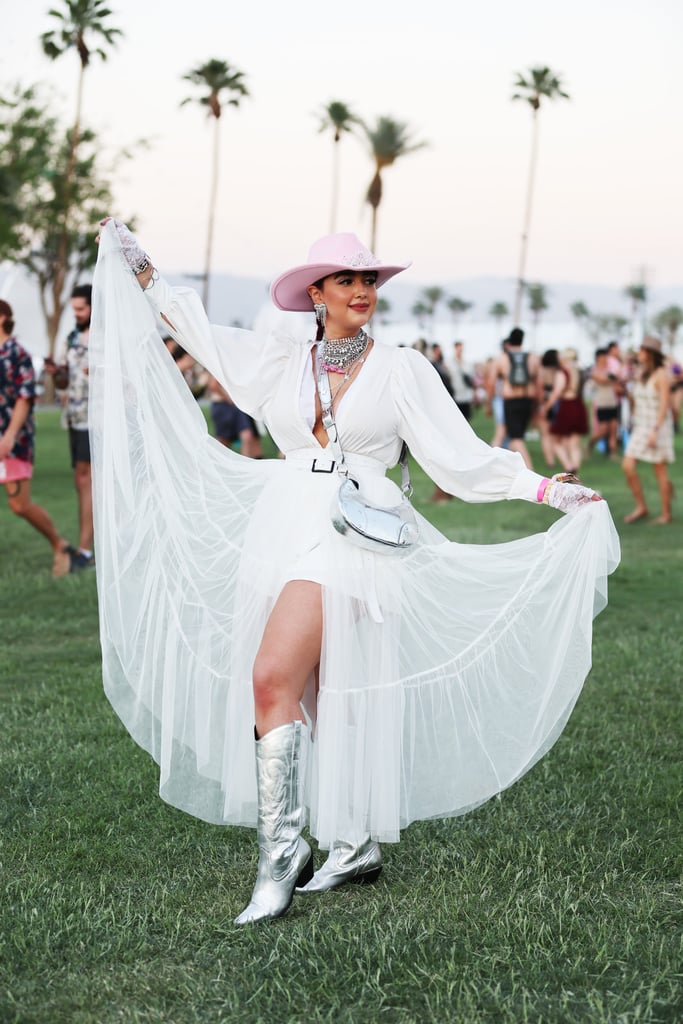 While cowboy boots are a go-to at most festivals as the perfect complement to a bohemian dress or cutoffs, consider buying a metallic pair [16] ($190) to stand out at a splashier event like Coachella, where you'd want to play up additional accessories such as chunky chokers, a bag, or the hardware detail on your belt.
Festival Shoes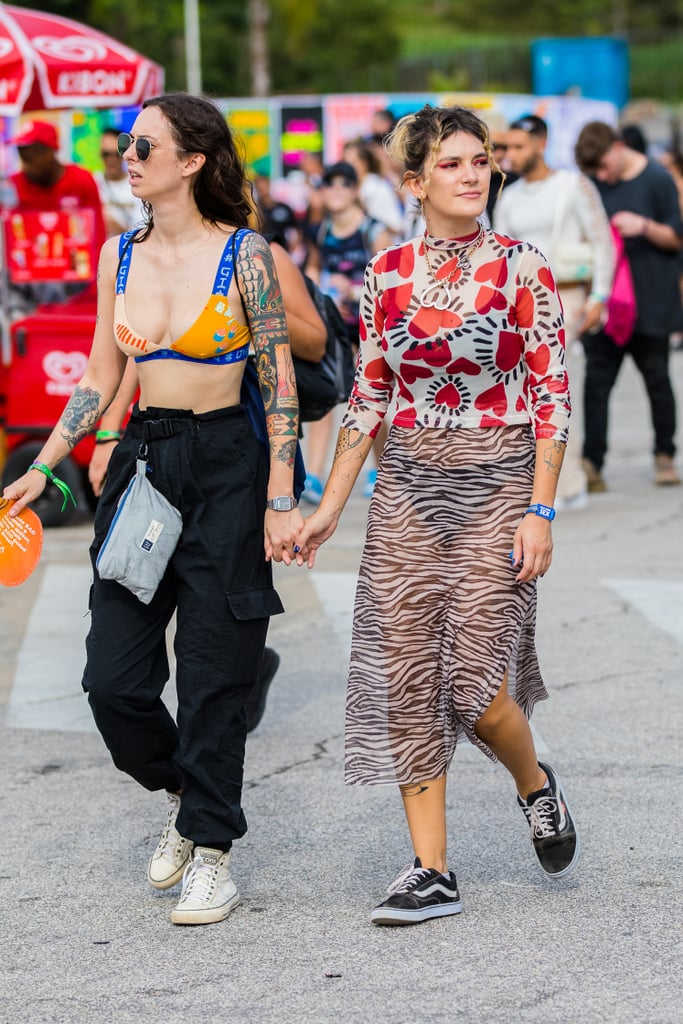 Classic '90s sneakers in basic colors like high-top Chucks [17] ($62, originally $89) or Vans Old Skool Sneakers [18] ($97) work well with cargo pants, bralettes, or mesh midi dresses. There's a certain ease about slipping into your most comfortable kicks that will keep you going all day long, while also lending an air of confidence to your look.
Festival Outfits
Think "Euphoria [19]," and go for a minidress with cutouts or quirky embellishments. Complete the look with hoop earrings and a crossbody bag that fits the basics, like your phone and chapstick.
Festival Outfits
On a cooler day, or if you're headed to the festival at night, try coordinating an edgy, decorated leather jacket (bonus points if you DIY [20] it) with a bandana over a sheer top, and finish the look with chunky combat boots.
Festival Outfits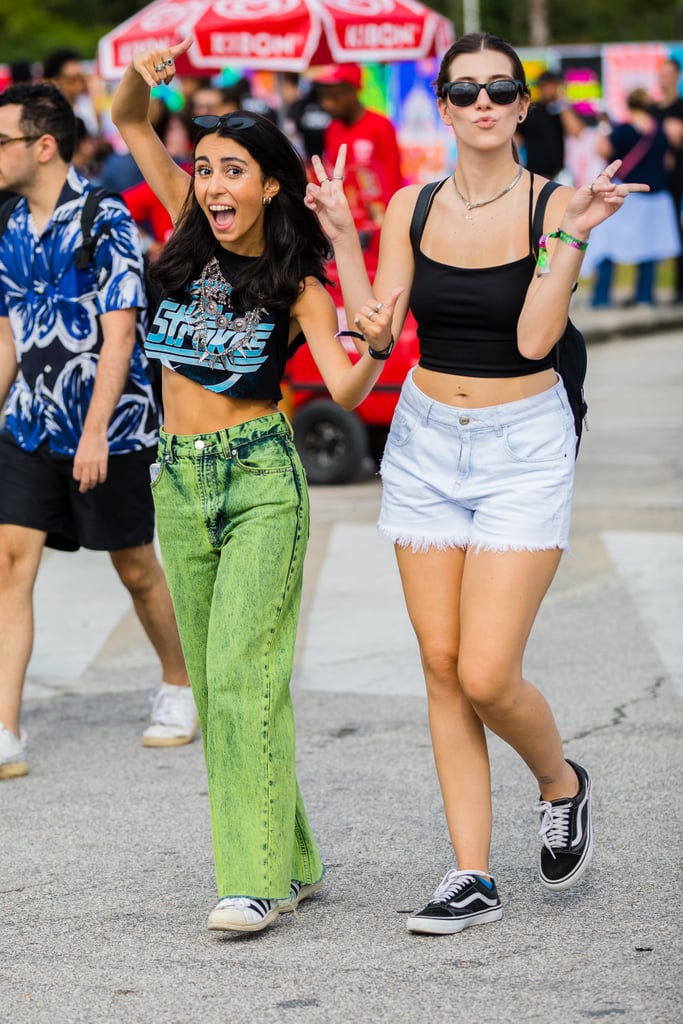 Electrifying, acid-wash denim brings about a whole new look to your slashed graphic tee, whether a standard pair of cutoffs or straight-leg jeans.
Festival Outfits
Pair a bold, argyle-print crochet halter with a colorblock waist bag, tiny retro tinted sunglasses, and swingy denim.
Festival Outfits
Roomy overalls are another great option for desert days, especially when it's windy. Style yours over a sleeveless tank or with a really great jacket and platform shoes.
Festival Outfits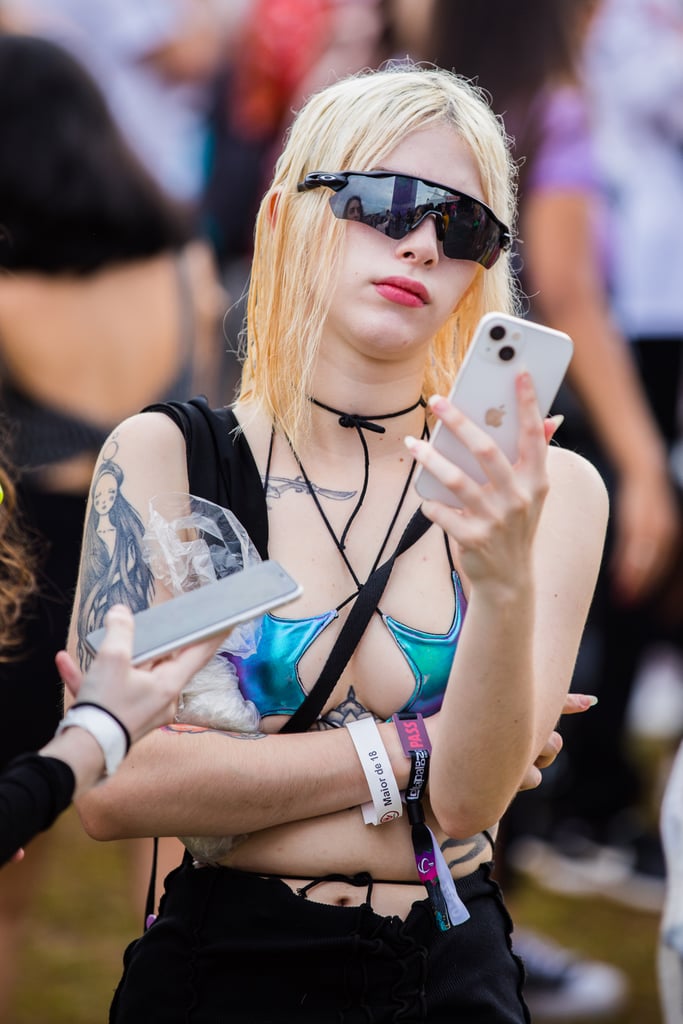 Go for a sporty, futuristic look with an iridescent, strappy bralette; sculptural shield sunglasses; and simple black slacks.
Festival Outfits
Chains and pearls always make an unexpected addition to a '90s-grunge outfit. Pair them with a corset, and contrast the Regencycore-inspired separates with a flannel and lace-up boots.
Festival Outfits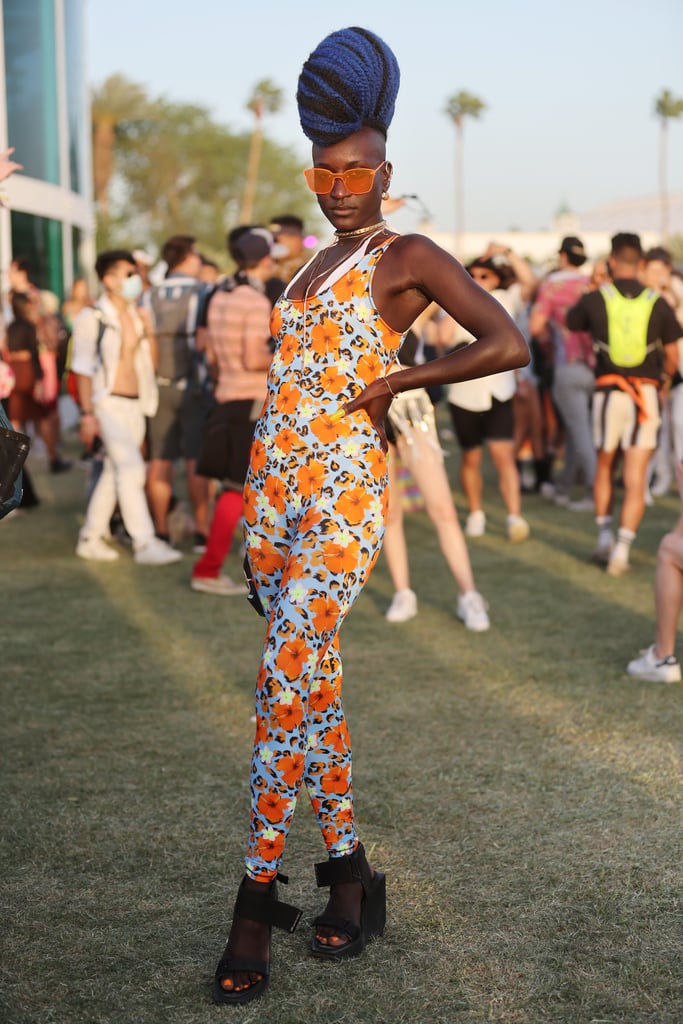 Play up the color of your printed catsuit with matching tinted sunglasses, and stand tall in a pair of wedge sandals that are actually comfortable enough for getting around in.
Festival Outfits
Mix and match prints in a logo-covered denim jacket and patchwork flares, offset by a metallic bra top and coordinating boots.
Festival Outfits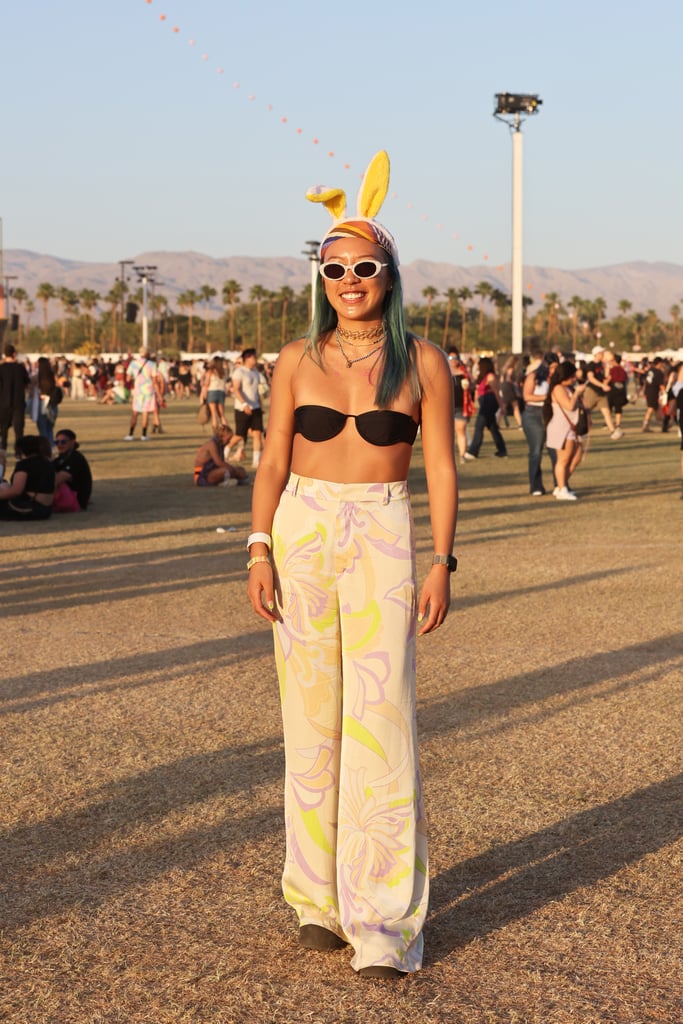 Wear groovy-printed, high-waisted trousers with a bikini top, chunky shoes, and a psychedelic headscarf or headpiece. Pile on the beaded necklaces to play up the tones in your look.
Festival Outfits
Style patchwork denim with a bucket hat and blue-tinted sunglasses to tap into trends from the early aughts.
Festival Outfits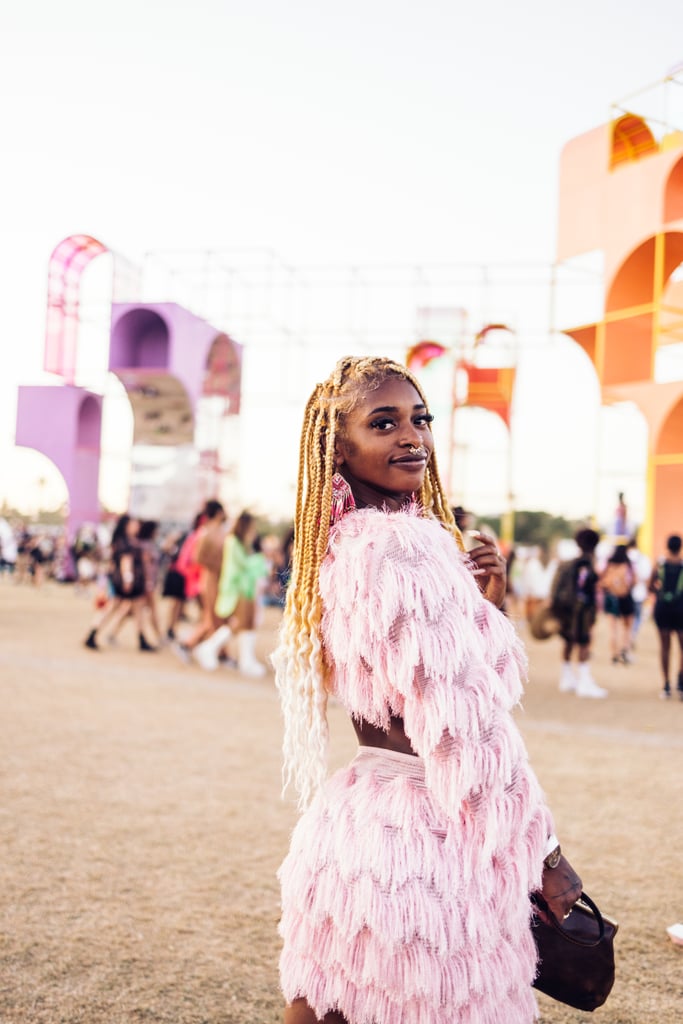 Feathers and fringe are two outfit details to look for if you want to play with texture and get noticed at a festival. Style a set with beaded statement earrings to play into a monochromatic look.
Festival Outfits
Try a pair of black-and-white animal-print pants with a graphic sweater, and throw on beaded sunglasses or a mask chain to bring out your jewelry even more.
Festival Outfits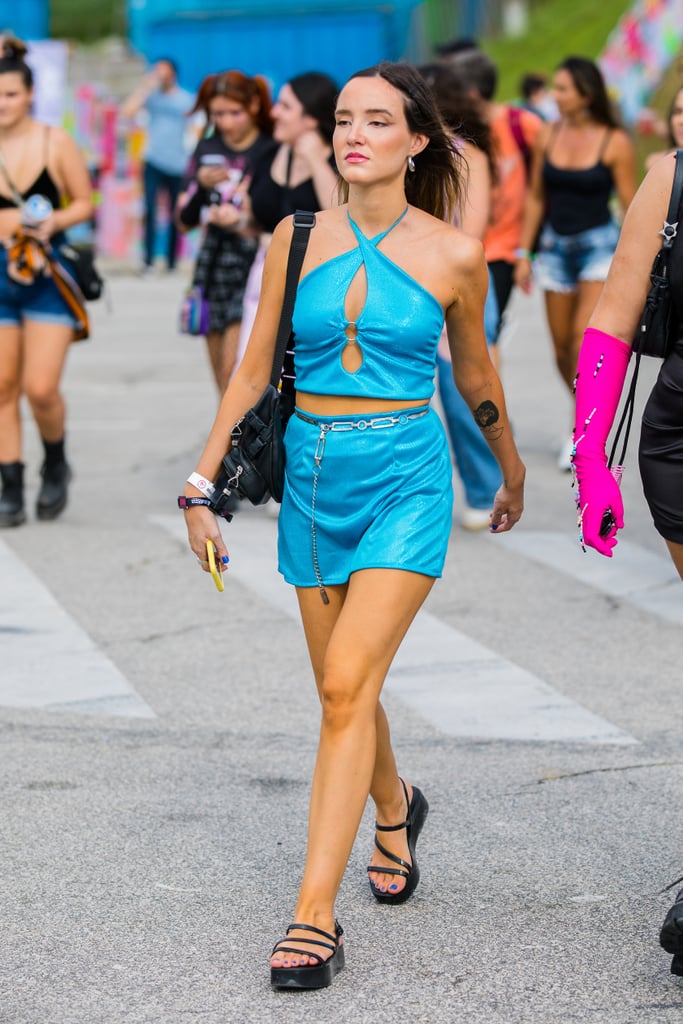 Opt for a glitter set with a few cutouts complete with a chain-link waist belt and flatform sandals. Finish the look with chunky silver hoops and a functional nylon bag.
Festival Outfits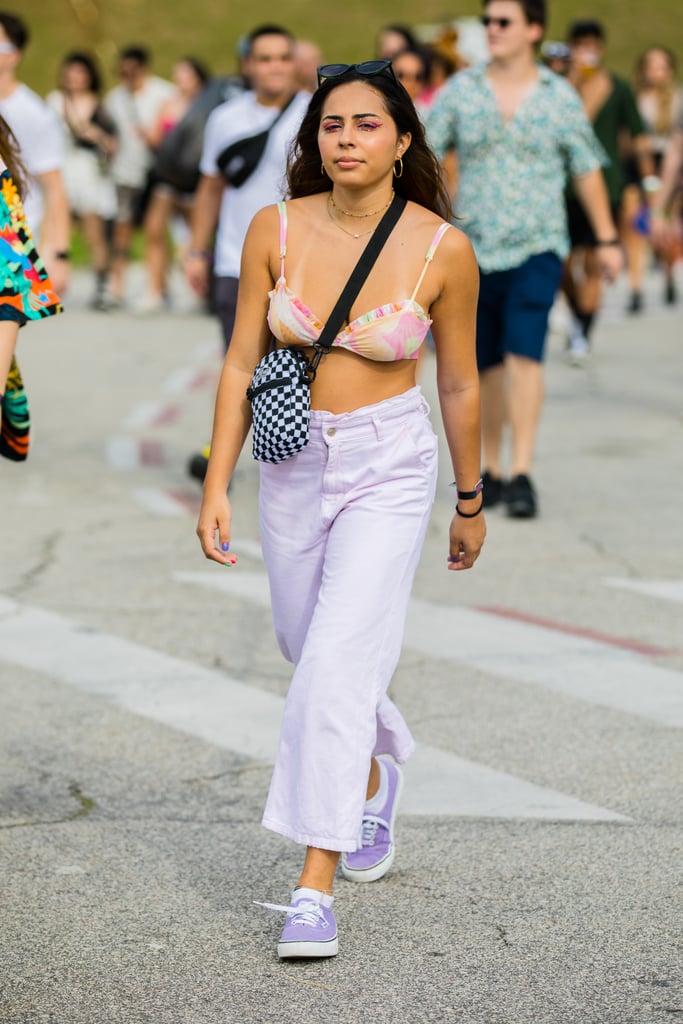 Go for a pastel-printed swim top or bralette with high-waisted denim culottes in a fun shade like lavender. Match your shoes to your pants, and mix in another print, such as checkerboard or paisley, to add more dimension.
Festival Outfits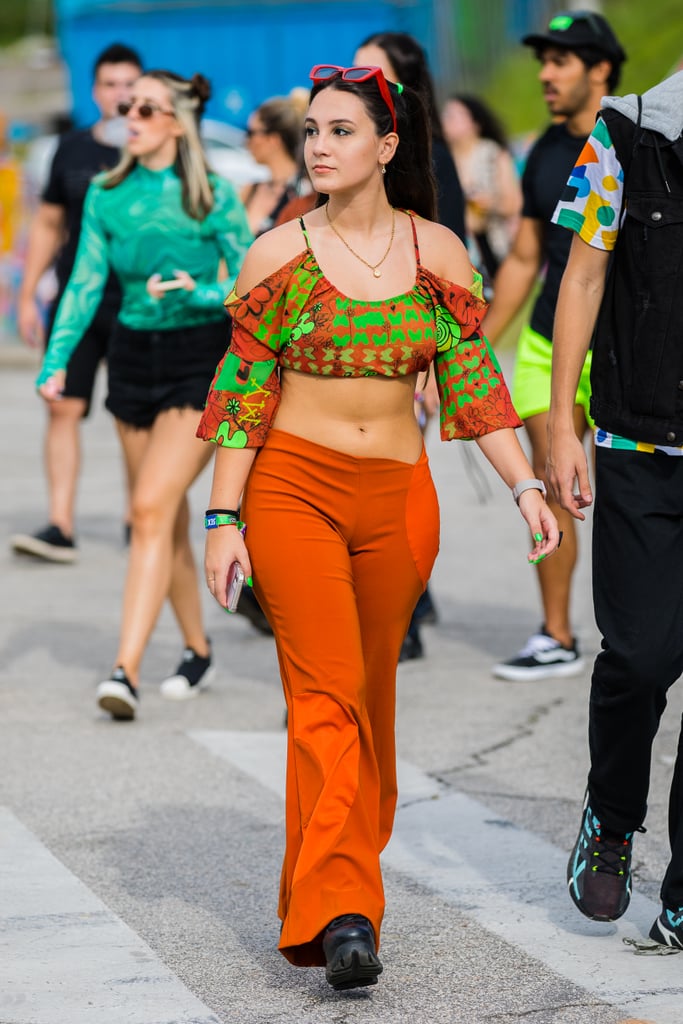 Try out the low-rise trend in bright, flowy trousers and a boho-style, bell-sleeved top. Ground your look in a comfortable platform shoe with a treaded sole.
Festival Outfits
Style a simple jersey T-shirt dress with a stack of bracelets or necklaces. Complete the lived-in look with high-tops and high socks that extend above the ankle.
Festival Outfits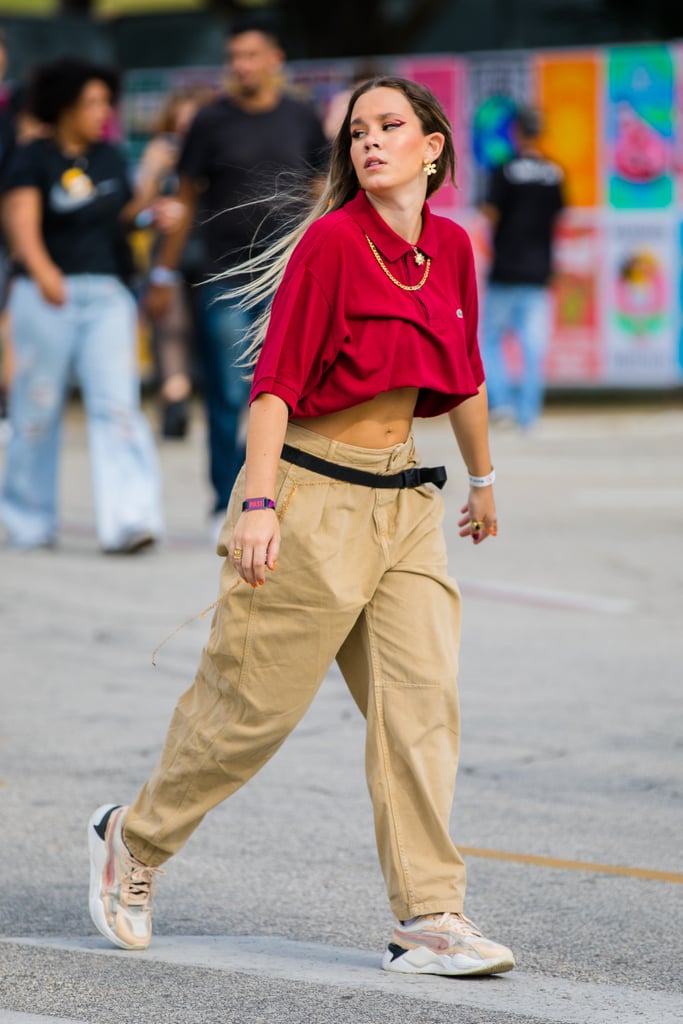 Try styling low-rise carpenter pants with a cropped polo, a waist bag, and chunky trainers, then add some delicate jewelry as a final touch.
Festival Outfits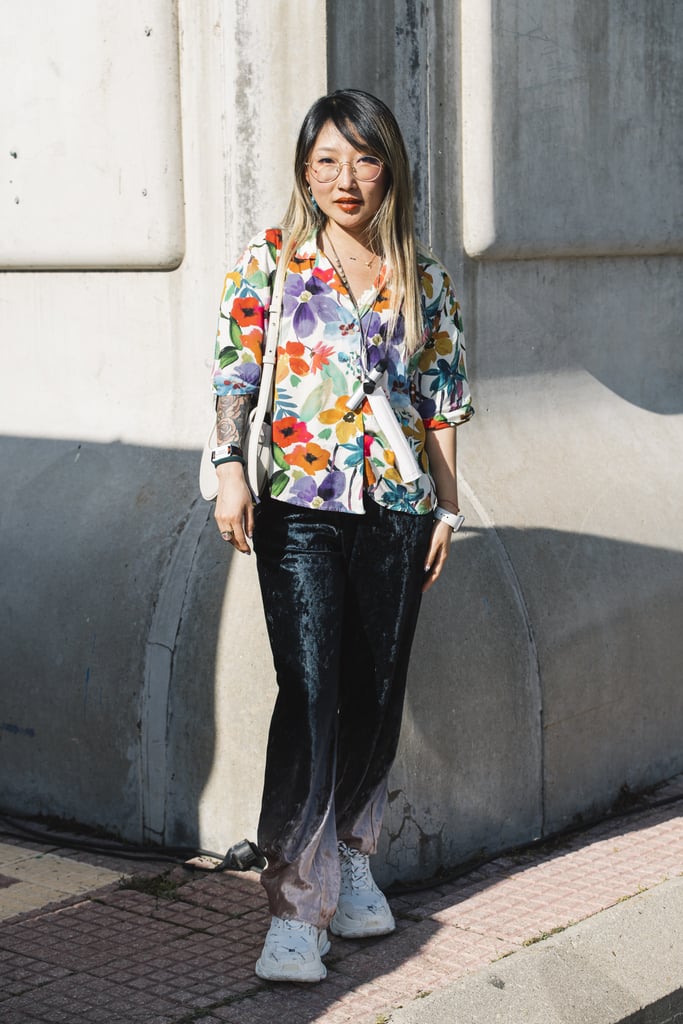 As long as it's not too warm, other textures such as ombré velour can be a fun addition to a Hawaiian shirt and sneakers.
Festival Outfits
Keep it simple in a satin corset, '90s-style mom jeans, and black Vans.