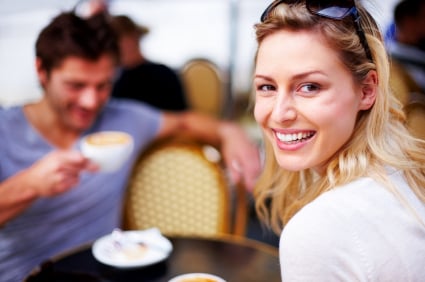 There are a few things that a girl should never forget when getting ready for a first date. Since we know nerves can get the best of us, we've compiled the top three pre-first-date to-dos:
Put on your pump-me-up playlist: Take a page out of pro athletes' books and have a playlist on tap to get you in the zone and feeling great pre-date.
Mirror, Mirror: Give yourself a quick 360-degree once over in the mirror before swooshing through the door. Nothing's worse than noticing a run in your tights when it's too late!
FRESHEN UP, girl!: That's right, spray some perfume and don't forget to Scope Dual-Blast before you hop in the car! (The onions on that salad you had for lunch don't exactly scream "Kiss me!")
Now that you're pumped up, looking good, and have great breath for your date, pop the Scope Dual-Blast in your purse to use after dinner. Since Scope Dual-Blast comes in Fresh Mint Blast and Icy Mint Blast, pick your weapon against that garlic bread and chicken parm (why did you let him choose Italian?).