Francisco Costa amfAR T-Shirt
Francisco Costa Models, Natalia Vodianova Defends Her "Skinny" Comments, and Opening Ceremony Pops Up in London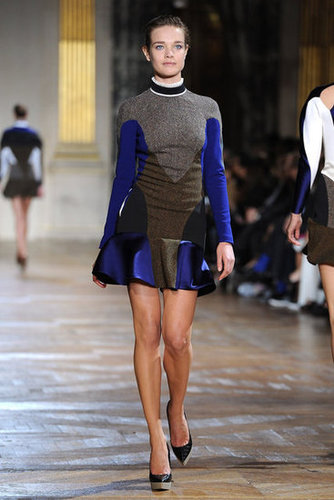 >> Those stories and more in our daily news roundup.
</ br>

<ul> </ br></p> <li>Calvin Klein designer Francisco Costa landed his first modeling assignment with the American Foundation for AIDS Research. Costa will star in a campaign advertising the organization's new "São Paolo for the Cure!" t-shirts, set to debut tomorrow in his native Brazil. He's joined in the campaign by fellow Brazilians Luciana Casta and Raquel Zimmermann. [Daily Front Row]
</ br></p> <li>Natalia Vodianova took flak for saying "It's better to be skinny than to be fat" at this past weekend's Vogue festival, and today she responded to the criticism on her Facebook page, explaining that her original comment was designed to make people laugh. "If I was giving a speech I would have chosen my words more carefully of course," she wrote. [The Cut]
</ br></p> <li>Opening Ceremony will open its first London store — a pop-up shop — to celebrate the start of the 2012 Olympic games this July. When the games are over, the store will move to a permanent spot on King Street in the Covent Garden neighborhood. "Bringing Opening Ceremony to Covent Garden is an important next step in the growth of our company," said founders Humberto Leon and Carol Lim. [Catwalk Queen]
</ br></p> <li>The Food and Drug Administration will start monitoring what goes into beauty products sold in the United States by creating a mandatory ingredient registry next year. Current law allows beauty companies to report their ingredients voluntarily, and there are only 10 ingredients that are banned from domestic products. In the European Union, tighter beauty industry regulations have banned some 1,200 ingredients. [Refinery29]
</ br></p> <li>Richemont, owner of luxury jewelers and watchmakers like Cartier and IWC, won a momentous infringement case against a company that registered the trademark for Vacheron Constantin — Richemont's oldest watch brand — in Russia and sold clothes under that label. The outcome of the case means that a well-known trademark in one country can't be taken and reregistered in another country, because it can confuse consumers and harm the original trademark holder's reputation. "This is a landmark case with worldwide implications," said Richemont chief counsel Frederick Mostert. [Material World]

Photo: Natalia Vodianova walks during Stella McCartney's Fall 2012 show.