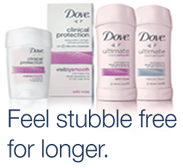 Did you know that one in four women is concerned about excessive underarm wetness?
Excessive underarm wetness can be embarrassing, but don't sweat it any longer. Dove Visibly Smooth Clinical Protection, a top pick by beauty editors, has you covered. It combines prescription strength protection against wetness with a unique formula that helps keep you feeling stubble free for longer. Not only is it a top beauty pick, but 99 percent of women who tried Dove Visibly Smooth would recommend it to a friend!
When do you worry about excessive underarm sweat?