Garage Magazine's Street-Style Documentary Take My Picture
Tim Blanks Says Street Style "Makes Monsters"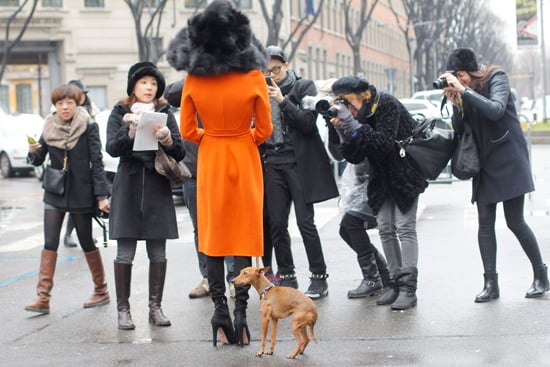 Turns out Suzy Menkes isn't the only person with thoughts about all the bloggers and street-style stars armed with cameras outside fashion shows. In Take My Picture, a new minidocumentary created by Garage Magazine, a variety of people in the fashion industry — from critics and stylists to designers and even bloggers themselves — address the phenomenon.
Tim Blanks is perhaps the most vocal person in the video, even though he says he initially found it "charming . . . for so many different kinds of people to be so enthusiastic about fashion." Now, he's just had enough.
"It's empowering, but it's empowering in the way that reality TV has been empowering," Blanks says in the video. "It makes monsters. It doesn't make gods; it makes monsters. It's coarsened, but that's always the process, isn't it — with everything? You can't think of any leap forward that didn't at some point become a parody of itself. But then what happens next?"
And while some of the people in the video agree that the throngs of people outside shows have gotten to be a little too much, others defend street-style photography and the growth of blogging as having redeeming qualities.
"Of course now it's one of the strategies," says Vika Gazinskaya, an oft-snapped Russian designer who first started showing her brand in 2007. "And as I always say, it's a great opportunity for young designers who have no budget for advertising. It's the best way, of course."
A look at what others from the industry, including Tommy Ton, Susanna Lau, Phil Oh, and Hanneli Mustaparta had to say on the matter in the video below.