Giejo Swimwear
Giejo's Swimwear Doesn't Match But Isn't Supposed To
Lucky magazine is one of our favorite sources for great shopping tips. We're thrilled to share this fabulous story on swimwear line Giejo from our friends at Lucky!

While Gabby Sabharwal's swimwear line, Giejo, is made up of just six tops and bottoms (like, total), its styling possibilities are much more extensive than you'd think.
Designed to be mixed and matched, the print-heavy separates (floral, striped, tie-dye) easily morph into combinations either pretty and delicate or bold and punchy.
Our favorite is a little of both—the sweet lavender top mixed with the more aggressive green and black bottom. But regardless of the pairing you pick, one thing's always true: by choosing your own special blend of tops and bottoms, your already-cool swimsuit becomes even more individual and distinct.
To choose your own combination, click through the slideshow below, then shop them here. (Tops start at $78, bottoms at $96.)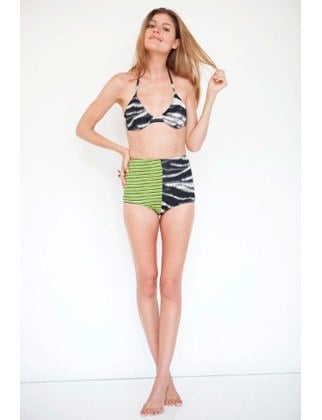 triangle tie top, $98, shopgiejo.com; mixed highwaist bottom, $88, shopgiejo.com
Click over to Lucky to see and shop the rest of the story.
For more fashion and style from Lucky, here are more Lucky stories.
Related Links:
Shop My Line: Vince Camuto
Trovata is Launching a Knitwear Collection
Garance Doré Loves New York, New York Fashion Week