Ever since the Much Music Video Awards [1] and a casual courtside outing [2], Gigi Hadid's been branding her clothes [3] — from the back of bomber jackets to swimsuits. Bloggers and brands are all on board, offering pieces you can embroider with your own initials.
It's not that you can't follow in Gigi Hadid's footsteps when it comes to her monogrammed looks, it's just that your inspired piece won't be identical. You see, the message behind Gigi's style note is clear: every girl should take pride in her unique qualities — starting with her name.
While Gigi's let her sister Bella try on her uniform [4] for size, we all know there's only one Gigi. Scroll to see 15 of her copyrighted fashion moments, then read up on the places you can secure a personalized design of your own [5].
Gigi's Monogrammed Sweatpants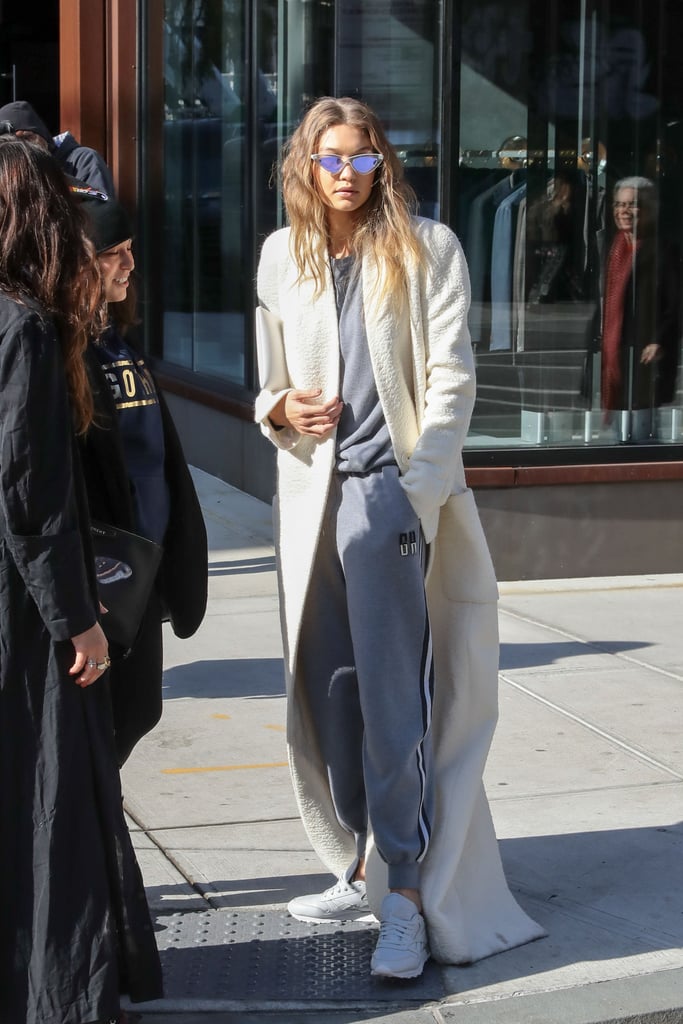 She styled her cozy coordinates [6] with a floor-sweeping cream coat, trainer sneakers, and Le Specs x Adam Selman sunglasses.
Gigi's Denim Shirt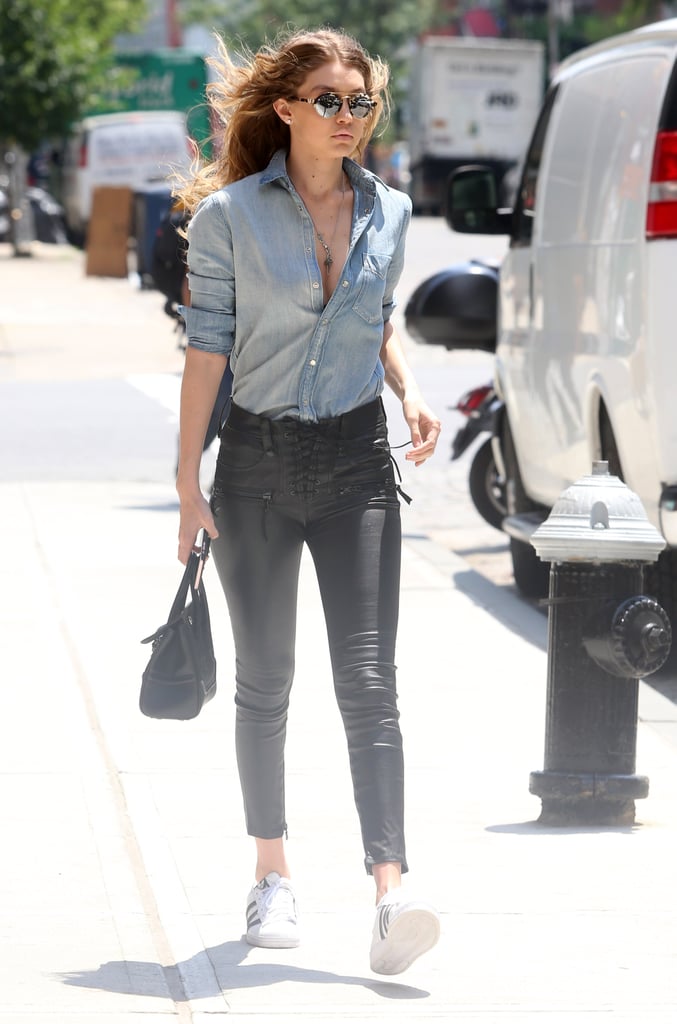 She wore her embellished Mother x Jacquie Aiche shirt [7] with a pair of lace-up leather skinnies.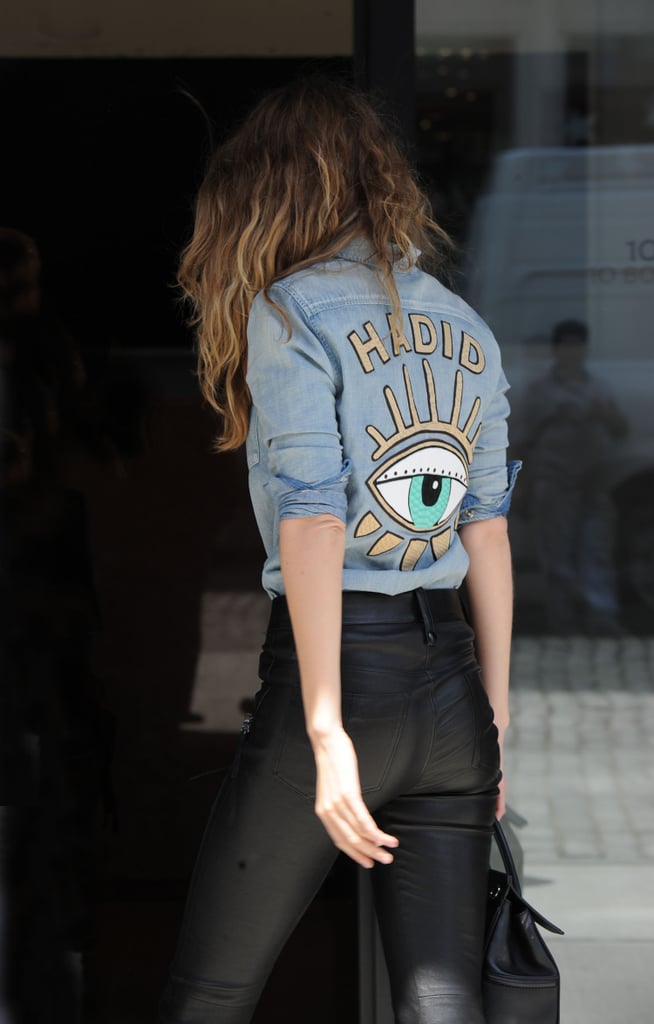 Gigi's Military Parka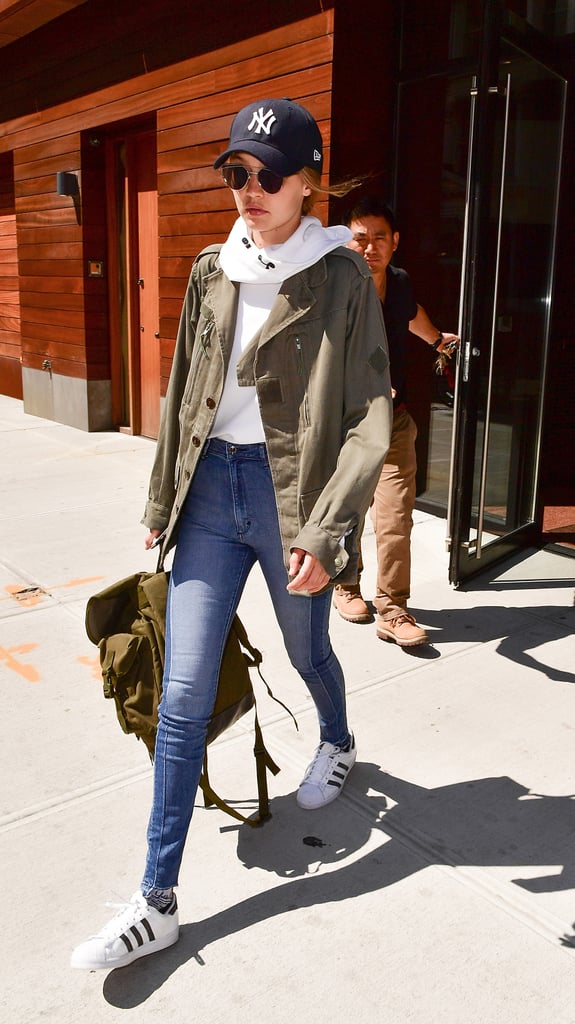 Gigi's casual airport outfit [8] was decidedly more fun from the back.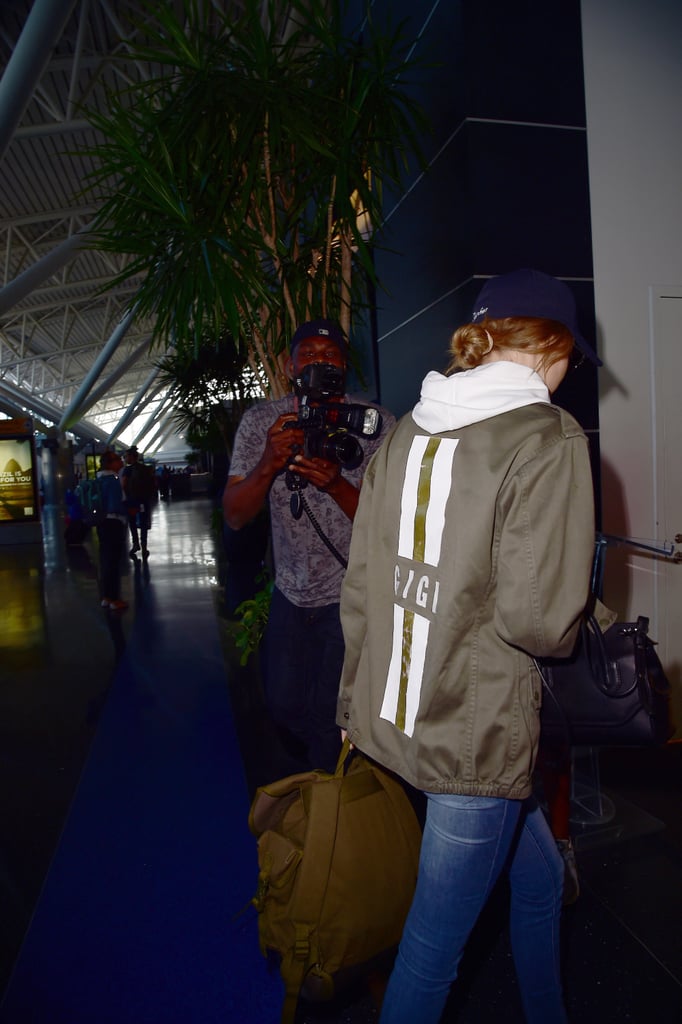 Gigi's Two-Toned Bomber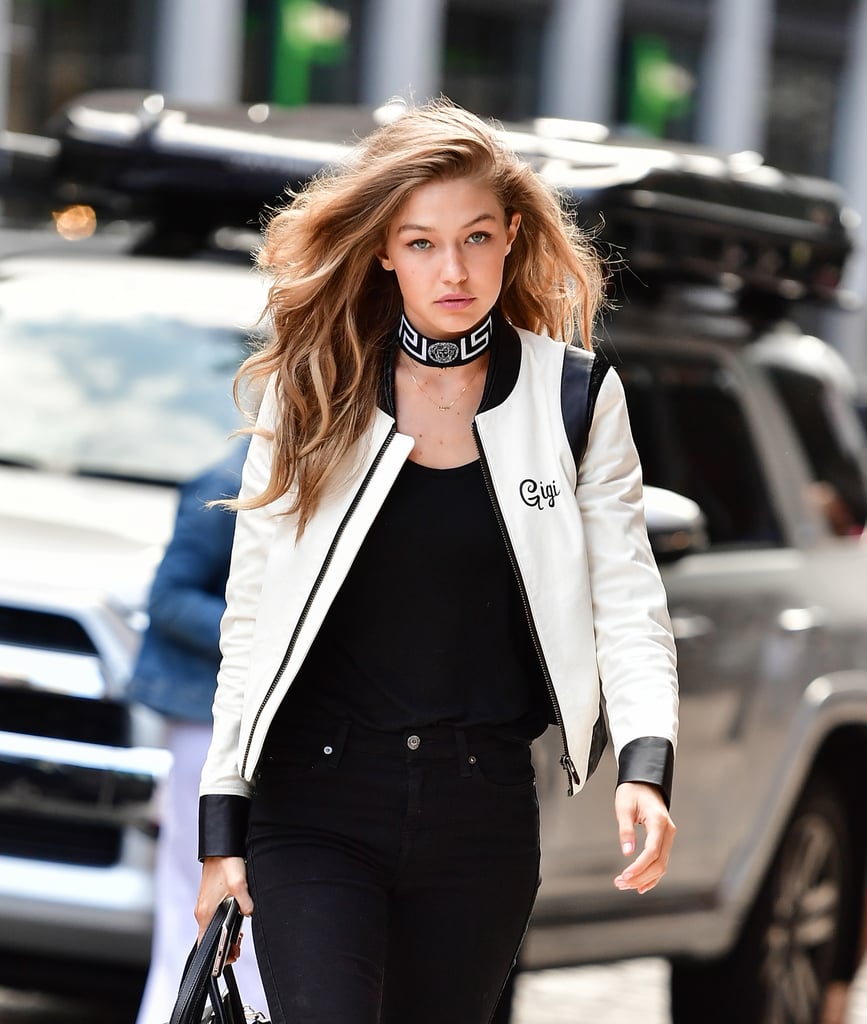 While it's actually by The Mighty Company [9], Gigi hilariously plastered "Hadidas" on the back [10]! She finished her high-fashion look with a Versace choker.
Gigi's Tommy Hilfiger Bomber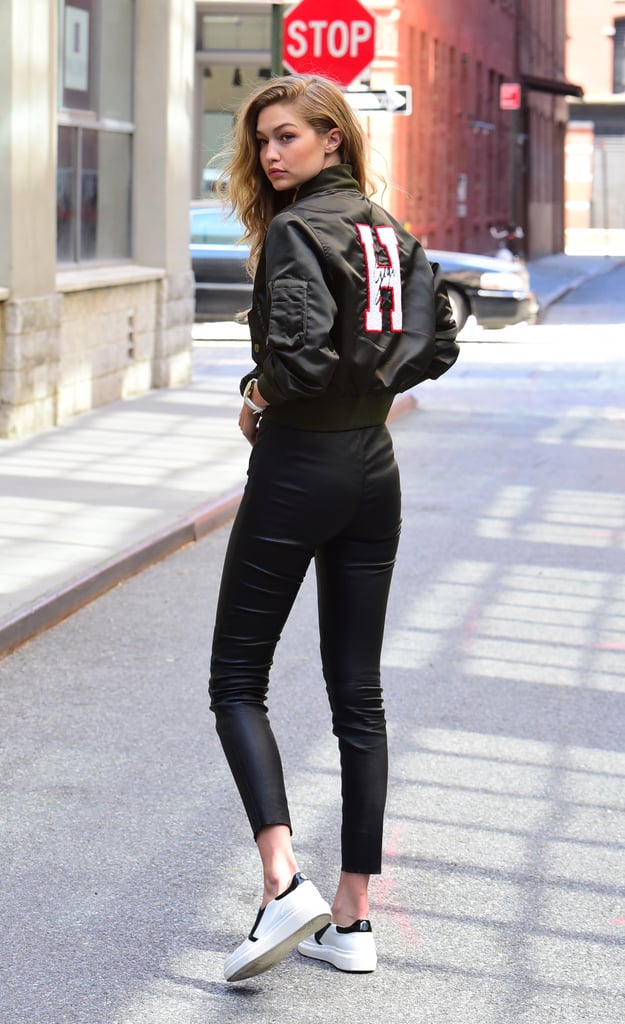 Gigi posed for a photo shoot in a sleek bomber that likely comes from her new Tommy Hilfiger collection [11].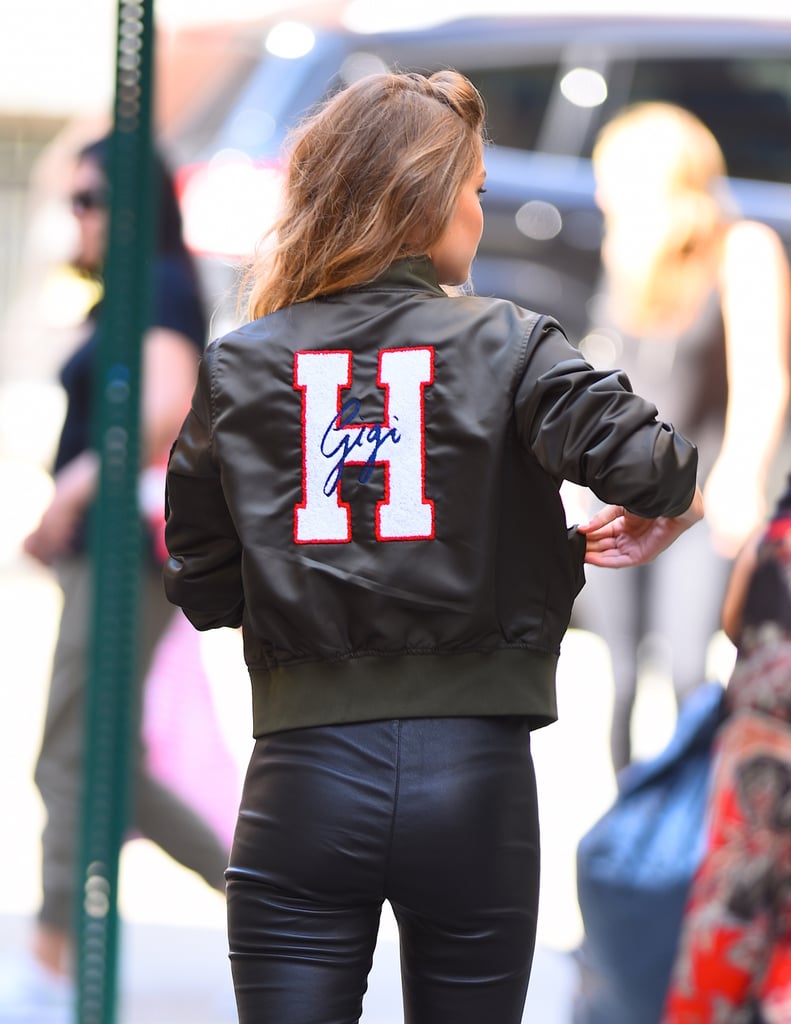 Gigi's Tommy Hilfiger Varsity Jacket
Bonus: she's got a cool coat with a striped finish too.
Gigi's Graphic Sweater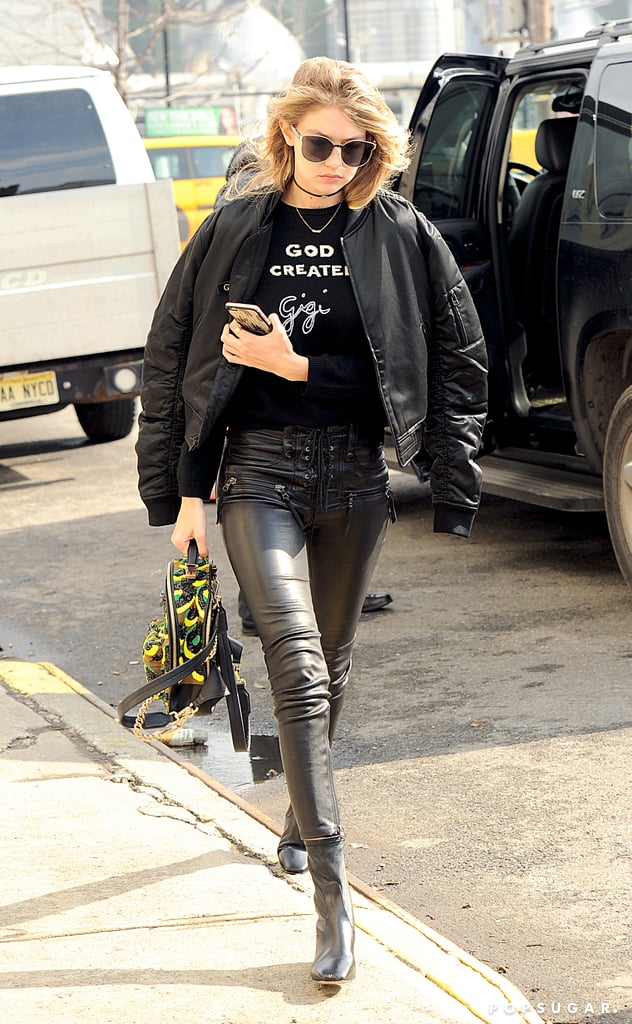 The custom Bella Freud piece [12] offered a dose of personality to an all-black look. Gigi added excitement with a Versace backpack too.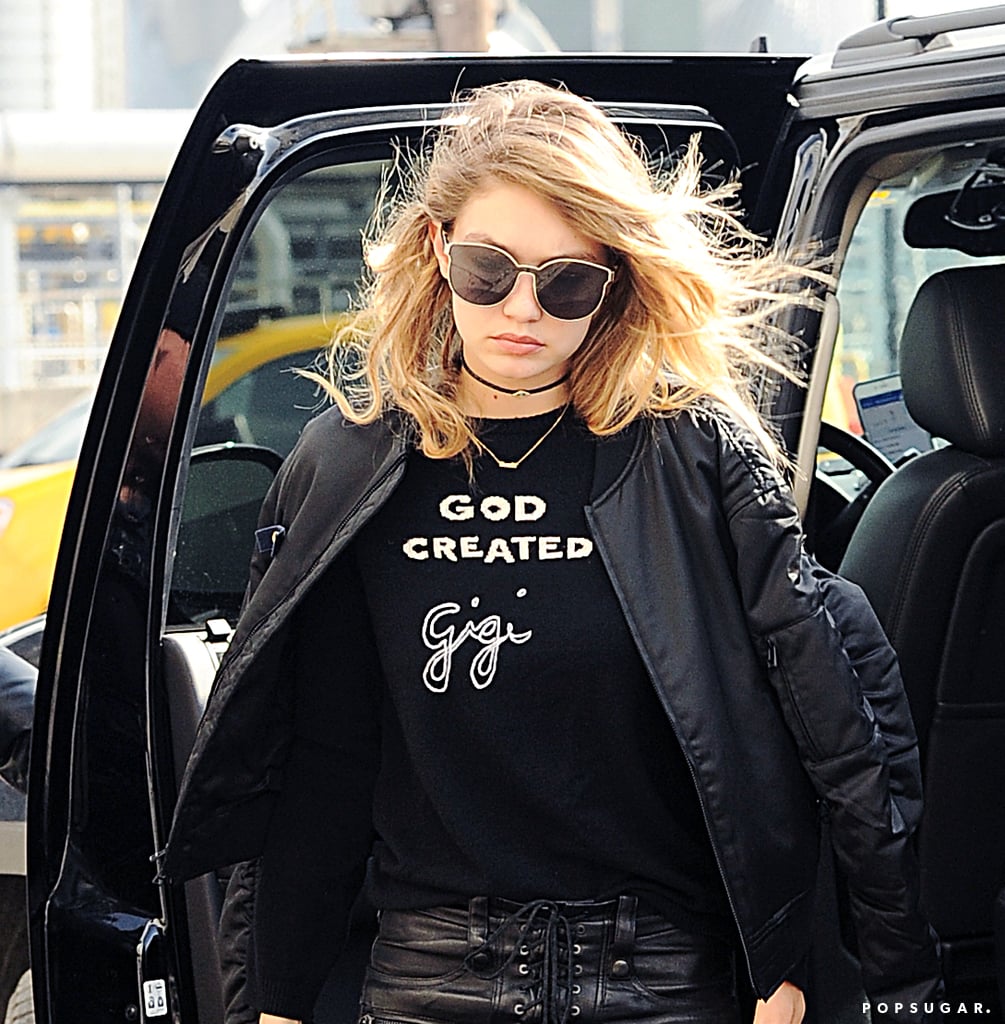 Gigi's Olive Coat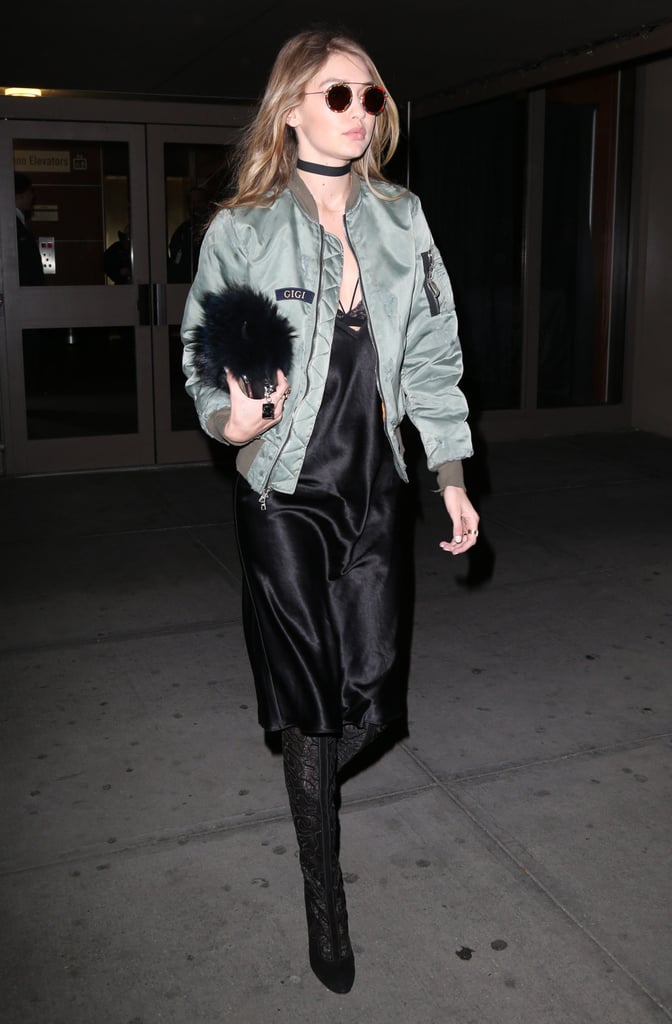 The supermodel debuted this piece at the Yeezy concert [13] and fashion show, styling it with a lingerie dress, knee-high boots, and furry clutch.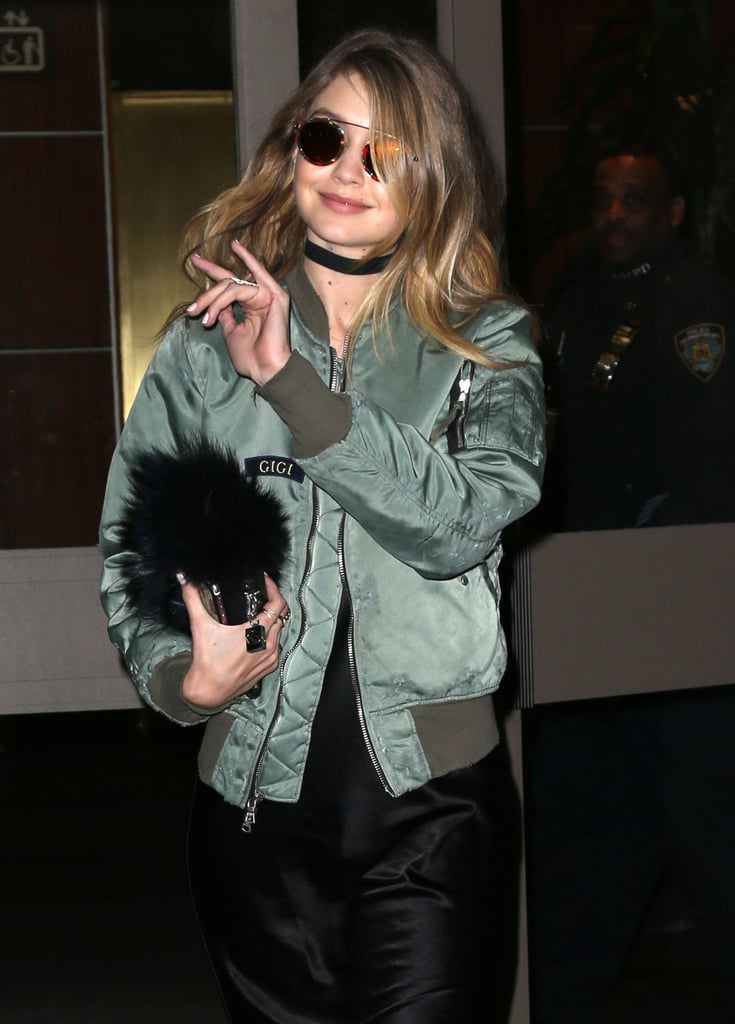 Gigi's White Tee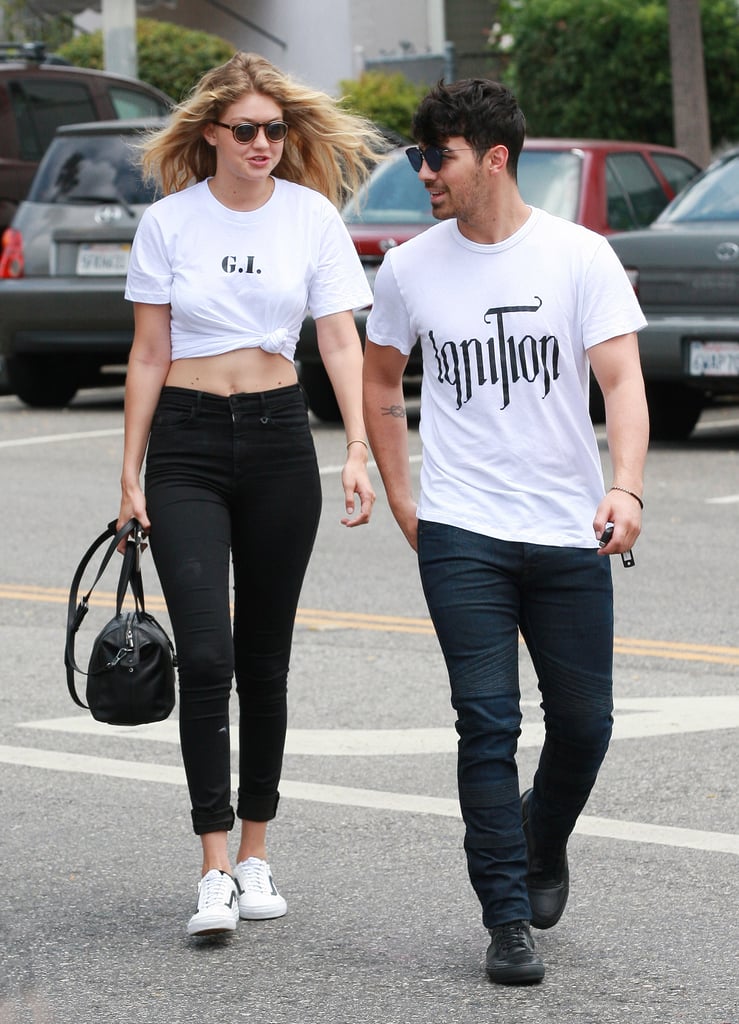 While it pays homage to her shared nickname with Joe Jonas [14], we're sure Gigi still slips into this t-shirt [15] from time to time, tying it up and completing it with go-to denim.
Gigi's Proenza Schouler Bag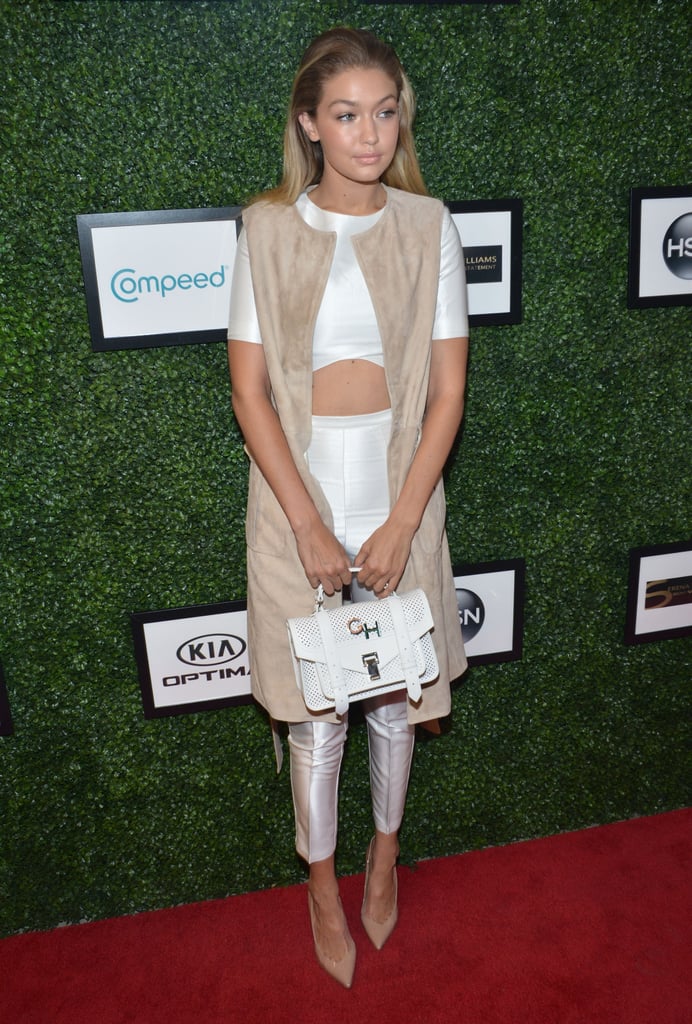 She showed off her personalized mesh satchel at Serena Williams's debut fashion show during NYFW.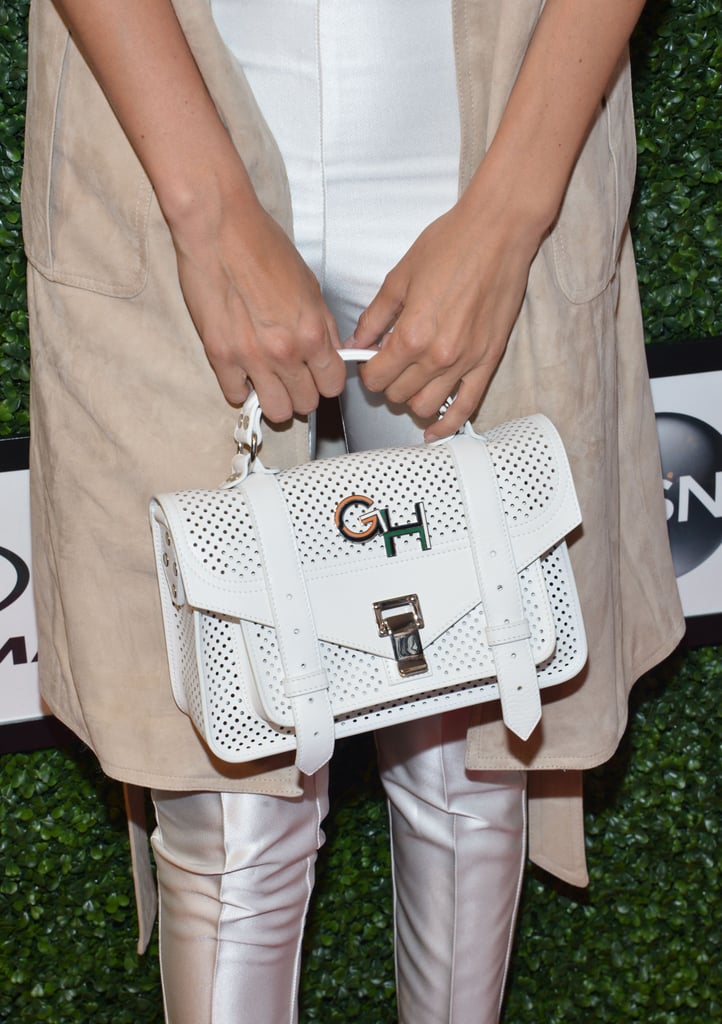 Gigi's Soccer Jersey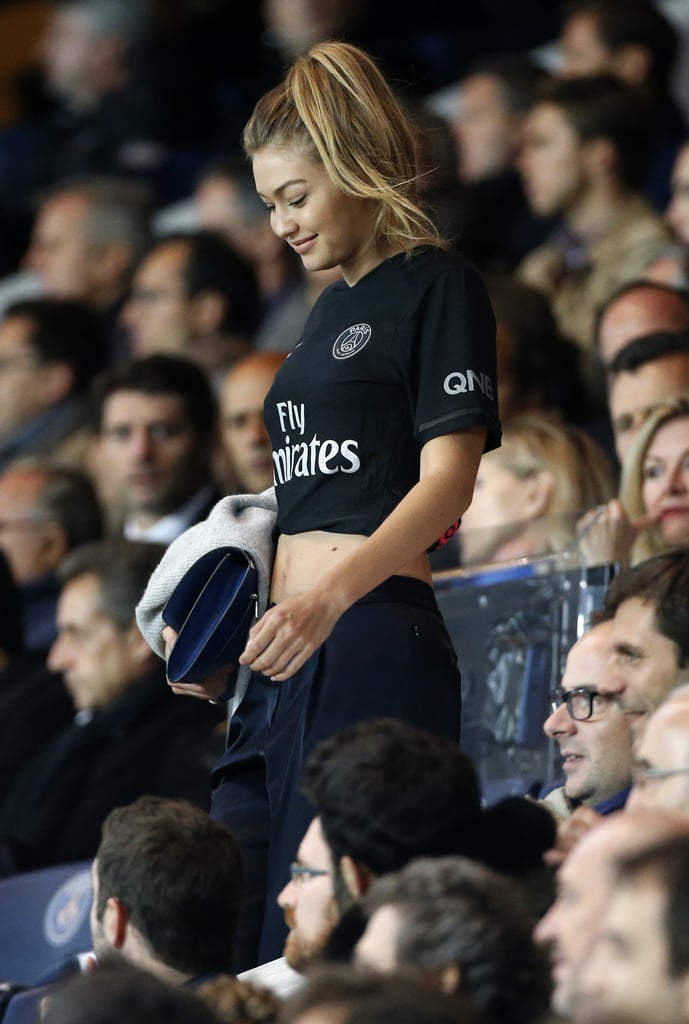 Of course Gigi's soccer jersey has her name on the back, like any typical uniform. But her neat logo's scrawled in hot pink, and we're so on board.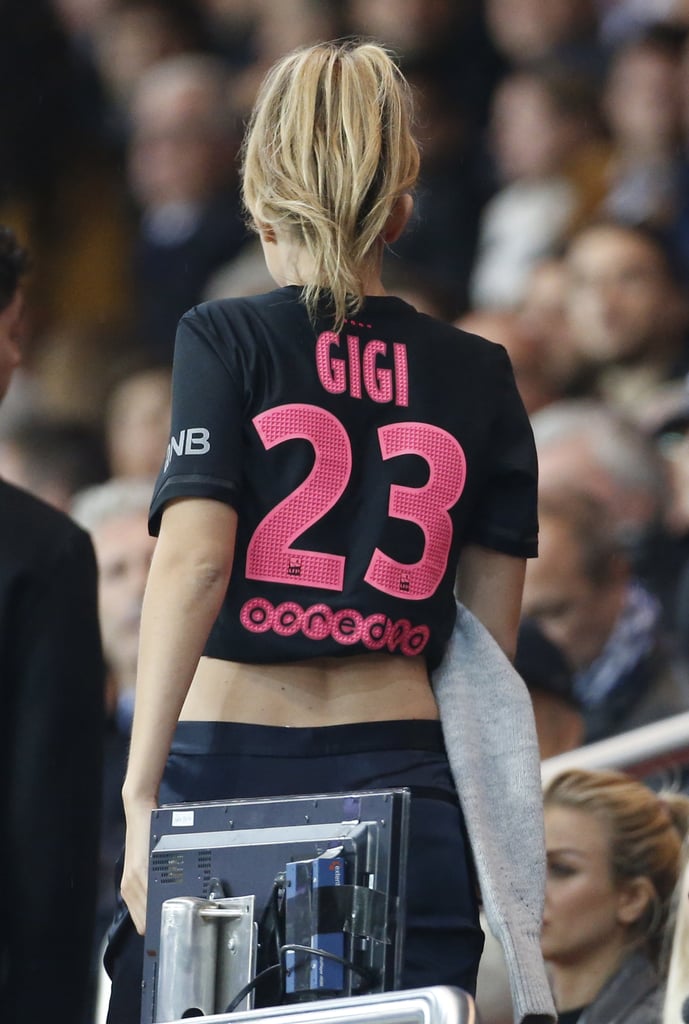 Gigi's Friendship Necklace
Sometimes it pays to share the personalization with your BFF. Gigi and Kendall are well-aware — they both wear their gold Lola James chains [16] all the time.
Gigi's One-Piece Suit
Though Bella flaunted it on Instagram [17] for Gigi's birthday, we bet Gigi's rocked her Bruna Malucelli bespoke one-piece plenty too.
Gigi's Sheer Button-Down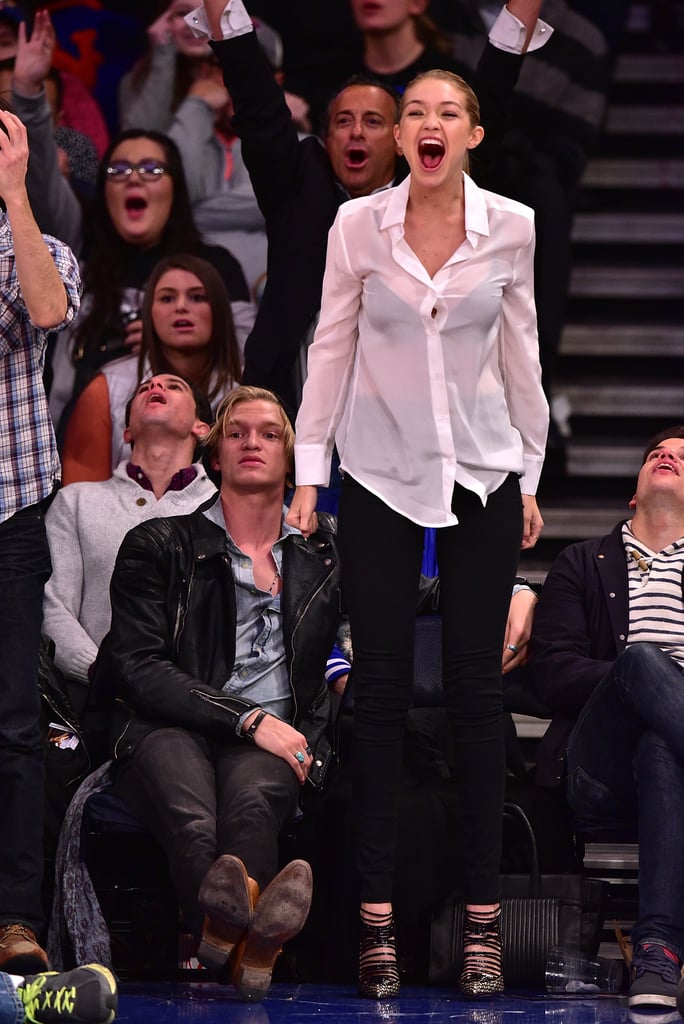 Back when Gigi was still dating Cody Simpson, the pair attended a Nets vs. Knicks game [18], where Gigi stood out from the crowd. It probably wasn't only because of her embroidered top, but we bet that had a bit to do with it.
Gigi's Cropped Moto Jacket
The PVC design by Mikhael Kale made for a look to remember [19] when Gigi attended the MuchMusic Awards for the first time in 2015.