Golden Globes Best Dressed Looks 2013
Who Was Best Dressed at the Golden Globes? Make Your Pick Now!
Now that all of the awards have been handed out, the real competition begins! The Golden Globes red carpet was filled with glamorous looks, showcasing a range of bold hues, lots of shimmer, and drop-dead sexy silhouettes. Who can forget Jennifer Lawrence's breathtaking appearance in her stunning Dior Couture confection, Anne Hathaway's dazzling beaded Chanel Haute Couture gown, or Kate Hudson's exquisite black and gold Alexander McQueen gown? With so many beautiful looks to swoon over, we've created a fun (and addictive), bracket game so you can help us pick the best-dressed lady of the night. We've selected the top 64 looks from the festivities, and we need your help picking the winner. Start by clicking below, and go through the first-round matchups by picking your favorite looks of the night. Once you've done that, we'll take your favorites and pair them against each other until there is only one winning style setter left. The winner will be announced this Friday so don't wait a moment longer — vote now for your favorite look from the Golden Globes!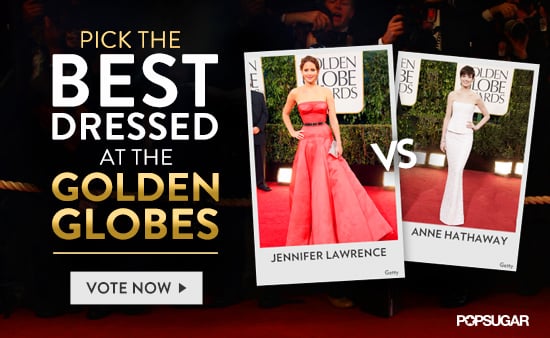 Vote Now!