The Great Gatsby Movie Style
Shop It Out: The Great Gatsby Trailer
Lucky magazine is one of our favorite sources for great shopping tips. We're thrilled to share this fabulous story from our friends at Lucky!
In case you couldn't tell from John's earlier post, we're all pretty freakin' pumped for Baz Luhrmann's forthcoming film adaptation of The Great Gatsby. And from the looks of its first-ever trailer, which hit the interwebs last night, everything from the casting to the set design to the storyline seems pitch-perfect . . . even if you aren't crazy about hearing Kanye West's "No Church in the Wild" juxtaposed against scenes of Roaring Twenties recklessness.
But the clothes . . . oh, the clothes. They're just too good to be true. Which is unsurprising, considering Luhrmann's wife Catherine Martin is behind the movie's costumes (she also worked on those for a little film he directed called Moulin Rouge). We predict flapper dresses, beaded headpieces and feathered accessories on September's runways, folks.
While we'll have to wait until The Great Gatsby's Christmas release to dissect the looks in every single scene, we've taken screenshots of some standout ensembles seen in the trailer — and dug up suitable alternatives for you to shop right now. After all, you'll need something to wear to those screening parties come December.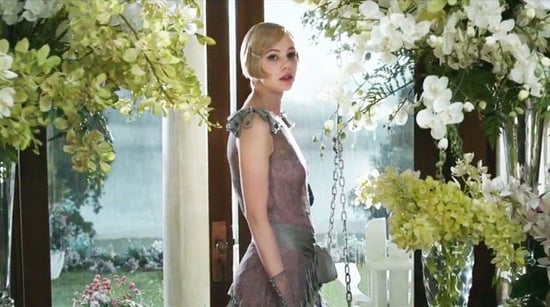 Daisy, framed by flowers
Click over to Lucky to shop every piece.


For more fashion and style from Lucky, here are more Lucky stories.
Related Links:
Shop It Out: Moonrise Kingdom
Beach Towels For the One Percent
Which Fancy Jumpsuit Is Best?