Gwen Stefani Interview at New York Fashion Week Fall 2010
Fab Exclusive! Gwen Stefani Talks L.A.M.B, Trends, Trousers
Gwen Stefani left her LA life behind temporarily to attend the Fall presentation of L.A.M.B. at New York Fashion Week. How cool is this shot of her with her models? But before we check out her latest rockin' chic designs, let's hear what one of the coolest mommies in Hollywood said about her Fall inspirations, her favorite trends, and design aspirations. Be sure to also hear Gwen's thoughts on red lipstick and her new fragrance.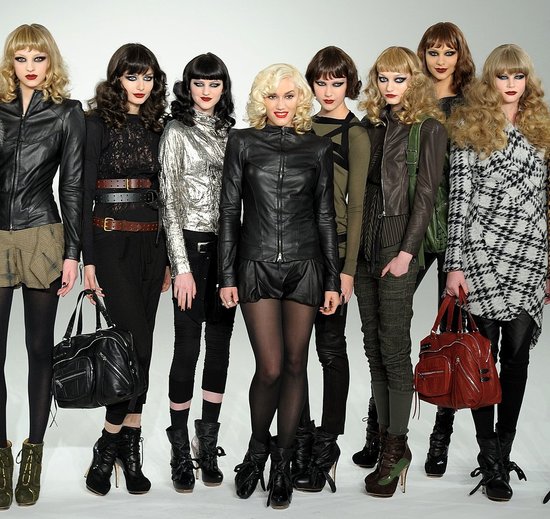 Her design aspirations:
I just want to make stuff that I want to wear . . . Stuff I want to wear every day that's to the left enough that it makes you feel unique and individual, but also you can wear it. That's my ultimate goal . . . I think the collection has a lot of that in it . . . That's the hardest thing to do. It's easy to make some glamorous dress and put all of your energy into that. To make that T-shirt that you just throw on that's actually cool and funky and makes people go, "Whoa!" When they're jealous, that's what I want to do.
To hear what else Gwen said and to see her Fall '10 line, read more.
On the Fall collection:
The collection is kind of based on this vintage, naughty Hollywood girl — starlet girl, and then a little bit of a modern, futuristic girl, and a little bit of a soldier girl . . . What I've learned is that you kind of have the inspiration, you have the picture, you have an idea, and what I love about fashion and about doing it is that it just sort of evolves into whatever it's going to be . . . A lot of things drop out, a lot of things don't make it, but at the end of the day it's like the creative process of that picture and that drama that makes you very creative and come up with things that you wouldn't. And some of my favorite looks of the show are things where we were like, "There's nothing on this rack!" And then you put it together, and there is actually something on the rack. I can't wait to see it all together, with the music, and the girls, and the girls look so beautiful. They blow my mind.
On trend she's looking forward to:
I just love when things that I love come back into trend. It's funny because it does recycle, doesn't it? I don't really know what the trends, are; obviously my team kind of does that thing and I listen, whatever I like I just kind of go for.
Current trends she's loving:
My whole life I always wore men's pants, trousers, and would be that look. And I had to fight for years to try to get people to like want me to — and now they're in. They're gonna always be in for me. Like when they're out, I'll still wear trousers.