Gwen Stefani Red Leather Pants in LA 2012
Gwen Stefani Defies the Red-Leather Pant Norm — and Takes the Chic Route
There's a reason Gwen Stefani is at the head of the stylish-celeb-mom pack, and we can place full accountability on looks like these. See, we never lose sight of the fact that Gwen is a bonafide rock star (she is wearing red leather pants after all), but she's able to deftly temper her onstage image with something more polished, mature, and, well, copy-worthy. It's a four-part ensemble, equipped with enough punch to please the edgier styler, and enough sophistication for someone who craves classic references. We're breaking it down to make the process of re-creating it that much easier — just keep reading.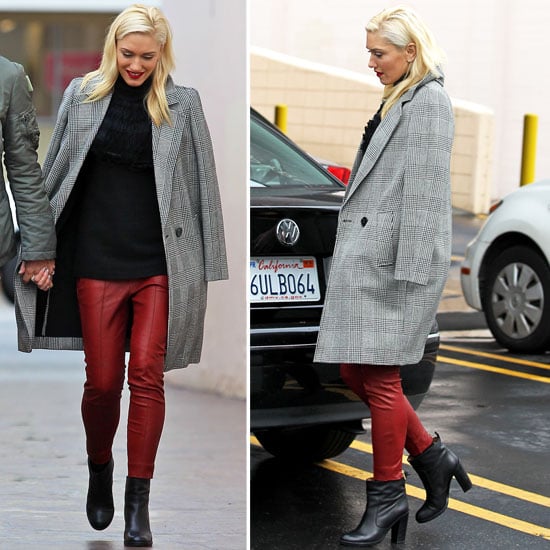 You need exactly one edgier piece for this kind of chic-meets-cool-girl outfit. Gwen chose a red leather pant, but if you aren't ready to take that leap, a black leather iteration (even coated/waxed would work) will suffice. If you forgo this step, then you basically have an entirely different look. The thing is — the slicked-up tough vibe of the pants is what allows the rest of the components to shine.
This is your one-two punch right here: classic staples times two. Pair the pants with a soft, textured black turtleneck and a plaid coat. There's nothing quite like the when-opposites-attract effect, and we've got to say, the juxtaposition of leather against timeless prepster pieces is a match made in style heaven. Side note: you don't have to emulate the coat-draped-over-shoulders look. We know the verdict's out on this particular styling cue, but do make sure your outerwear is ultratailored and cut closer to the body.
Finish the look with your favorite pair of heeled booties. Instead of opting for a low-key ankle boot, give this look its polished due with something a little more formalized. You can still keep the edge (hey, booties are no black-tie affair), without sacrificing the sophisticated layers on top.