Gwyneth Paltrow Fall Style | September 2012
Gwyneth Paltrow Gives Us a Fall Look We Could Honestly Wear Every Day
Playing right to the classics, Gwyneth Paltrow reminds us that there's a reason to invest in Fall staples, and that sometimes keeping it simple is also insanely chic. But the best part about Gwyneth's latest is that you don't have to look like Gwyneth (or have the actress's budget) to channel the same perfect Fall style. It's easy enough to pull off with the closet basics you already have, and it's a pretty universally flattering ensemble — here's how to outfit your own take just in time for Fall: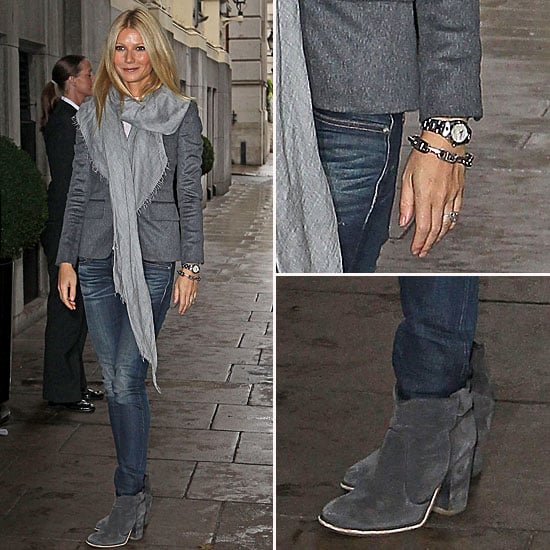 Start simple. Look to your essentials, like a pair of well-cut, classic skinnies or straight-leg denim, a white t-shirt, and your favorite blazer. These are the pieces you'll return to again and again (and they're the foundation of this whole look), so if you don't have these pieces — or don't have versions of these pieces that fit you well — it's time to go shopping.
Take it up a notch. Gwyneth elevates this look two key ways. First, she adds in a scarf for more visual interest (and a little extra warmth), and secondly, she keeps the entire ensemble in an ultrachic monochromatic palette. Do the same, whether you opt for gray, à la Gwyneth, or go with black or tan hues. You'll achieve the same results by keeping your blazer, scarf, and ankle boots in the same color family.
Opt for a cool, seasonal finish. Gwyneth's heeled ankle boots are walkable, but still more polished than sneakers and feel infinitely more seasonal than your ballet flats. Find a great neutral pair like Gwyneth's — they'll go with nearly everything in your closet and work for multiple occasions.