Haute Hijab Luxury Collection
This Empowering Luxury Brand Is Changing How Muslim-American Women Wear Hijabs
In 2009, when Muslim-American entrepreneur Melanie Elturk was preparing for her engagement party in Michigan, she couldn't find the right hijab to wear. "I had this beautiful skirt and hand-embellished belt that I made myself, and then I was wearing this polyester-chiffon hijab," she told me at the downtown NYC showroom for her brand, Haute Hijab. "And it just ruined everything. Your outfit suffers when you don't have the beautiful headpiece that should adorn your stunning gown or dress."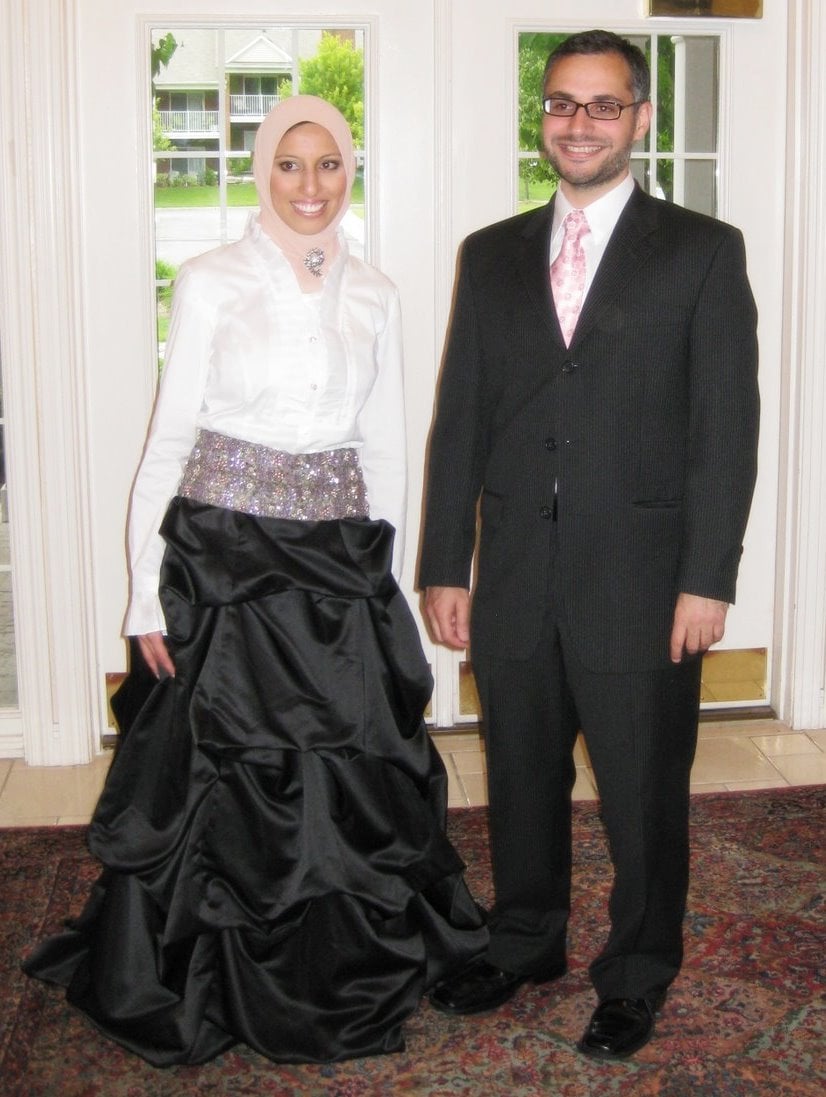 Image Source: Courtesy of Melanie Elturk
This is just one reason she founded Haute Hijab — a community and e-commerce site for hijab-wearing women — with her husband, Ahmed Zedan, in 2010. She wanted options. And she knew other women did, too.
"I happen to have a knack for fashion," she said. "I wasn't formally trained, but I just have an eye for it. That alone wasn't enough for us to do something in fashion. When I thought about the hijab space and the real problem that Muslim women have, I knew there was this huge community that was relatively untapped. Nobody was in this space."
The site offers styling advice and chic, shoppable hijabs, including of-the-moment prints and solids in fabrics ranging from georgette to jersey. But eight years ago, launching a platform like this was taboo.
"People feared blowback from the community, because in 2010, to say the words 'hijab fashion' was like an oxymoron," Elturk said. "Hijab is not fashion. Hijab is religious garb. But I looked at it from a practical standpoint. We all wear it. Why shouldn't we take pride in it and have options? And feel and look beautiful in it?"
Currently, Elturk has 181K followers on Instagram, the site receives an average of 200,000-plus page views a month, and the brand has made over $1.5 million in sales (one-third of that was made last year alone). And on Jan. 22, POSUGAR Fashion has exclusively learned that Elturk and her team are taking it to the next level: Haute Hijab is launching a collection that is considered first to market: luxury hijabs. "If you google 'luxury hijab,' all you'll find are satin scarves and silk scarves," said Haute Hijab Creative Director Gizelle Begler.
The five-piece collection features elevated hijabs in a neutral color palette — including silver, ivory, cream, gold, and black — with stunning embellishments. There are beading, lace, appliqués, and beautiful textures, like chiffon and 100 percent pure silk. These high-end pieces are meant to be worn at formal affairs.
Since Haute Hijab was launched, Elturk says the platform's followers have been vocal about their fashion needs. "They're eager to see formal and professional [hijabs]," she shared. "The Muslim community is, number one, highly educated. And, as a result, pretty wealthy. Our specific customer base has a medium household income of $90K. She has a high educational degree: PhD or masters. We were hearing: 'My husband is a doctor or I am a doctor, and we always have these formal affairs. I have nothing to wear. I look so frumpy, and I just pale in comparison to everyone who is there.'"
"There's a huge misconception that we're forced to wear it, that some man told us to wear it, and it holds us back in some way. But it's quite the contrary."
When it came to executing this vision — for their customers and themselves — the designers were inspired by classic headpieces from the '30, '40s, and '50s, as well as Hollywood icons like Grace Kelly and Hedy Lamarr.
"I thought about the origins of the company and what we are trying to accomplish," Begler explained. "We are an all-American brand, founded by American Muslims for American Muslims. We wanted to make sure the aesthetic didn't get too Arabic or Asian. That's why it made sense to go back and look at these silhouettes and actresses."
While some of the Luxury pieces are fully beaded and decorative, others are more subdued. "We really wanted to vary on the level of embellishments," Begler said. "No woman feels left out. If you're a diamond-bling girl, you got it. If you want something avant-garde and different, try the lace. And if this is all too much for you, go with the more understated chiffon and tulle."
The price point of $250 to $325 echoes the craft of the elevated designs. "Because it's the first of its kind, we get to define what hijab luxury means," Elturk said. "The amount of workmanship and the level of materials we are using — and even Gizelle and I jumping in and doing some handwork when need be — warrant the price. We did a focus group, and people told us we were underpricing them, but it feels like we are in the right place."
Developing more hijab options feels especially relevant for where fashion is in 2018 — a very different place than 2010. Last year, Nike created its first Pro Hijab, a breathable headpiece made for working out. The past few years, we've seen hijab-wearing women featured in an H&M campaign, on the Yeezy Fashion Week runway, gracing the cover of Allure, and, recently, as the newest brand ambassador for L'Oréal Paris. Even American Eagle came out with a denim hijab last Summer. Times are changing.
"The first thing that goes through my head is, 'This is great,'" Elturk said. "This helps to normalize hijab in the mainstream. While I don't believe Nike did anything innovative, they still did a lot to normalize hijab and to give a voice to hijab-wearing women. That's amazing. When I see Dolce & Gabbana doing abayas, then I am immediately like, 'Cha-ching!' They know where the money is at. That makes sense. Putting a woman in a Dolce & Gabbana abaya on their website or Instagram is huge. So I am not mad at them. I am like, 'OK, good for you.' Because in the end, it's helping us, and that's great."
That said, there is still room for the hijab commerce space to grow. Elturk explained that while everyday basics are available, categories such as formalwear and activewear are still lacking, and she hopes Haute Hijab can fill that void. (Spoiler: athleisure hijabs could be in the works!) "Many doctors email us and say, 'I have a really hard time putting my stethoscope in and out.' Or dentists, who have a face mask and need to put it under their ears," she said. "Accessing [things] in a hijab can be difficult, and there's no solve for that yet. We've made some really good progress since my high school days, but we have a long way to go."
Then, there is the need to keep educating people about why women wear hijabs.
"There's a huge misconception that we're forced to wear it, that some man told us to wear it, and it holds us back in some way," Elturk said. "But it's quite the contrary. For example, Gizelle is a Muslim woman who happens to not wear it. That's her choice, and that's OK. But at the same time, someone who does wear it has also made the choice for herself. There's so much mystery behind Muslim women who wear the head covering. Part and parcel of this company was helping demystify the hijab-wearing woman in the mainstream — normalizing that — so people understand she is following the tradition of everything that came before her."
For those who don't know, Elturk explained the origins of wearing a hijab. "The hijab predates Islam," she said. "A lot of people assume the hijab is specific to only Muslim women, but it's a practice that we carried from Christians and Jewish women before us. When you look at Mother Mary, you don't see her without her head covering. It's in that same vein. We just happen to continue the tradition of head coverings."
She also has advice for young women and girls facing pushback for wearing a hijab. First of all, she recommends getting allies — be them Muslims or non-Muslims — who will stand up for you if you get bullied. These people can be friends, teachers, or coworkers. "Also, dig deep into who you are — your own identity — and understand for yourself why you wear it," she explained. "If you just put the hijab on because it's expected of you or because of community obligations, that initial momentum will wear off quickly. Know from your heart and understand why you wear it. If that conviction isn't there, then it's easy for it to come off the second you face an adversary."
Elturk hopes her Haute Hijab pieces will help women feel even more confident to express themselves style-wise. "First, it allows a woman to feel beautiful and confident," she said of her design mission. "And, number two, to have the courage to say to the world that I am Muslim. That in itself empowers any Muslim woman, because — as we all know — being a Muslim today in America can be difficult. A lot of Muslims are shying away from their identities. They're not wearing headscarves out of fear. They're not telling their coworkers they're Muslim out of apprehension for how they may be perceived. So being able to empower them to feel like they have the courage to say to the world, 'I am Muslim and I wear a headscarf!' is important. Having the product that does make you feel proud and beautiful is also equally important."
Keep reading to see an exclusive first look at Haute Hijab's gorgeous debut Luxury collection, the mood board, and a special video!
Campaign credits: Styled by Freddie Leiba and makeup by Maria Ortega.