Hayley Bloomingdale From Moda Operandi Gifts
We'd Kill For Anything on This Luxe Holiday Wish List
It comes as no surprise that anybody connected to the Bloomingdale family would have a job in fashion. So when Hayley Bloomingdale joined one of our favorite websites, Moda Operandi (where we were more than a little excited to preorder Isabel Marant's Spring lineup of footwear), as its editorial and social media manager, we couldn't wait to hear what she was giving this holiday season. From that chic vintage find for the man in your life to the perfect present for the girl who has everything, Hayley's gift guide has something to make anybody's holiday that much more special.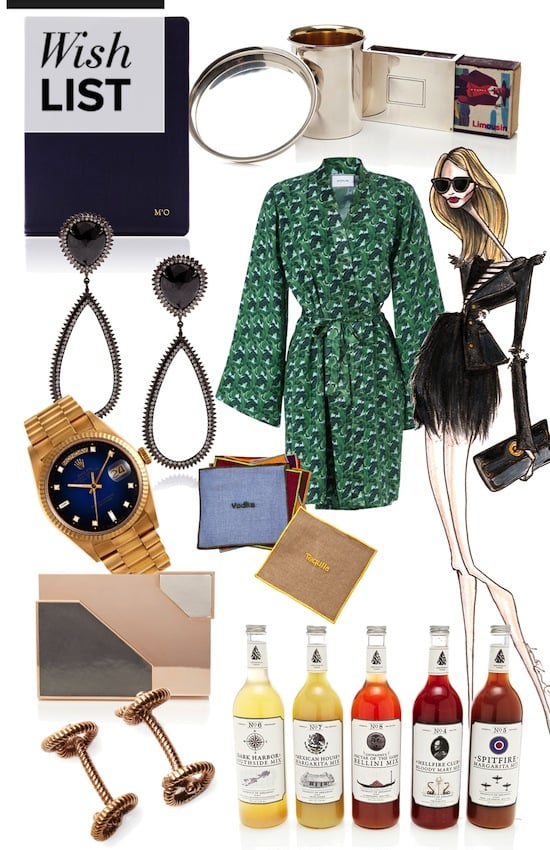 Shop the products here:
Graphic Image Leather Agenda ($245): "I love anything you can put initials on. It makes for a great personalized gift."
Hermés Sterling Silver Smoking Set ($7,995): "I'm not 100 percent sure what someone would do with all of these tools, but I do know that I would be wildly impressed (or even a bit intimidated!) by anyone who had this at their house."
Poplin Indochine Silk Dressing Gown ($350): "There's nothing I love more than a good bathrobe. Even the person on my list with the best wardrobe can always use something chic to wear around the house!"
Jamie Lee Reardin Personalized Sketch ($500): "I love Jamie's sketches, and this is such a cute, unique idea for that person on your list who probably has no room to hang anything in their closet — but has plenty of room on their walls!"
Julia B. Couture Cocktail Napkins ($250): "Any gift that amps up cocktail hour is probably a safe bet for any of my friends. These are cute and cheeky."
Bronson Van Wyck's Cocktail Formulas ($140): "Some people make cocktail mixes — Bronson makes cocktail formulas. A formula for drinking from the party-planning king himself? The perfect start to any holiday in my book!"
Rollo Vintage Cufflinks ($240): "I gave a pair of vintage cufflinks to one of my brothers last year for Christmas, and he loved them! Cufflinks are a classic gift, but a vintage pair means no one else will have them! He just might be getting another pair this year . . ."
Lee Savage Gold-Plated Clutch ($2,550): "Silver and gold . . . a no-brainer for the holidays!"
Vintage Rolex ($19,500): "Is there anyone out there who wouldn't want this in their stocking?"
Eva Fehren Diamond Drop Earrings ($18,425): "These are just so cool. I don't know anyone who wouldn't want to open these on Christmas morning. I'd probably even put them on with my bathrobe."