Heidi Klum and Zac Posen Project Runway Season 12 Interview
"It's Fashiontainment!" Zac Posen and Heidi Klum Spill Project Runway Secrets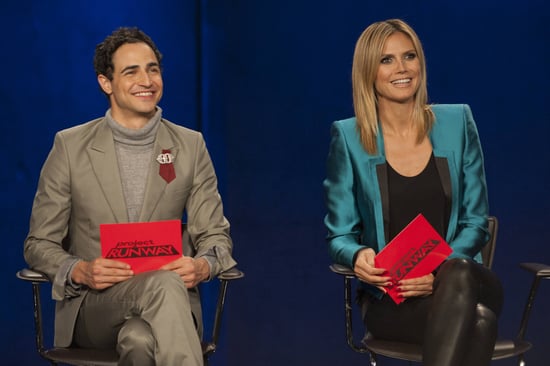 In the near decade that Project Runway has been filming at Parsons, the production team has kept a closed set. Until now. For this season, we got to go behind the scenes as they filmed a very special episode (more to come on that later!), we took an all-access tour (including the newly decorated workroom, designer's lounge, and well-stocked Belk accessories wall — check out our pics on Instagram!), and we got beauty tips from the hair and makeup team.
Although we can't share it all with you just yet (darn spoilers!), we did sit down with some of our favorite judges to get all the scoop on the new season in advance of its premiere on Lifetime tonight. After one wild runway show, the producers turned off the cameras so we could grill Heidi Klum and not-so-new judge Zac Posen on all things Project Runway.
POPSUGAR: Heidi, you've been hosting for going on 12 seasons. Now, when you first meet the contestants, do you have a good sense about which designers are going to go all the way? Is that why, this season, the runway is "anonymous" — where none of the judges knows who designed each look as it walks?
Heidi Klum: You do, but sometimes they do surprise you. Because right now we don't know who made what. The models change all the time so you can't think, "Oh this designer has that model." So we are just purely judging the outfit, and we don't have an emotional attachment to the designer. But you kind of know because you can see a certain quality of work or the kind of style that someone has — you do see it quickly. We have some in here who are really good, and every week they are really good. We have someone in here that won three times in a row and we've never had that before.
PS: And, Zac, you've been the best replacement for Michael Kors we could ever ask for. Now into your second season as a judge, what have you learned?
Zac Posen: That I have to tie my ties an inch shorter when I'm sitting in the tall judging chair! You always reflect back on your past experience on television once you watch a season. I think that I learned to be more trusting of my instincts of where the talent is and who has it, and to push for it. 
PS: You came into fashion in a much different way than through a reality competition. If you were to be cast on Project Runway as a designer, what kind of contestant do you think you would be?
ZP: I'm very competitive. I think that you have to understand your skill set, and I'm a designer who can actually drape and cut and sew. So that does lend itself to this kind of competition, and it enables me to understand how to judge these designers.
PS: Has being a judge and seeing the results from these challenges influenced the way you design the collections you're putting out now?
ZP: No, I leave my design aesthetic at the door. It's really important. I've had such amazing educators and teachers and mentors in my life, and the best ones really tried to strive to get the best out of me as an individual creator. That's what I try to bring to the runway while being funny and humorous at the same time — because it is entertainment . . .  It's fashiontainment! You get very connected to the designers on the show. I'm rooting for all of them all of the time. 
PS: And the results speak for themselves. Some incredible designers have come out of this franchise. How does it feel to have kick-started so many careers?
HK: I'm very happy for them because I know how hard it is in the industry. Even big-time designers sometimes come to me and say, "Do you want to finance in my business?" You don't always know what goes on behind the scenes, so I can only imagine how hard it is for these people who are just starting new. A lot of them work from their apartment. Christian Siriano, for example, did. Then, he won, and now I see his studio is a good studio — it's no Michael Kors studio, but I saw all his steps along the way. So I feel very proud of him, but he also works very hard. It's not only winning — it doesn't mean you're going to make it, but it definitely gives them a push. You use this going forward, and he is someone that did. He is also now part of the CFDA, which is fantastic because to get in there you need to be approved by everyone in this snazzy fashion industry. You have to be good, so I am proud of them and we gave them that platform by being here.
PS: Zac, if you had to have Heidi, Nina Garcia, or Tim Gunn critique your new collection, who would it be?
ZP: Well they are all welcome to my studio at any time! I would take them all in one go. I would be very scared of course — anybody should be scared to put yourself in that circumstance. I think we all love fashion and we're all enthusiastic about it. Tim doesn't critique on the show so I would be interested in that. I don't know if I would want to go back to over more than a decade ago when I was in university and had fashion critiques at Central Saint Martins that are quite intense. Those days are behind me, but those are what build my strength and character.