Hillary Clinton, Anna Wintour at Oscar de la Renta Exhibit
Hillary Clinton and Anna Wintour Join to Celebrate Oscar de la Renta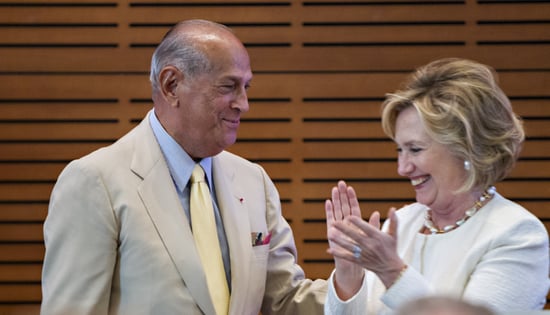 Oscar de la Renta's designs carried Hillary Clinton through her posts as first lady, senator, and secretary of state with style. And Monday night, at a reception for an exhibit of the designer's work at Bill Clinton's presidential library in Little Rock, AR, Anna Wintour guessed that they'll be just as useful when Hillary takes the White House.
"It's anyone's guess what the next chapter will be for this extraordinary woman. I can only hope that all of you here in Little Rock will be celebrating her come November 2016," Wintour said to applause.
Hillary avoided any talk of her political aspirations, choosing instead to focus on de la Renta and his work. The Associated Press reports that she called the designer a "dear friend," and later thanked him for treating "first ladies such as myself and Nancy Reagan and Laura Bush with such great support."
The exhibit includes pieces worn by those women and some celebrities — the chartreuse dress from Carey Mulligan's May 2013 cover of Vogue dominates one corner of the exhibit.
The exhibit, which was curated by André Leon Talley, will be on display until Dec. 1, 2013. A look at the reception and the dresses on display, here.