Hottest Models of 2013
Make Like Tyra and Help Us Pick America's Top Model!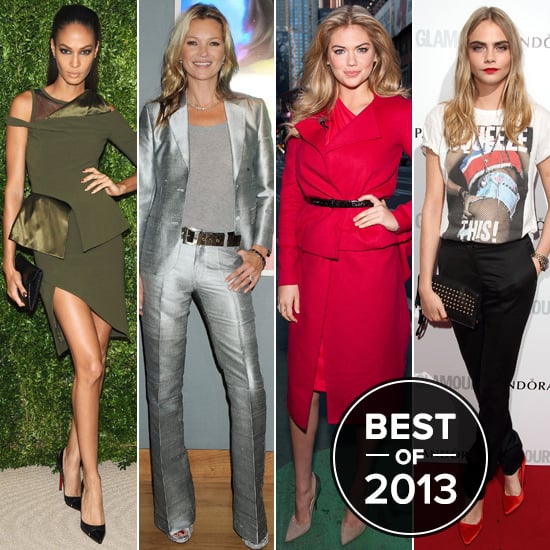 Whether off duty or on, models had a very big year — and none was bigger for the likes of Joan Smalls, Kate Moss, Kate Upton, and Cara Delevingne. Read on to find out why we couldn't look away from these faces and vote in our poll by Dec. 16 to pick the year's top model!
Joan Smalls
The runway model was already a familiar face from H&M and the Victoria's Secret shows, but the sight of Joan on Elle marked not only her true breakout moment but also declared the official return of the supermodel. And because hers is a January cover, that means we have a lot to look forward to in the coming year.
Kate Moss
Who didn't Kate pose for this year? There was Stuart Weitzman, Paul McCartney, Esquire UK, and of course, Playboy. She wasn't just showing face — she designed a line of phone accessories for Carphone Warehouse, announced another collaboration with Topshop, celebrated her 25th anniversary in the industry, and earned a retrospective auction at Christie's, which brought in over $2.4 million. No wonder Marc Jacobs just declared "While England may have two Kates, in my heart, there is only one."
Kate Upton
If you weren't paying attention to her after her consecutive Sports Illustrated covers, her appearance in Vogue, Elle, and most recently Vanity Fair's 100 anniversary edition made you take notice. And she finally broke into the world of high-fashion runways by appearing on her first one, sans swimsuit. Of course, even at Paris Fashion Week, she can still fly under the radar when she wants to!
Cara Delevingne
If you're not up to speed on Cara, you're clearly not on Instagram, where she chronicled everything (and we do mean everything). But photography — and let's not forget modeling — isn't her only talent. She acts! She sings! She tattoos! She even plays the drums!