Today's wardrobe refresh lets you have your slouchy sweater and a more defined shape, too. That's to say, we're getting a hold (rather, a cinch) on these chunkier Fall layers before they consume us. You don't need to break the bank to follow suit — all that's required for this mini overhaul is some strategic belt, plus topper, action. Take it from these seasoned style setters: giving your look an extra dose of definition is a cinch.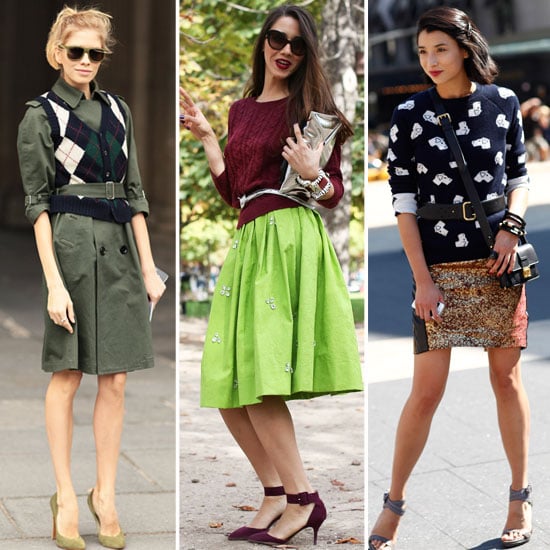 The first thing you should know about giving your oversize sweater the belt treatment — it inevitably leads to a new take on proportions. Whether you pair this waist-enhancing accent with jeans on bottom or a slim-cut pencil skirt, it draws your eye to three, instead of two, shapely points: the torso, the waist, and the legs.
If you're wearing a printed or supertextured sweater, we'd go for a thicker, wider belt to offset the dynamic pattern. A skinnier version may not break up the intrigue or your shape the way you'd want it to.
Think of this one-minute makeover styling trick as another way to colorblock. We think this is the perfect excuse to play with Fall's color palette, while still injecting that same formula of waist-defining edge. And how? Just add your belt as the finishing touch. Our current combo to try out: camel + burgundy + metallic skinny belt.