Karolina Kurkova showed off two fabulous looks at a Swiss bash last night, but it was her red-and-blue ensemble that made our colorblock-loving hearts skip a beat. The supermodel started with a silky red button-down and red leather pants — both by Joseph — which was a bold pairing on its own — then things got even more thrilling when she finished off with unexpected cobalt pumps. It makes us want to fuse red and blue, pronto. Only caveat? How to work the palette without looking like you're dressed for the Fourth of July. I know what you're thinking — it's easy for a svelte model to pull this look off, but can I? Yes, you can; just keep these tips and trick in tow to make it work: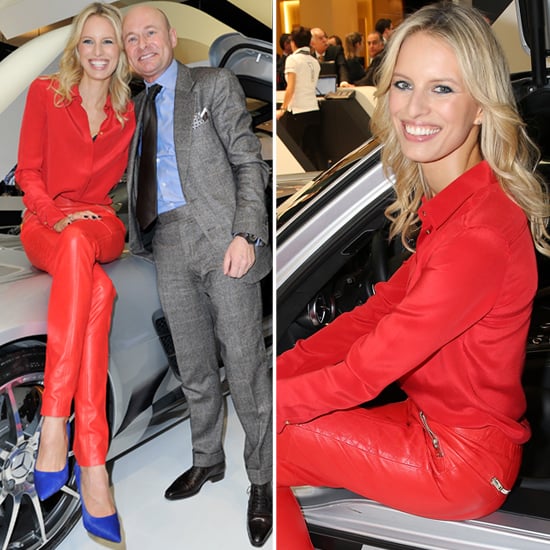 It takes a certain amount of confidence to wear brights like this, but once you've nailed that, that's half the battle.
Once you've faced your daring side, make sure to limit your look to only red and blue. Read: under no circumstance should you throw in white in the mix (unless of course it is actually July 4).
Keep it simple. While you might be able to get away with injecting a little black, you'll lose the dramatic (and chic!) effect that the red and blue contrast creates when you add more colors to the ensemble. If you don't love Karolina's exact outfit, you can experiment with other combinations: blue top with red pants, red blazer with cobalt jeans, blue dress with red shoe — the options are limitless and the effects are sure to be just as strong. To get you started, we've picked our favorite red-and-blue pairings below, just shop to channel Karolina's bold look.