How to Dress For Fall 2012
Ready Your Fall Wardrobe in 7 Easy Steps
Pretty soon we'll be trading our iced coffees for a warm pumpkin spice latte; likewise, we'll be making similarly minded adjustments in our closets, trading sundresses for cozier fare. Because the change of seasons is a much more subtle transition (not exactly like turning a switch), we're curating a few of our favorite ways to ready for the weather with ease — the pieces you'll need right now to transform your summery staples for the Fall ahead. With a closet full of feminine dresses, effortless maxi skirts, and work shifts and sheath, we're looking to tailored essentials like a sophisticated blazer, Fall's more covered-up footwear, and a selection of moodier textures and fabrics to give your breezy pieces a little more backbone. Read on for the best ways to ready your wardrobe with a touch of the upcoming season.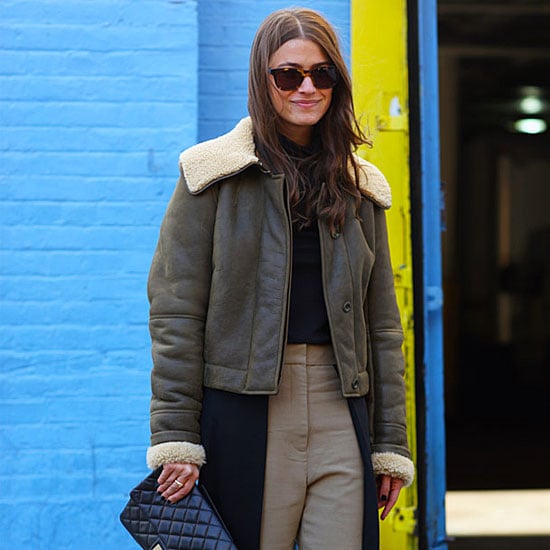 Start simple — a cardigan may just be the best lightweight layer to begin the transition. Invest in soft cashmere versions and longer-length varieties that will wear just as well over your favorite Summer dresses now as they will with skinny pants and denim later on in the season.
Your footwear is the easiest way to hint at the change of seasons. Start swapping your sandals and wedges for loafers and ankle boots that feel inherently like Fall. You don't have to commit to a head-to-toe Fall style, but changing your favorite gladiator sandals for a pair of loafers with your jeans shows you're on top of the seasonal shift.
While Summer is the season for breezy cotton, Fall is all about rich, luxe textures. Start introducing corduroy on your pants, leather on your skirts and jackets, and pony hair on your shoes, and look to fur and faux fur detailing when the chill really sets in. Any of these more luxurious fabrications instantly gives your look a moodier, Fall-appropriate feel.
Read on for the rest of our easy ways to prep for the change of seasons.
Looking to Fall means adding to your jacket wardrobe. A denim button-down or anorak makes easy, everyday layers to throw over a printed dress, skirt, and tee; later, they'll be staples in your full-fledged Fall look alongside sophisticated skinnies and a snug sweater.
Take your work look to Fall with two easy changes: style up your shift dress with a blazer and finish with pumps (not open-toe sandals).
Embrace the shift with a darker palette. Adding jewel tones and deep browns, blacks, and grays to temper bold print and bright color can take even your summeriest printed skirts into Autumn.
Do an accessory swap. Trade in raffia, woven, and lighter-weight satchels for leather and suede satchels or handbags with heavier hardware. Even toting a Fall-feeling purse can give your look a seasonally minded makeover in a snap.
Looking for more ways to transition seamlessly between seasons? Check out our now-and-later styling guide.
Source: Phil Oh