Aimee Song, author of the popular blog Song of Style, is the newest Piperlime guest editor in partnership with POPSUGAR. She will be sharing her favorite trends, style tips, Piperlime picks, and how-tos right here on POPSUGAR Fashion.
Stripes are back and more sophisticated than ever for this Summer season. I love to dress up so I'll definitely be incorporating them day and night. Here are two looks that incorporate the new and improved stripes trend that I'll be dressing up.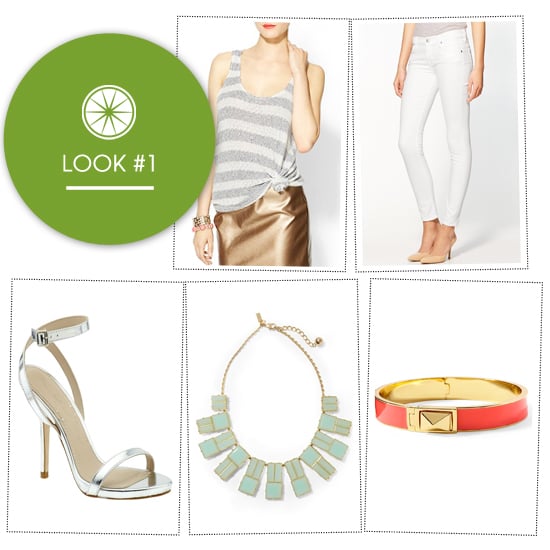 Stripes are definitely my Summer staple, but when I'm running around all day, I have to be able to dress them up for an evening out. I'll pair my go-to white skinny jeans with this Sia tank by Soft Joie. White can be casual and sexy at the same time. The texture of the striped top makes it dressier than a plain tee. And you know how I love my strappy heels! Sleek and sophisticated, just like my stripes, these sandals from Elizabeth and James complete the look. For pops of color, I'm obsessed with Kate Spade's polished jewelry collection. I throw on this statement necklace and bangle, and I'm ready to hit the town.


And now to reveal my Summer striped must have . . . the Sabine Beatriz Moto Jacket. It's so fun and bright, I'd wear it over a solid sleeveless shirtdress. A striped blazer adds flattering structure to the flowy dress. I'll keep it simple with metallic flats but add pops of color with my jewels and handbag! I'd wear mine with this deep-teal messenger bag by Marc by Marc Jacobs and a turquoise necklace by Michael Kors. And none of my looks are complete without some arm candy: this cuff by Giles and Brother is a perfect splash of bling.
Now go get dressed up and have some fun! To find your own sophisticated style, check out more stripes at Piperlime.