How to Get Sarah Jessica Parker's Winter Outfit
SJP Gets the Cold-Weather Equation Just Right — and Makes It Look Easy
As a seasoned New Yorker, Sarah Jessica Parker knows how to dress for the Winter elements, run errands, and pick up son James Wilkie from school — all without falling victim to an abyss of unflattering layers and a puffer-jacket-induced marshmallow silhouette. And get this: her styling trick isn't really a trick at all. It's just a matter of sticking to the cold-weather basics and not losing sight of your form. Thus, we're taking a closer look at exhibit A (yet another awesome SJP display of denim, ankle boots, and the perfect subzero topper) to cull the best quick tips on how to get her cozy-chic Winter look.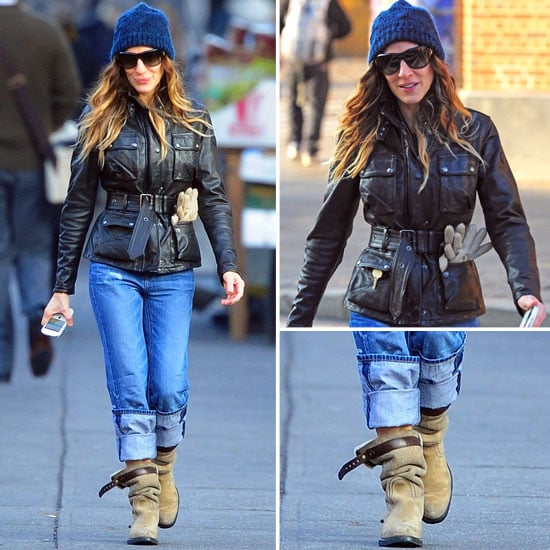 We know that on really cold days, there's just no avoiding the heavier outerwear options. That's why we're taking a page out of Sarah Jessica's book and going the flattering-form route. When opting for a thicker jacket — whether it be a puffer jacket or a slicker leather version like SJP's Belstaff jacket — look for a shorter cut (so you're not drowning in the length) and one that's equipped with a wide waist belt. As shown by SJP, being able to cinch your top layer can easily add serious definition to your shape.
Don't skimp on the cozy accessories. Listen, if it's freezing outside, you most definitely need a hat, gloves, a scarf, the works. We love how SJP incorporated a cool set of luxe-looking accents into her outfit — see her blue chenille-textured beanie and tan suede gloves peeking out of her pocket for a little extra inspiration. Our only advice: pick one accessory that pops (like her blue beanie) and let the other pieces act as a neutral complement.
It's no surprise that SJP would get the denim + boot equation just right, mostly because we spot her almost every day in some cool-girl variation of the above. Today's fare, though, reminds us that an ever-so-slouchy, shearling-lined pair of ankle boots are the perfect solution to the always-present quandary of what to wear when it's cold. If you're going to follow suit, just make sure to choose jeans (cuffed or naturally ankle-cut will both suffice) that cut close to your body. In other words, make sure your denim fits you like a glove. You don't want to end up with a baggy jean and relaxed boot situation on bottom — it will make all the cinching up top look uneven.