How to Look Flattering in Photos
Take Notes! Jessica Biel Teaches a Lesson in Photo Flattery
You may not be a celebrity who gets her photo taken every second, but let's face it, Facebook has provided enough instances for fabulous photo-ops. That's why this lesson should prove valuable for you. While Jessica Biel looks great in her one-shouldered Vionnet frock and House of Lavande jewels at the The A-Team photocall in Madrid, we love the shot on the right more. That's because the dress looks extra smashing from the side. Same dress, totally different angles. This proves there's a lot you can do to make your most gorgeous outfit more flattering in photos.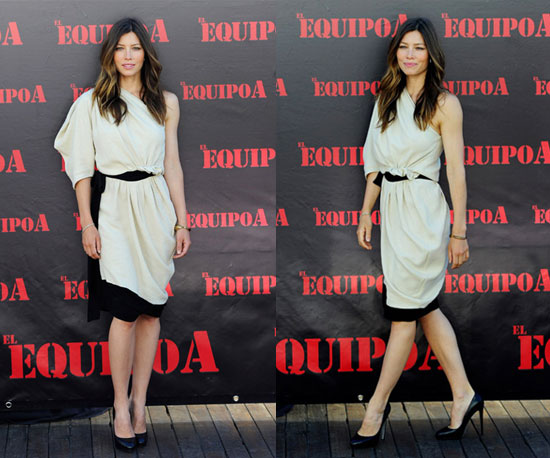 To learn some tips on how to look flattering in photos, read more.
When you turn to the side, you automatically look much thinner. But beyond that, when wearing a one-shouldered dress like Jessica, it's always best to put your bare shoulder forward, especially if the other shoulder has a pouf detail.
Speaking of pouf, while voluminous details may look good in real life, they don't always translate on film. That's not to say you should ditch anything poufy. Rather, when being snapped, try your best to hide the pouf and accentuate the slender part of your ensemble.
Take various photos of yourself before leaving the house. The outfit you love so much may not be as photogenic as you thought. Plus, this will help you see at which angles your outfit looks best.
Another reason to snap yourself is to make sure your dress isn't sheer. You never know until the light flashes!
High-waist pants are totally in, but they can sometimes look unflattering in photos. It's especially smart to turn to the side when getting snapped in your high-waists.
When you sit, your pants — especially silk — tend to get wrinkly, and no one wants a picture of themselves looking wrinkly. If need be, ask the photographer to snap you from the waist up.
And finally, just because you left the house polished doesn't mean you still look put together after a night of partying. Do a quick self-check-up to make sure that every ruffle is in its place, all your lady parts are covered, and that no bras or panties are showing. Say cheese!