How to Make Cutoff Shorts
How to Make Perfect Cutoffs
Everyone knows the stylish Summer appeal of cutoffs and how to wear them, but do you know how to make the best cutoff shorts from those old jeans of yours? We turned to denim guru Chantel Valentene, formerly of Resin denim. We asked Chantel — with her foolproof tips for making cutoff shorts for Summer that won't be too short, too long, or too uneven — to be our resident cutoffs expert (and model).
The Short: The Casual Everyday Cutoff (made from men's jeans)
Occasion: all day, every day. "Granted they are way too big for me, but I love wearing these shorts. They're so comfortable, so relaxed, so chill, so we are going to make these into a pair of tomboy shorts."
Step 1: Invert and Smooth — "Whenever you're working with something that is 100-percent cotton you want to turn it inside out, it usually helps, because you can make sure you don't cut through your pockets — they're so long you would never know you were cutting a short short. Then smooth the legs down straight."
Step 2: Measure — "Since the rise is so long we cut them pretty short, because they'll hang down pretty low on our bodies. I'll do a 2 or 3 inch inseam, but we start at 3 inches. We're going to curve the inseam up because on men's jeans they're so baggy that following the curve of the pocket makes them a little bit sexier. I'll measure it out from my crotch point 3 inches with my measuring tape."
Step 3: Even It Out — "You want to match your point. Fold it over, making sure the crotch is folded, so you can make sure you're at the exact same point on both sides because the worst thing is uneven shorts!"
Step 4: Customise — "Give it some fray. Usually what I would do is throw them into the washing machine and don't cut it off, so the fray looks more authentic. But you can create a fray easily: start rubbing the shorts legs together to create fabric friction. Start pulling some of your yarns out. It works really well when your fabric is 100 percent cotton, because there is no kind of spandex to draw it back so the cotton just lays flat. A lot of men's jeans are 100 percent cotton and a lot of boyfriend-fitting jeans are a 100-percent cotton, so that's fine."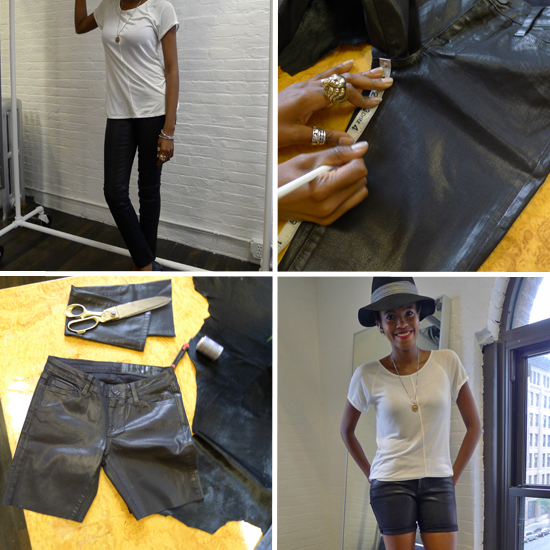 The Short: Sleek Bermuda Cutoff (using double-coated black skinnies)
Occasion: a night out. "I'm really a jeans and t-shirt kind of girl, but you can do a fancy vest top or a beaded shirt if you're going out at night, and/or a denim jacket with it. I would wear it with a white tee and a hat. Maybe a really awesome blazer, a long blazer. I'd do that."
Step 1: Measure — Measure the length, either for a five- or seven-inch inseam. "I am going to cut it at seven, then see if I like. And if I don't, I can go up shorter. The worst thing to do would be to cut it at five inches and you hate it, but then you're stuck. Start measuring from your crotch point."
Step 2: Cut — "Cut one side first, then the other. Never cut both sides at one time, or don't try to cut straight across. Cut the front piece first then the back piece. Put a little incision at your starting point. Then cut straight across on my top layer only and make sure it's laying flat. Use the back end of your scissors, because that's always the sharpest point."
Step 3: Even It Out — You want to match your point. Fold it over, making sure the crotch is folded, so you can make sure you're at the exact same point on both sides."
Step 4: Customise — "I nip the sides 'cause I like to fold them up. Jeans get narrower to your knee, so when you're cuffing it up you split it a little bit to give more room and avoid sausage leg."
Rules For Creating the Perfect Cutoff:
Always cut longer. Measure from your crotch point. Chantel uses a tape measure and marks the length with chalk.
Use your sharpest scissors.
If you don't have a measuring tape, get a piece of paper and make two lines so you know the points are the same on both sides."
The second leg is tougher. "You get the first leg perfect, and the second one you're always like, ugh, especially on a curved angle because you don't really have an exact pattern that you're following. It's always harder, so just take more time and make sure you have it laid out correctly. Make sure it's inside out, and make sure your lines are matched up."
Image Source: POPSUGAR Photography