How to Pack Light | Summer Travel Tips
Summer Travel 101: How to Pack Light (Like a Pro)
We're getting deep into July, and with still more quick Summer getaways on the docket, we're prepping with a refresher in minimalist packing. Because as much as we love feeling ready for any dress code, it's not exactly fun lugging around an overpacked bag, either. Cutting down on what makes it inside your weekender bag has everything to do with staying calm, cool, and collected. Ask yourself: What's the weather going to be like? Are there any formal evening events involved? Is there room to recycle outfit pieces? Those answers should help shape the contents of your packing strategy, along with employing a level of self-restraint, of course. Read on for our quick tips for packing (light) like a pro. Have one to share? Do so below!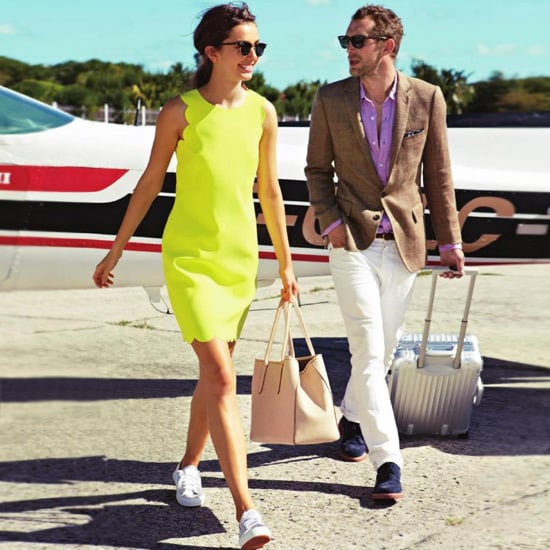 Don't underestimate the power of making a list. Write down the bare essentials of what you'll need for your trip, wherever the final destination may be. Key word here is basic: bras, underwear, socks, a pair of jeans, a warmer layer for the evenings, a chic go-with-everything dress, and so on. Then, follow your list without exception — it'll help you to not go overboard when you start digging into your wardrobe.
Do be reasonable. Override that voice in your head trying to convince you that you absolutely need six tops for a three-day trip. You don't . . . and the practical you knows that.
Don't skimp too much. If you know that you're going to a wedding with formal dinners planned every night, then yes pack a few extra dresses. The trade-off? Include a neutral-toned pair of ankle-strap sandals that go with each outfit, so you don't have to overload on the shoe front.
More tips after the jump!
Do roll your clothes instead of folding them. First of all, it minimizes wrinkles and therefore you don't have to worry about the quality of your hotel iron. Second of all, it frees up a lot of space for other traveling necessities.
Don't forget to pack a great belt, a pair of statement earrings, and a classic pair of flat sandals. When in doubt, these things will come in handy.
Do adopt Kate Middleton and Michelle Obama's recycled-outfit policy. Unless you've been out hiking all day, or rolling around in the sand, there's a very good chance you can wear certain wardrobe pieces more than once in a single trip. If you first wore your white sundress with a jacket and cute espadrilles for a casual night out, turn said sundress into a beach cover-up for day two — just a thought!