How to Remove Stains From Clothes 2011-08-03 13:30:54
Quick Stain-Fighting Tips For Untimely Disasters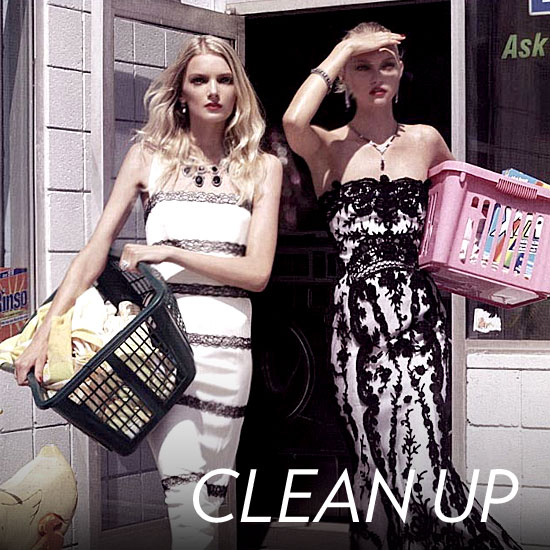 No matter how hard we try to keep clean, stains happen to the best of us. They usually occur at the most inopportune time landing on some of our favorite tees, sweaters, and fashion god forbid, white dresses. That said, we compiled a list of tried and true easy stain fighting tips from designers, clothing care gurus, and fellow editors. Now if only we could look just as glamorous as Lily Donaldson and Gemma Ward, seen here in Vogue, while cleaning our clothes . . .
Oil stains (pizza, grease, sauce): Grab a white absorbent cloth and place under the stain. Create a solution with two tablespoons of dish wash soap, like Palmolive, and one tablespoon of white vinegar. Dab the stain lightly until it breaks down and passes through into cloth, and then flush with lukewarm water. — John Mahdessian, Madame Paulette
Deodorant stains: "Get rid of embarrassing deodorant stains on your clothes by rubbing the affected area with an old pair of pantyhose." — Chi Chau, FabSugar Associate Editor
More handy tips plus how to get rid of lipstick, blood, and sweat stains.
Club soda: "Don't let that stain sit. Take immediate action and douse the affected area in club soda, then cover in kosher salt. The salt will absorb the stain." — Noria Morales, FabSugar Editor
Stains on white tees: "Even though I'm not a mommy, I'm slightly obsessed with baby wipes (unscented). If I have one within reach, I'll use that to clean the stain at the first sign of an attack, then launder as usual – all whites with a little cap of bleach on delicate." — Jen Menchaca, Nation LTD
Lipstick stains: "This one's a little trickier. I like to use rubbing alcohol or ammonia on lipstick stains, but make sure your clothes/fabric can handle it by testing the solution on a small inconspicuous area. All you have to do is put a little bit on a white cloth then blot — do not rub — the stain until it disappears. — Chi Chau, FabSugar Associate Editor
Blood or sweat stains: Use ice cold water to re-wet the area until it is soaked through then place a clean cloth underneath the stain. Create a solution of four parts water, one part ammonia, one part peroxide, and one part color safe detergent like Ivory liquid. Use a Q-tip or rag to lightly tap on the stain, which will push it through to the cloth underneath, and rotate the absorbent cloth as the stain comes out. — John Mahdessian, Madame Paulette
Keep a Tide pen handy: "It really works. I recently spilled coffee all over a (of course) white shirt and the Tide pen completely removed it." — Noria Morales, FabSugar Editor
Oxy-Clean it: "Oxy-Clean is my go-to stain fighter. I use it on everything because unlike bleach, you don't have to worry about it yellowing your whites. I'll add the powder to my wash regularly, or use the spray for quick spot treatment. For major stain issues, mix the Oxy powder with cool water and a little detergent and apply on the stain with wash cloth before throwing in the wash." — Hannah Weil, FabSugar Assistant Editor