How to Shop For a Swimsuit
Five Big Bathing Suit Buying Mistakes You Might Be Making
Lucky magazine is one of our favorite sources for great shopping tips. We're thrilled to share this fabulous story from our friends at Lucky!
Finding the right bikini or maillot is much easier (and way more fun!) if you can avoid these common trip-ups.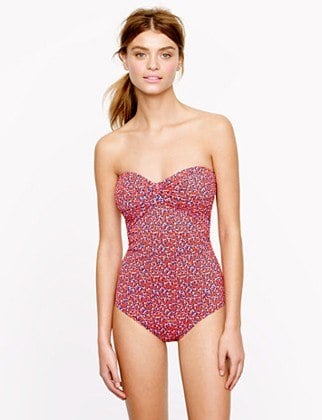 Not Taking the Time to Strip Down
Ideally, your bathing suit search should be a leisurely in-person process, used to test every available cut and how it holds up when you do jumping jacks/bend over/pretend to spike a volleyball. Sure, it might not be nearly as fun as, say, fancy sandal shopping, but you'll be grateful when there isn't any fit issues on the beach. However, if you must order online, be sure to pick a place with free returns, in case something isn't quite the way it looked on screen.
Rosebud Bandeau Tank, $98, jcrew.com
Click over to Lucky for the rest of the tips and tricks!
For all the fashion and style from Lucky, check out even more of the magazine's best stories.
Shop Mini Florals
Denim Skirts You Can Wear to Work