How to Show Skin the Right Way
Show It Off (Just Not All of It) — How to Bare It Right
In the post-Carrie Bradshaw fashion world, anything goes — bras over t-shirts, socks with sandals, evening dresses with Converse, you get the gist. Regardless of this new-age "break the rules" approach to dressing, we're holding firm to one nugget of wisdom from mom: leave something to the imagination. We're not surrendering our right to wear miniskirts or tube tops — or even the slit or crop-top trend — but we are suggesting that it's done with a little more awareness of the skin we bare. Just a look at Kate Middleton's turn in a slit Roland Mouret gown and Anja Rubik's Met Gala appearance in a hip-bone-revealing slit gown calls to mind the differences between a skin-baring do and don't (we'll let you guess which one is which).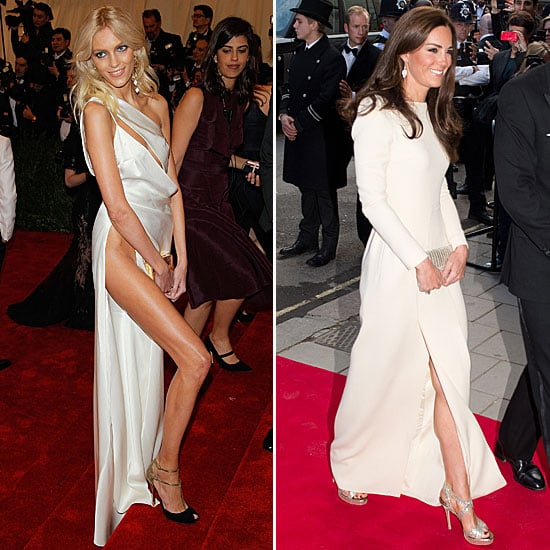 Keep reading for all the info on baring it right.

From left: Olivia Palermo, Eva Mendes, Dree Hemingway, and Diane Kruger have the right idea
The truth is, there's something really sexy about showing skin the right way— just look to Olivia Palermo, Eva Mendes, and Diane Kruger — style setters we love because of their savvy play on sex appeal. See how their looks are never overtly revealing? When it comes down to it, there's nothing fun about being one false move away from a wardrobe malfunction — and with these tips in mind, you never will be:
Think of getting dressed like simple math — if you've subtracted coverage on top, you better add some coverage on the bottom, like Dree Hemingway, who balanced her midriff-baring crop top with a high-waisted full skirt.
Make this your manta: just because you can wear it, doesn't mean you should. There's no denying that supermodel Anja has a seriously hot bod, but that doesn't mean we need to see it all. The same rules apply at home: you may be able to pull off a plunging neckline, open back, and thigh-high hemline all at once, but adding a blazer keeps the look classy (not trashy).
Your footwear is just as much a part of the balancing act. A minidress doesn't always need a pair of sky-high heels: in fact, if you're going short and tight (especially during the day), you might want to consider trying a more modest heel or wedge to balance out the sultry vibe.
The sexiest women know their bodies and dress to flatter their proportions. The truth is that skimpy dresses and tight jeans don't look great on everybody, and that's more than OK. Knowing your shape and dressing accordingly is the trick to looking your best — always.