How to Wear Big Sweaters With Skirts | Fall 2012
Take Your Styling to Great Lengths (Literally) — and How to Keep It Chic
Part of acing the basic styling equation (top plus bottom equals perfectly balanced outfit) is knowing when to modify your proportions to fit the season. In this case, we're referring to Fall's call to longer silhouettes and oversize cuts, and how to make that seemingly slouchy-shapeless look work for you. We happen to think it looks cool — if done right — because of its long, lengthy layers and undeniably laid-back appeal. Even when you punch it up a notch with a structured blazer or dynamic optic print, there's something so undone and chic about the finished effect that makes us want to go to great lengths, too.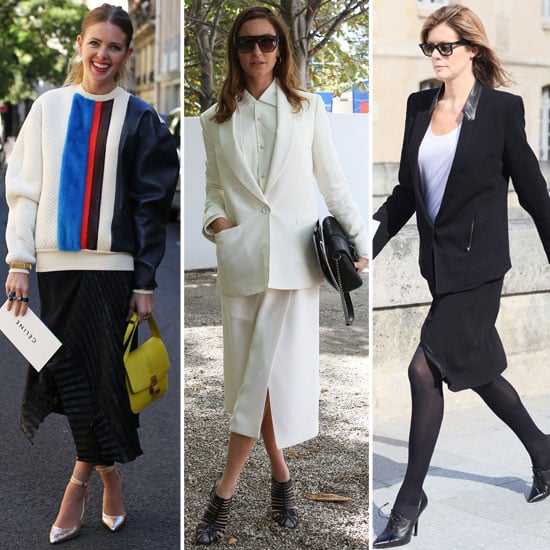 To us, it's the ultimate cold-weather win-win: you can wear your favorite chunky sweater or boxy outerwear and wear it with your most beloved, lived-in skirts-and-tights combo. The only snag is a flattering execution — because who really wants to pile it all on, only to look seriously frumpy? — and that's where we come in. First, we'll let these street stylers, pictured above, showcase their personal takes on the "long and long."
Then click on for our quick great-lengths styling tips.

The chunkier your top layer is, the slimmer your bottom layer should be. We're not saying you need to forgo the comfy maxi skirt. Keep in mind: a longer skirt, cut closer to the body, will draw the eye into your natural silhouette rather than the voluminous sweater shape on top.
You don't necessarily have to do long sweater and maxi skirt to get the same lengthening effect. Like these street style pros, you can opt for a shorter hem (maybe with a slightly pencil-meets-flared shape), especially if you're shorter in stature. That way, you're not actually drowning in the layers. It's a good idea to offset the layered look with a great pair of heels or booties — yes, more height, more length, more opportunity for you to maximize your proportion control.
If you're going the whole nine — long on top, long on bottom — it may be worth your while to keep the color palette neutral or, even better, tone-on-tone. Whether you go with black-on-black or white-on-white, the effect is clean and keeps the overall shape minimalist and simple. There are no wild patterns or extra bulk to deal with.