How to Wear Booties
Did You Know Your Basic Booties Could Do This?
Booties are the ubiquitous shoes of the season — cast a glance downward next time you're out, and you're guaranteed at least a few spottings. If you've been wearing your favorite pair in the same style, it's time to break out of the rut. See nine different ways to wear the most practical shoe around (and then shop our favorite picks under $200!).
With Cropped Pants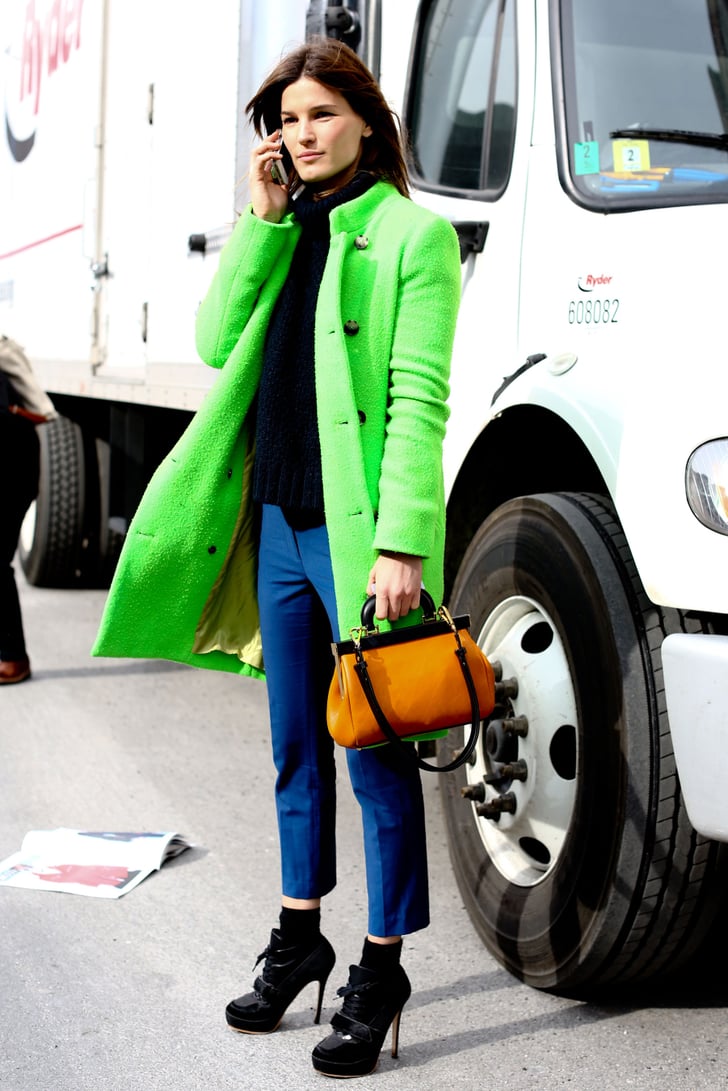 Frustrated by your pants bunching up each time you pull on your shoes? Avoid the problem altogether by slipping into a pair of cropped trousers, à la Hanneli Mustaparta. The flash of ankle is smart for Fall, when ranging temperatures can make a full-on bundle too much.
Our eight other favorite ways to wear booties?
With a Full Skirt

The beauty of the bootie is how perfect it is for, well, most every outfit. Try the style with a prim and proper skirt and blouse that you'd ordinarily pair with pumps.
With Tights

For the sleekest look, wear yours over a pair of black tights. The combination of two wardrobe staples makes a major power couple. Plus, your tights will make nearly everything in your wardrobe Autumn-appropriate.
With a Pencil Skirt

Your booties are the quickest way to make a tailored pencil skirt ready for a downtown girl. Throw on a heeled or flat pair with the sleek bottom, but be sure to top it off with a blouse or tee that's more casual than corporate.
With White Jeans

The white denim you wore with sandals in the Summer is ready to take on the new season in style. The laid-back style is toughened up with a fierce stiletto bootie, while the white only lets your shoes pop all the more.
With Black Pants

The no-brainer bootie approach when you have approximately five minutes to get dressed in the morning? Slip into your skinniest black pants and then pull on your booties, leaving the hems of your pants to bunch as they do naturally (use this street style star for inspiration).
With a Ladylike Skirt

Our brains instinctively want to pair flat booties with ripped-up jeans, but the ready-to-stomp kicks are actually a smart styling choice with a ladylike skirt or dress. Do like blogger Jessica Stein and make sure the rest of your look stays polished.
With Socks

For warmer Fall days when tights aren't necessary, try your favorite pair of booties with a pair of socks. Knee-highs can run the risk of feeling too Cher Horowitz; instead, look for trouser socks and push them down so they pool around the ankle bone.
With Cuffed Pants

If you want to wear straight-leg pants with your booties, consider cuffing them (reference the cropped look above). Experiment with a clean fold or the more relaxed roll you'd try with boyfriend jeans.