How to Wear Bright Coats in Winter 2012
One-Minute Makeover: Punch It Up With a Bright Coat
Today's quick tip is sure to add a vibrant touch to your Winter wardrobe in no time at all. The cold weather can put a downer on your dressing savvy, but we're curing your blues with mini style makeovers. Think of it as an easy outfit pick-me-up. Just take cues from the style setters below and top it off with a bright coat. We know it's more of a statement investment piece, but we're here to tell you exactly why you need one. Leave your fashion hang-ups behind — read below for our no-fail shopping and styling tips now.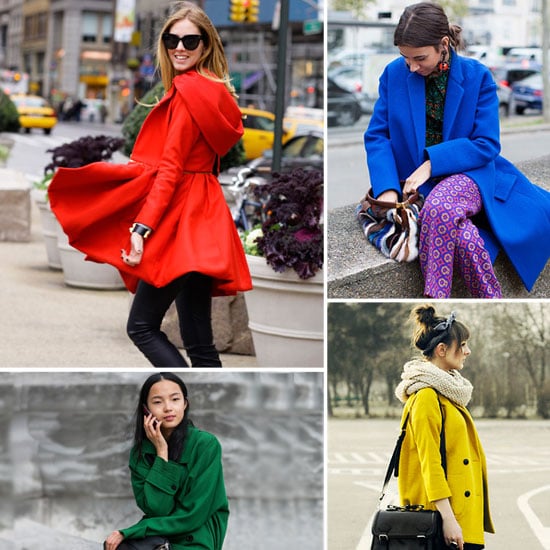 Choose the right color. We suggest you stay within the classic color palette and choose bright basics like blue, red, green, and yellow. That way, you can wear your coat season after season without worrying about fading trends. Also make sure the color you choose complements your skin tone and hair color.
Instead of trying to overstyle your outfit, let your coat take the spotlight. We love the idea of pairing slouchy jeans with pumps, a turtleneck, and a bright red coat for an easy yet stunning off-duty look. If you're looking for office-appropriate inspiration, just top off your go-to gray sheath dress or trousers with any bright coat for a statement daytime ensemble.
Last but not least, make sure it fits. Nothing is worse than wearing an ill-fitting coat — now can you imagine yourself wearing a bright ill-fitting coat? Right. When shopping for your colorful coat, make sure the fit is tailored to your body, but still allows room for a few layers underneath.
Source: Phil Oh and Lookbook.nu