How to Wear Dresses and Sneakers
Summer Dresses Look Cooler With Sneakers
Sometimes it's the most unlikely pairs that make the coolest couplings — think what you'd be missing if you never gave chocolate-covered pretzels a shot? Likewise, it's the sporty-meets-girlie mix of sneakers and sundresses that triggered our latest Summer outfit obsession. This season's sporty trend has given us so many sneaker options on the market right now, thanks to designer kicks like Isabel Marant's, Marc Jacobs's, and Lanvin's high-top revamps. Still, our favorites might just be the classic, low-key kicks from Superga, Converse, and Keds that style up our feminine day dresses with an uncanny cool factor, à la Alexa Chung for Superga.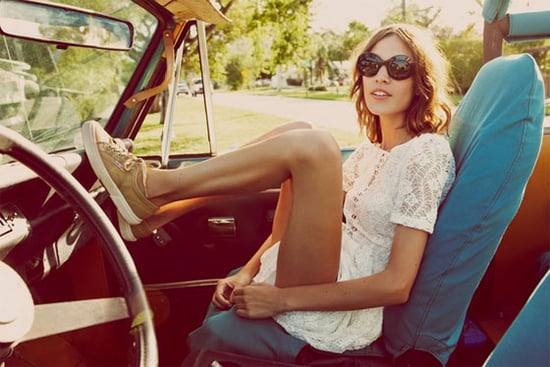 Photo courtesy of Superga
For the tips and tricks to getting the look just right, read on.
Keep it low-key: This look works best when it feels effortless (like Diane Kruger in an eyelet sundress and pink Converse at left), so look for easy silhouettes and breezy fabrications. You can have more fun with embellished, studded sneakers, but don't overdo the dress in this style equation. Sequined sneakers have a much cooler effect than a body-con sequined cocktail dress does.
Play to your strengths: As with any look, flatter your body and find the right dress and sneakers that work for you. If you need a little extra length in your stems, opt for a cream-colored or neutral-hued sneaker in a low-top — high-top sneakers tend to shorten the leg.
Avoid literal references: You're not going to capture the laid-back feel of this trend with your cross-trainers. Stick to casual, off-duty brands like Keds, Converse, Vans, and Supergas to hit the style note you want and steer clear of anything you might actually work out in. That said, it's still best to style up a skirt suit or more formal sheath dress (especially at work) with heels or more traditional flats (it's best to avoid any comparisons to Melanie Griffith's Working Girl look).