How to Wear Leather Pants
Style Tip: Make Leather Pants Casual Chic
Katie Holmes went on The Tonight Show last night to discuss her new movie, Don't Be Afraid of the Dark, but we were really just eyeing her pants. The normally classic Katie went for a sportier, slightly edgier look in cropped red leather Isabel Marant pants. We love cropped leather pants; they're luxurious without being too serious and are easy to dress up or down. Supermodel Karolina Kurkova also donned leather pants, showing that they can offer a casually sophisticated vibe for evening. Here are the two tips we're taking from these stylish women: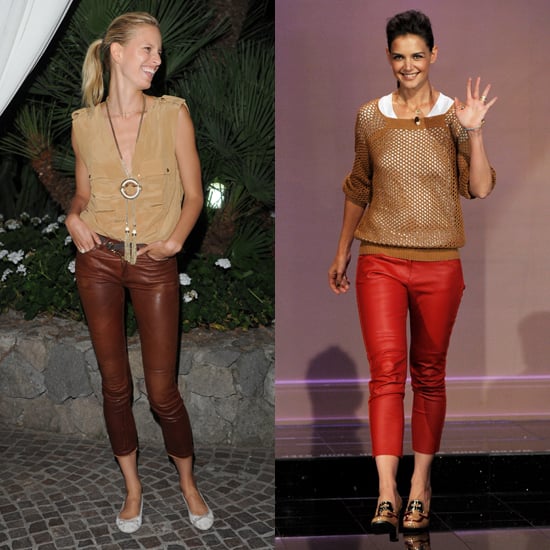 Crop it:
Leather pants feel a bit less dressy and bikery when in a cropped length; it's also a great opportunity to show off cute heels, like Katie did with her Prada Fall 2011 heels.
Keep it casual up top:
Both women chose sportier tops to give the look a more laid-back vibe; Katie layered a Madewell mesh sweater ($98) over a white tank, while Karolina went for a sleeveless silk camp shirt. Both chose the camel color...we love the combination of camel and red for Katie, while Karolina's earthy tones give her look a desert queen appeal.
Want to try it out yourself? We found some very cute leather pants to buy right now. Just click on our widget to shop.