How to Wear a Midi Skirt 2011
How to Execute Jena Malone's Perfect Midi-Skirt Style
When we spotted Jena Malone out this weekend, we thought to ourselves, this is how you wear a midi skirt. The actress's spot on combination of a fitted, almost corset style top, midi skirt, and platforms is practically a no-fail formula for how to wear one of this season's hottest hemlines — the midi skirt. This is why it works: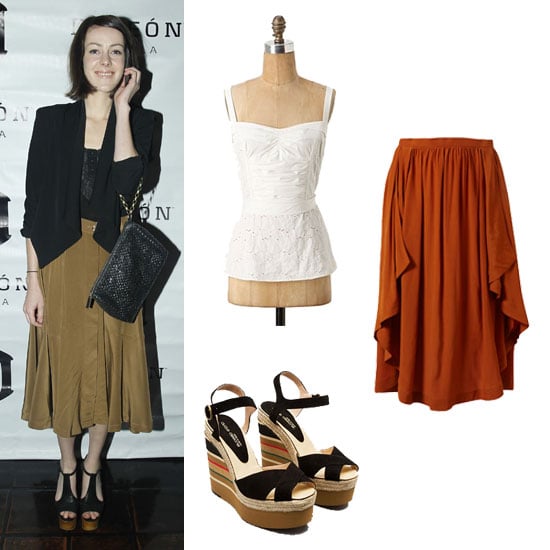 The fitted bodice style top flatters your frame and defines your waist, while the full calf-length skirt floats away from the body and balances your top half.
It mimics natural feminine curves, and on a boyish frame helps to define and create those curves where the structured top meets the defined waistline of the skirt. You don't want to add bulk to your top half with a billowy blouse or one that covers your waist.
The length is generally an easy one to pull off, exposing the thinnest part of the leg. Adding a platform or wedge helps to elongate your legs and make you appear taller, which is key to executing this style. Especially if you're on the shorter side you'll want to avoid pairing the midi skirt with flats.
Now, just shop the outfits below to get the look!