How to Wear Overalls | Street Style
Wearing Overalls Is Actually This Easy
As POPSUGAR editors, we independently select and write about stuff we love and think you'll like too. If you buy a product we have recommended, we may receive affiliate commission, which in turn supports our work.
If you haven't warmed to the overalls comeback yet, this street-style set might convince you to welcome the denim onesie back into your wardrobe. Don't be fooled — the piece may be a throwback, but the styling definitely isn't. These girls (including Alexa Chung!) outfitted the former '90s favorite with a totally modern, cool-girl approach — and it's easier than you think.
The Downtown Girl's Overalls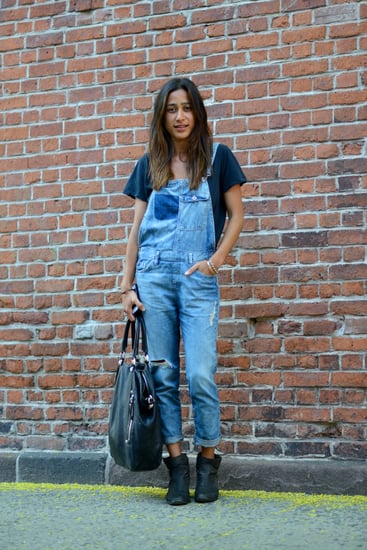 If you think wearing overalls is like putting on a costume, study up on this laid-back version. Just as you would your favorite pair of worn denim, follow suit with this trendsetter by mixing classic overalls with an oversize t-shirt and booties. Her overalls look is totally accessible and has that same effortless appeal that's also a little unexpected.
Read on for three more ways to wear overalls.
The Polished Girl's Overalls
Alexa Chung's play is a favorite for walking the line between dressed down and pulled together. She outfitted her basic pair of black overalls with nothing more than a white t-shirt and a pair of cap-toe flats — but we love that she chose such ladylike footwear. It's another brilliant tomboy-meets-sweet style move from Miss Chung that we're plotting to steal.
The Overalls Dress
If you're not into the long denim variety, this take still pays homage to the trend, albeit with a shorter, girlier cut. Not only does it show off your stems, but it looks even better dressed up with a silky tee and a pair of great heels.
The Sophisticate's Overalls
Sure, we've always layered up underneath our overalls — but it's her jacket layered over them that makes the difference here. We love that she took a more sophisticated approach with a crisp white button-up underneath and a tailored coat over top. To finish, she added a touch of femininity with ankle-strap heels. The result is nothing like the overalls we styled up in middle school.
Now, do try this at home: shop our favorite pairs below and style up with the inspiration above!