How to Wear Red For Holiday 2012
Red Alert: The Holiday Hue Gets a Cool-Girl Twist
As POPSUGAR editors, we independently select and write about stuff we love and think you'll like too. If you buy a product we have recommended, we may receive affiliate commission, which in turn supports our work.
When it comes to hues, red is par for the holiday-dressing course: red bows, dresses, sweaters — often (and sometimes unfortunately) paired with green. We love the festive feel, but we do firmly believe that there's a chicer way to do it. The proof is all right here — a pack of celebrities and street-style standouts (more on that below!) who've made the case for just a pop of the statement color. It's the real-life evidence of that a-little-goes-a-long-way adage, not to mention a seasonal, but less literal interpretation of the holiday dress code that you can apply to your everyday (not just your party) ensembles. Take a page form Diane Kruger's styling manual and perk up an easy white and black palette with a pop of red on your sunglasses, or take the high-wattage hue to a pair of statement heels. And, if you're looking to really get in the spirit of things, you don't have to commit to a red dress for your Chrismukkah festivities — just add a touch of holiday cheer with a ladylike clutch and coordinating pumps.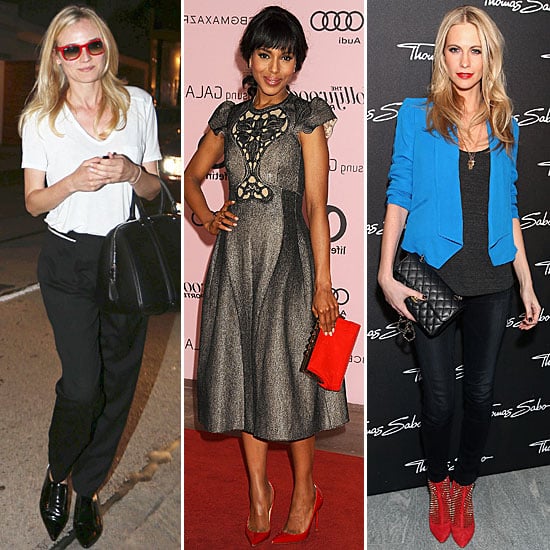 See how the street-style crowd styles the look and get more of our tips — it's all after the break.

While none of these looks scream "Holiday", there's an underlying seasonal richness, thanks to their accents. A bold bag adds interest to a classic coat and trouser set; a fiery jacket offsets a black skirt and a pair of staple boots; while red ankle-straps amp up both the sultry-factor and the dressy feel of a simple black pencil skirt and a cool-girl tee. In every case, it's the bit of cherry-red that amps up the interest — and it doesn't take a major commitment. Here's how to work it in to your everyday style — even if you're just the t-shirt-and-jeans wearing type:
Sunglasses and bags may just be the easiest way to add a burst of the color, without committing to a "holiday" theme in your whole look. Since we associate red with the season, even adding a pair of cool shades like Kruger's will feel like you've dressed the part, with a much subtler, fashion-conscious twist.
Red heels carry both a sexy and a holiday connotation, so they're ideal for updating your LBD or even a more casual look (a la Poppy) for party time.
If you're looking to embrace the statement color in a more obvious way, get yourself a topper in a brilliant shade of red. The trick is adding it to your look like a neutral — don't let it pigeon-hole you into holiday-dressing territory. Instead, mix it up with basic black or camel for a chic contrast — and feel free to try it against denim, leopard-print, really the options are endless. Note: just steer clear of green tights or you may end up channeling Elf.

Source: Getty; street style , Street Peeper, Ring My Bell