How to Wear Sheer Clothing
How to Avoid Sheer Disaster
Going sheer doesn't carry with it the taboo it used to. But just because we're all over our initial fears of the trend doesn't mean we should lean too far to the other side of acceptance — namely, revealing way too much in our see-through and semi-sheer gear. As with all skin-baring fashion trends, there are a few keys to getting it right and keeping it classy. Especially with Summer, the less is more approach to dressing may seem pretty apropos, but keep these tips on hand to avoid ever coming face to face with a sheer fashion faux paux: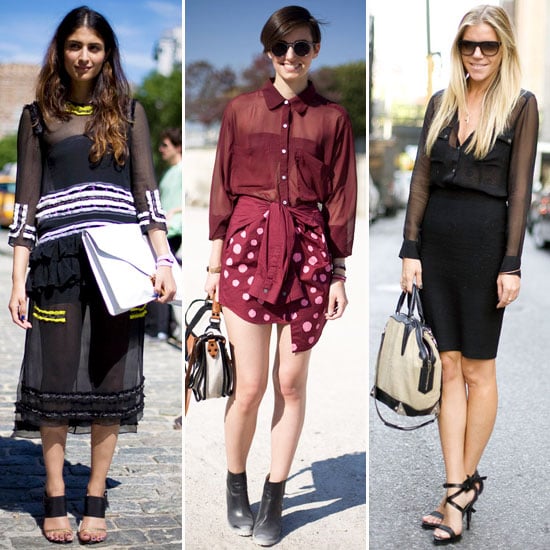 Three street stylers who got it sheerly perfect
You can wear a sheer blouse to the office, but you do need to layer up underneath. The only time it's appropriate to go sheer on top with only your underthings underneath is after hours or on weekends. Otherwise, add one of these to keep your look PG when suiting up in a semi-sheer blouse or button-down.
Half the fun of a sheer maxi skirt is showing off your legs and letting them breathe in the Summer heat. Of course, you don't want to reveal too much below the torso, so be sure to invest in a half slip.

Looking to go sheer? Do it right with the rest of our tips here.

You can wear sheer pants, you just need the right materials. A pair of undershorts, like these Spanx can help provide coverage and flatter your shape (win, win!).
As with any revealing look, play to your best features and keep it proportional. Going sheer on top? Balance out the look with something more covered-up on bottom, or vice versa for sheer pants and skirts.
Remember that every fabric becomes more sheer in bright light — that means Summer sun and the flash of a camera at a party are likely to reveal more than you planned on, so always err on the side of caution (i.e. it's best not to go bra-less where sheer tops are concerned).
Sizing is key. Sheer pieces that fit too snugly are going to up the sexy factor infinitely (even when you may not want to). Additionally, sheer fabrications that fit too closely to the body aren't going to flatter most figures. For the best effect, stick to pieces in breezy, lighter materials that — bonus! — also beat the heat.
Source: