How to Wear Sporty Glam Styles
Have Your Frills and Your T-Shirts, Too: Why We Love Sporty-Meets-Glam
Whether it's a party dress topped with a varsity jacket or a pair of cargo pants juxtaposed with sequins, we have a thing for sporty-glam looks. As much as we love a head-to-toe glamazon look done up in a sparkly and sexy fit, there's something a little more modern — not to mention entirely more wearable — when you contrast a few frills with your favorite t-shirts, slouchy trousers, or even sneakers (which we explain in more depth via our obsession with sneakers and dresses). Oscar de la Renta's Resort '13 collection captivated us with its easy balance of luxe and low-key, the same kind we've long loved from J.Crew's president and creative director (and styling genius), Jenna Lyons. Long story short, there's a bit of an artistry to getting it just right — and we've garnered the styling tips from a few of our favorites to help you pull it off.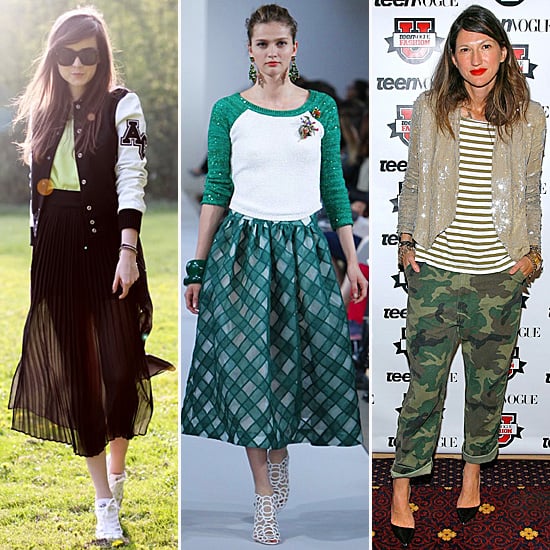 Left to right: Street style, Oscar de la Renta Resort 2013, Jenna Lyons
Proportion is key. You won't get the relaxed vibe you're after with all body-con or all oversized silhouettes. See how Oscar de la Renta balanced his runway looks with a prim fit-and-flare skirt and a body-skimming baseball t-shirt? The proportions play off each other to give it some ease. Do the same with a fitted t-shirt and girlie flared skirt or a slouchy knit and curve-hugging pencil skirt.
Don't fear contrasting footwear. We're looking right to Jenna Lyons, who finished a pair of slouchy camo pants with a polished pair of pointed-toe pumps. Yes, each piece hails from a different aesthetic, but together they make the look. It's easy to replicate with baggy, boyfriend-style jeans rolled up to reveal your favorite heels.

Read on for more ways to bring your sporty and glam styles together.

Pare down your party dress. We love the look of a totally girlie or glam party look, but street-stylers like the one above remind us just how chic they can look with a sportier topper. Instead of a cardigan or pashmina, temper your LBD or Summer sundress with a leather biker jacket, varsity jacket, or classic denim version. The resulting look goes beyond the predictable to give you the best of both worlds.
Accessories have serious styling power. It's easy to give basics that glam counterpoint with glittering add-ons or statement accessories. If you're looking to test out the style, then start simple with a basic white t-shirt and a bolder rhinestone necklace (and maybe a red lip!) to contrast. Pretty soon, you'll be mixing it up à la Jenna with a sequined cardigan over your staple stripes.
Don't go too literal. You'll want to avoid any actual sports or gym gear — a football jersey styled up with a sequined skirt isn't going to have the chic effect you're after. Look to sports-inspired pieces like vintage t-shirts, not jerseys, to get the look you want.
We've pulled a few of the key pieces, from baseball tees to pointed-toe pumps. Just shop to style up your own version of the sporty-glam look!

Photos courtesy of WWD and Style Scrapbook