How to Wear Summer Trends From OnSugar Blog Beauty and the Budget
How to Wear Summer Trends
Getting Summer trends right is important; here's what OnSugar blogger Beauty and the Budget has to say on the matter.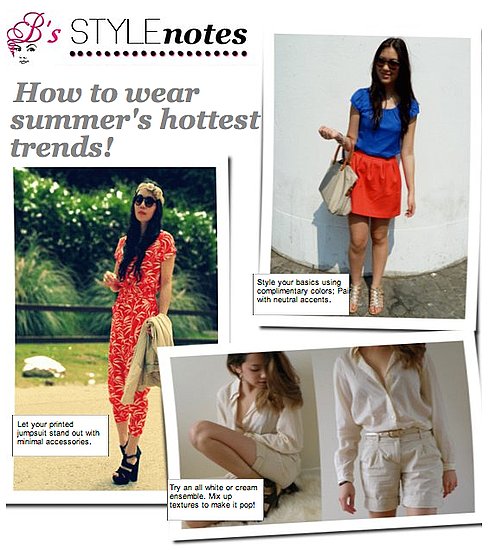 You already know what the latest trends are, and now you're dying to know how to wear them! Of course, everyone can put their own spin on a trend, but these ladies did it best when incorporating this summer's hottest trends into their ensembles. How can you get the look?
Tip #1: Let your printed jumpsuit stand out with minimal accessories. Some of the hottest rompers and jumpsuits this season have bright, bold prints. To really make the romper stand out, keep accessories to a minimum, like this neutral toned headband and jacket. It will make the jumpsuit the focal point, without overdoing it.
Tip #2: Style your basics using complementary colors; pair with neutral accents. One way to spruce up those boring basics is by pairing contrasting colors together. If you're unsure of what colors are complementary to one another, take a look at a color wheel. The complementary colors fall directly across from one another. A few examples are purple and yellow, blue and orange, and red and green. A neutral bag and shoes will tone the ensemble down a bit, making it easy and wearable.
Tip #3: Try an all white or cream ensemble. Mix up textures to make it pop! A neutral monochromatic color scheme is big this summer, but the look can be a bit dull. To style this trend right, be sure to add textured pieces into the mix, like this silky top with linen shorts. Lace and/or ruffles are also a great combination!

Read more from Beauty and the Budget, or start your own OnSugar blog, and we might feature you on FabSugar!