How to Wear a Tweed Dress For Spring
Think You Can't Wear Tweed in Spring? Here's How to Make It Work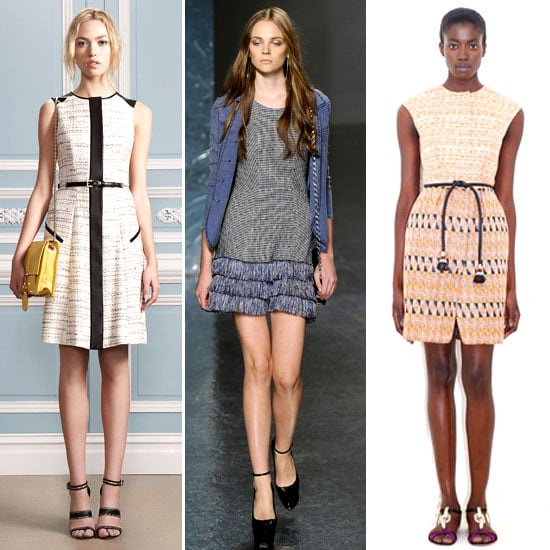 One of the biggest misconceptions about tweed is that it's solely a cold-weather trend — after all, it's of heavier weight, moisture-resistant, and incredibly durable — and while it is a great Fall fabric, there are also a number of ways to wear it for Spring. Designers like Jason Wu, Theyskens' Theory, Giambattista Valli, and more all showed sleek tweed dresses in their collections, proving that when done in pretty pastel colors and breezy, sleeveless silhouettes, tweed has the power to look polished and Spring-ready in a snap. Willing to try this trend for the coming season? Check out some of our tweed-wearing tips, then click the widget below to shop our favorite dresses.
Lighten up! The best thing about transitional tweeds is how easy it is to make them work for any climate. If you're still feeling the chill, just layer up with a pair of tights, ankle booties, and a blazer. When the weather starts to warm up, you can ditch the thick legwear and go bare, and pair your tweed frock with a lightweight sweater and pretty sandals.
Go bright and bold. Spring is the time to brighten up your color palette and play around with pastels, florals, and lots of white. Spring's tweed dresses look freshest in pretty, ladylike hues — for extra pep, choose a colorblock dress that has the brightest color closest to your face.
Wondering how to accessorize? For day, keep things simple and elegant (think Audrey Hepburn or Mia Farrow). Opt for a small chain-strap bag, patent leather flats, and a stack of bangles or thin rings. Amp things up for evening with sky-high heels, a colorful clutch, and a statement-making layered necklace look.