Whether you call them pants, trousers, palazzos, or slacks (LOL), wide-leg bottoms [1] are one of the most versatile silhouettes out there — especially when you want to give jeans [2] a break (there are only so many days we can last in a rigid, high-rise skinny).
The common struggle, however, is figuring out ways to wear billowy bottoms that don't feel overly dressy or downright awkward. Or maybe you're a wide-leg pants pro but feel as though you're lacking in the inspiration department. We're here to help.
Whether you're giving wide legs a go for work, dinner, or a special event, taking stock of the new season's styles will lead you toward fresh outfit combos aplenty. This Spring and Summer, everything from slouchier takes on tailoring and utilitarian-inspired cuts [3] with paper-bag waists to flowy floral prints and ultraroomy jeans are on deck (we have the deluge of '90s nostalgia to thank). Meaning, there are plenty of ways to embrace the must-try silhouette.
When it comes to easy-chic styling, the secret is simple: don't overthink it! Everything from t-shirts and blazers to cute tops and button-down shirts are fail-safe on top, and when it comes to shoes, mix it up! Boots, pumps, barely there sandals, and sneakers all look amazing, though extralong styles work best with a heel (see Kate Middleton's recent look [4] as proof). You can even ask yourself, "What would I wear with jeans?" Then, reach for a wide-leg pant instead.
To further guide you through your wide-leg pant journey, we've culled 57 outfit ideas via the street style scene to inspire. Plus, we're providing you with an edit of styles under $50 from the POPSUGAR at Kohl's collection [5] if what you're looking for is a brand-new and superaffordable take (honestly, who isn't?). In the case of pants, why not broaden, er, widen, your horizons?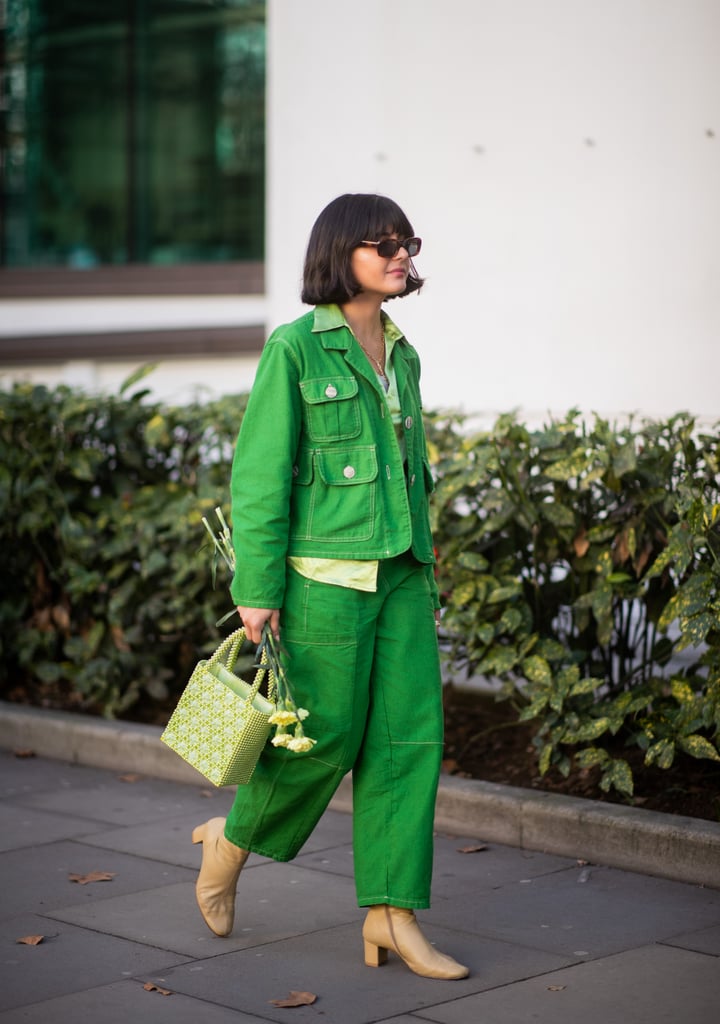 Make a punchy pair of wide legs bolder by styling with equally bright and tonal extras.
Who knew that tiger print looked so great with graphic stripes?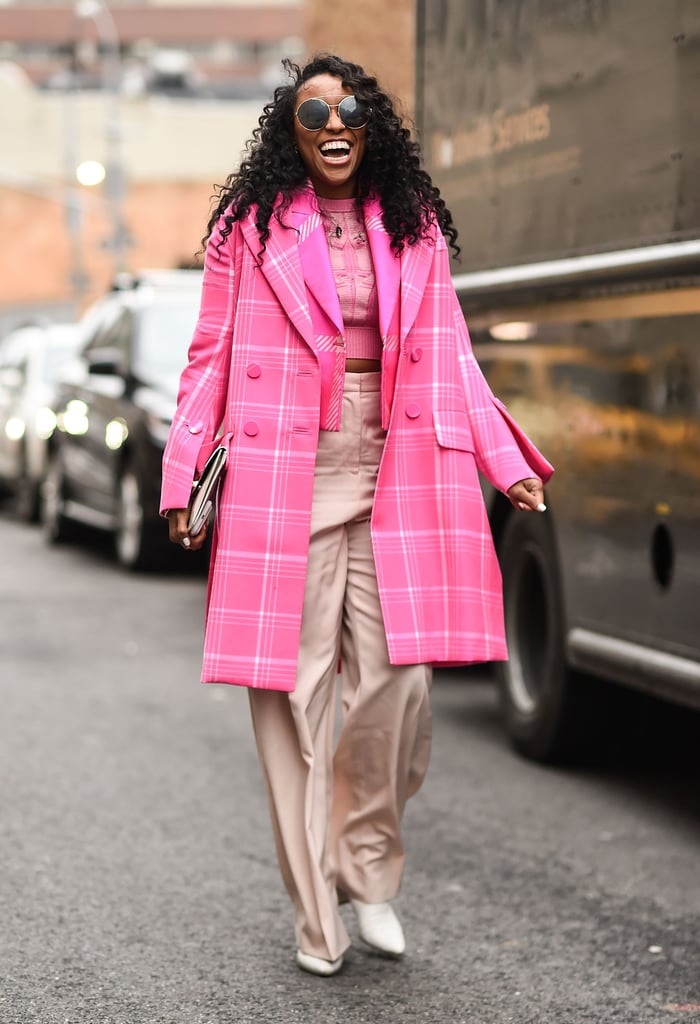 Give tan wide legs a jolt with electric pink on top and white shoes to finish.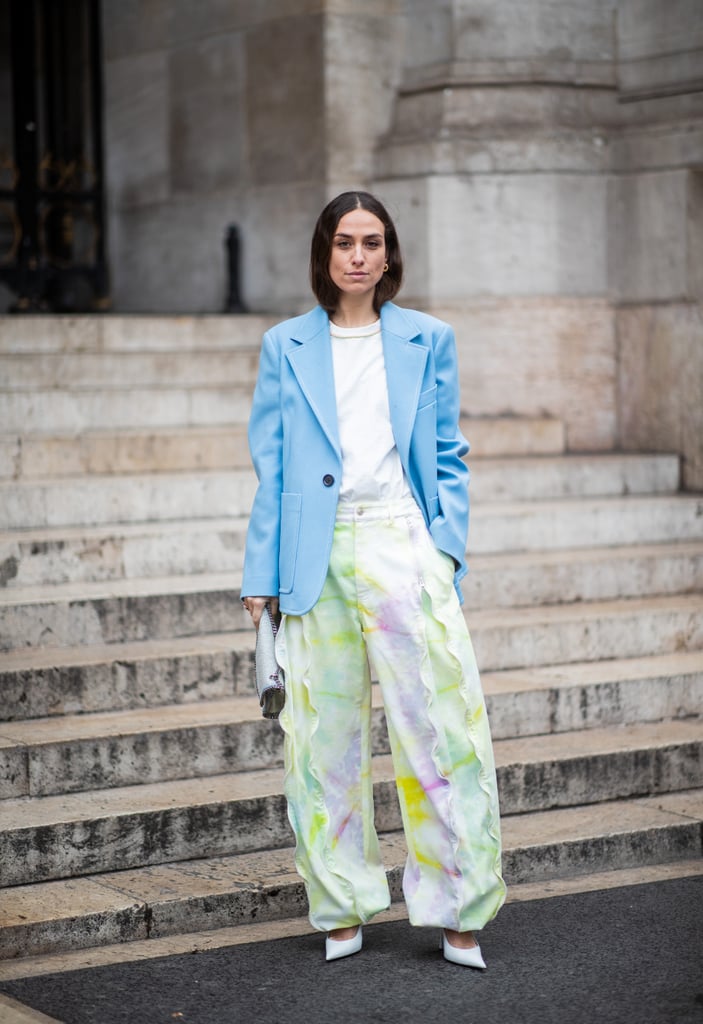 Springtime shades feel polished when clean lines are at play.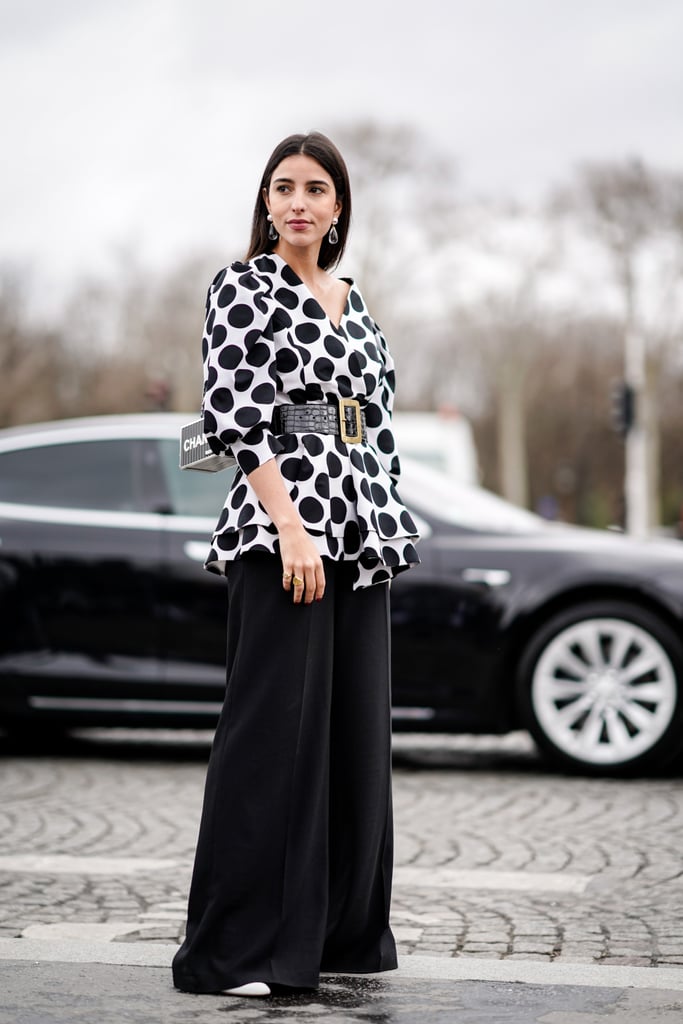 If black pants feel boring, swap for a voluminous pair instead.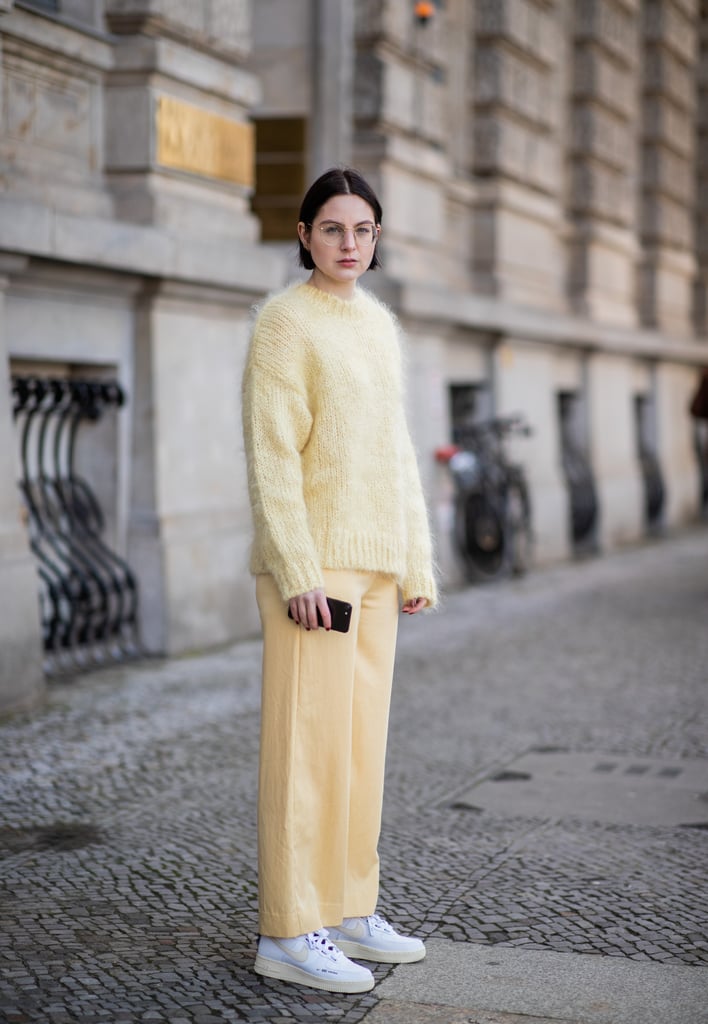 Does it get springier than yellow head to toe?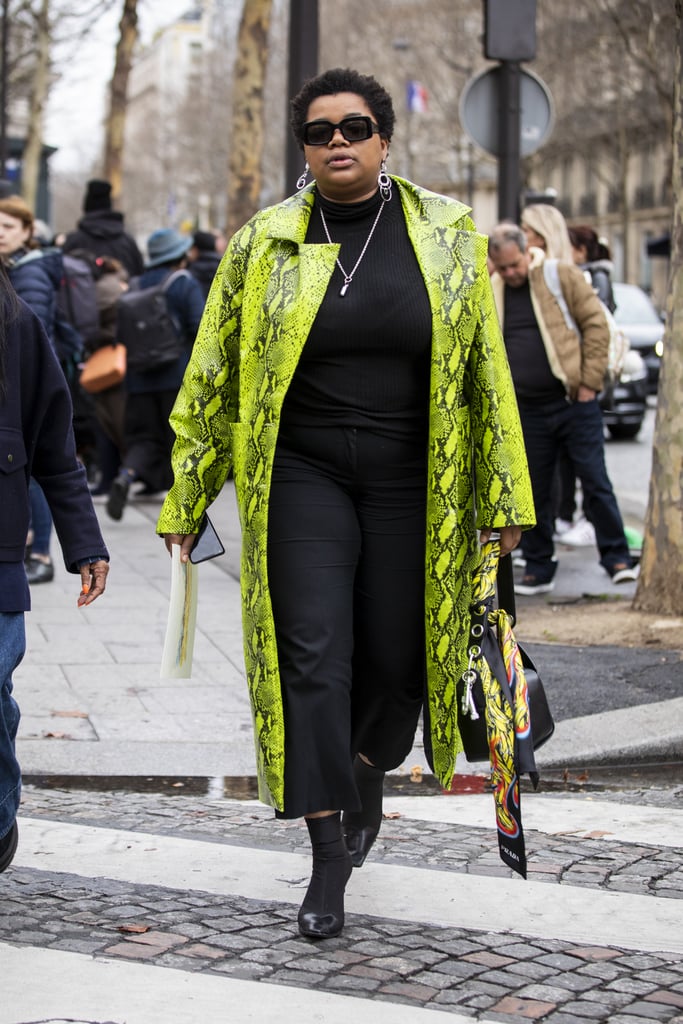 Cropped wide-leg jeans feel infinitely cooler with a touch of neon snake print.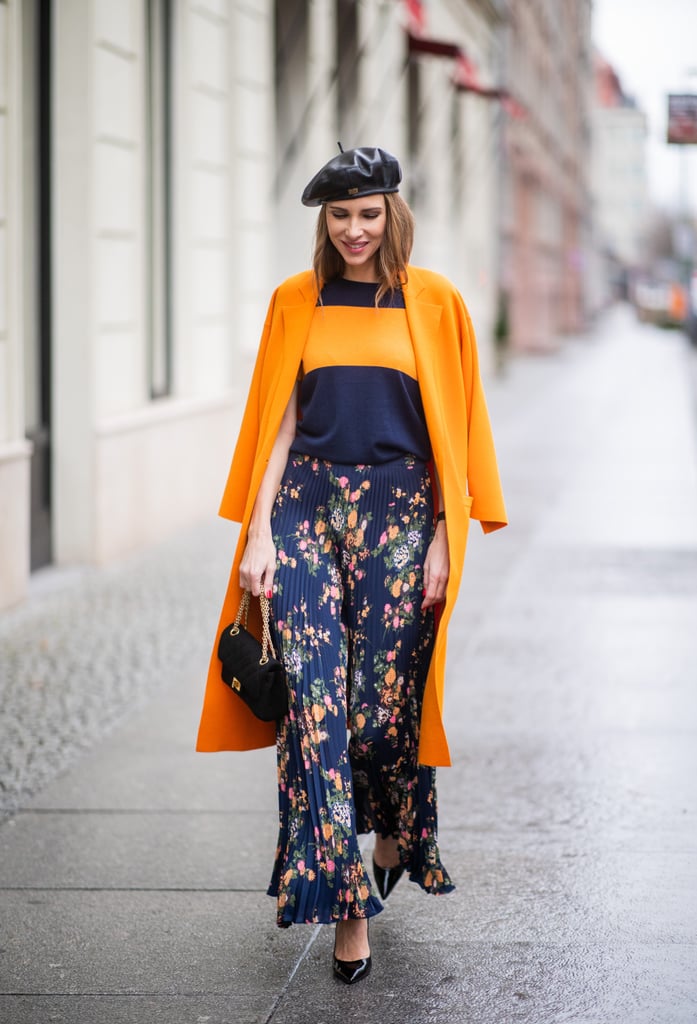 Stripes and floral prints feel cohesive in the same color family.
A dramatic sweater takes utility trousers to the next level.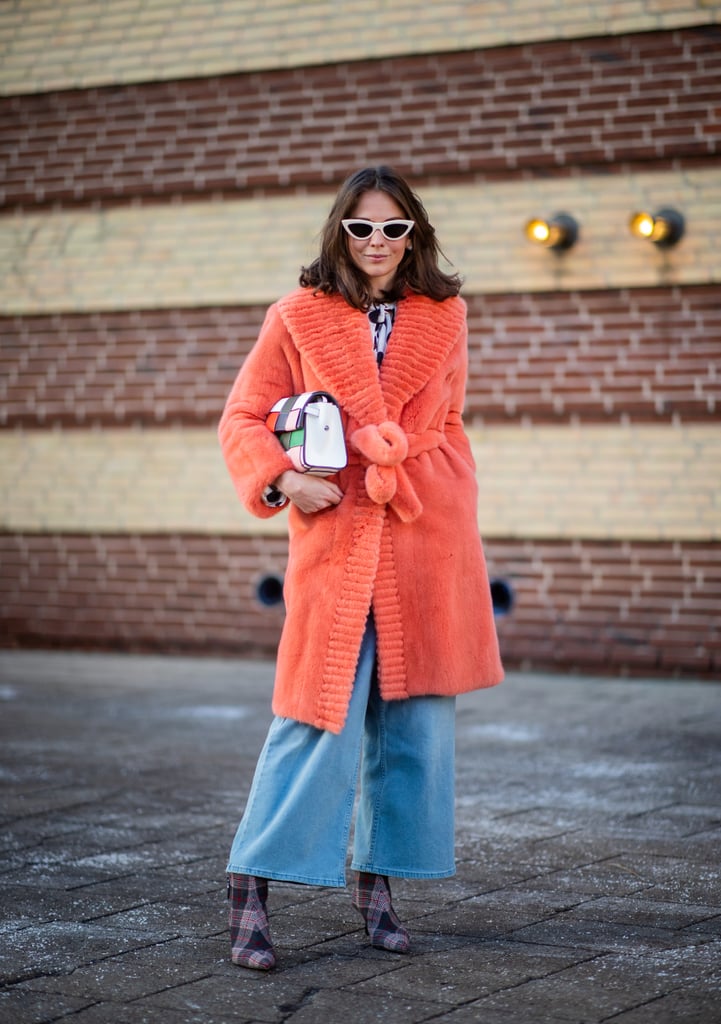 Give wide-leg jeans a fanciful spin with printed heels and a bold topper.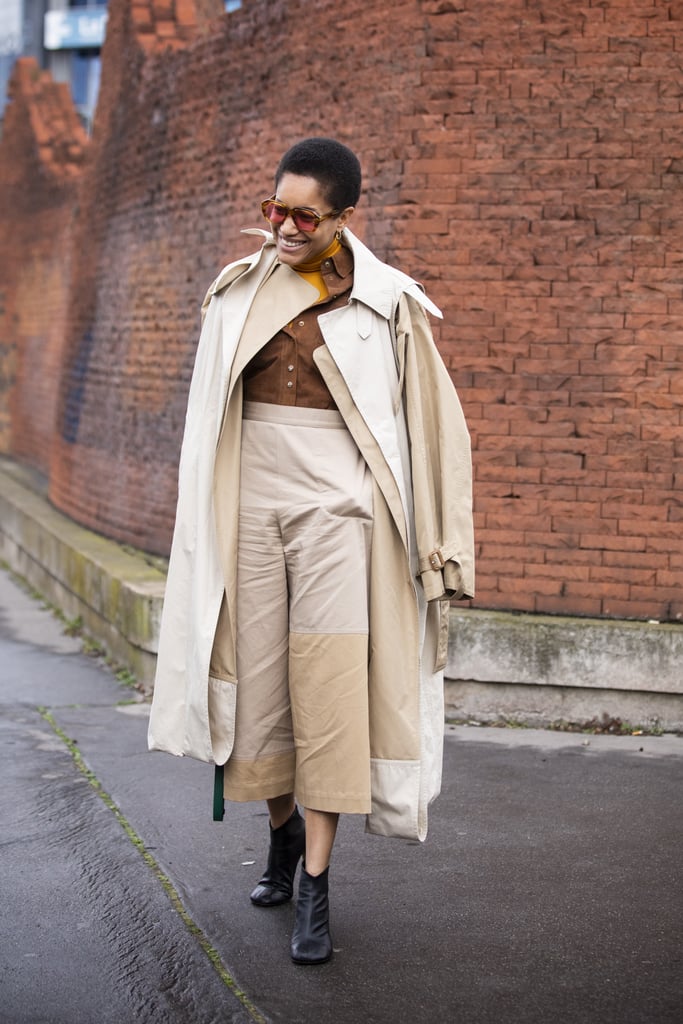 Cropped wide legs feel polished with a tailored trench and button-down shirt.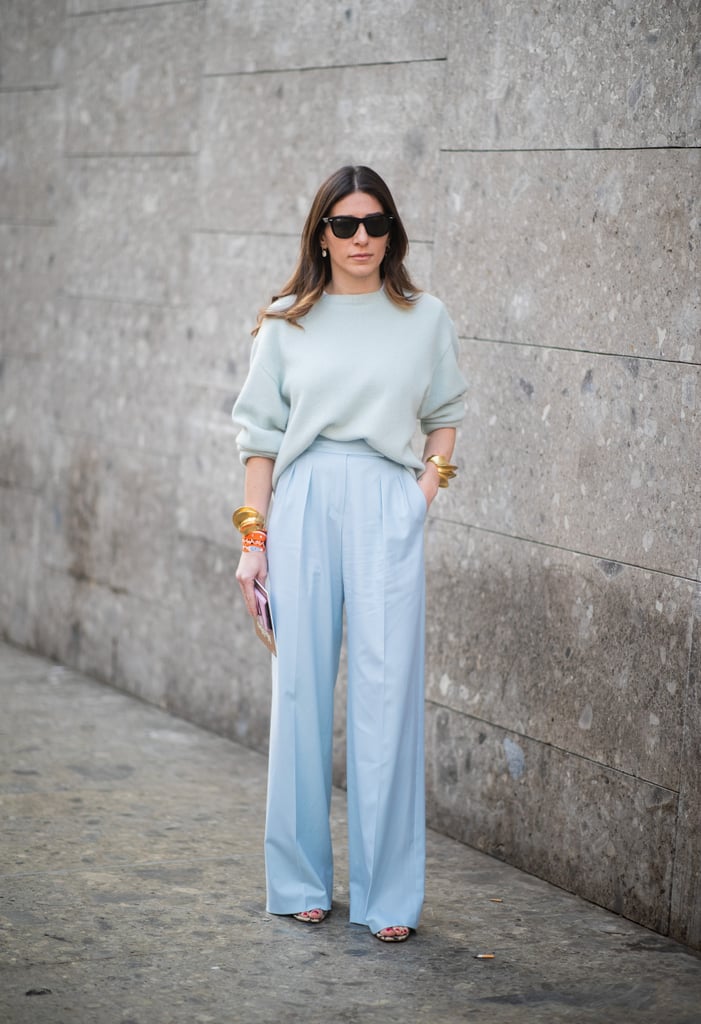 Set off powder blue top-to-bottom with colorful, chunky jewelry.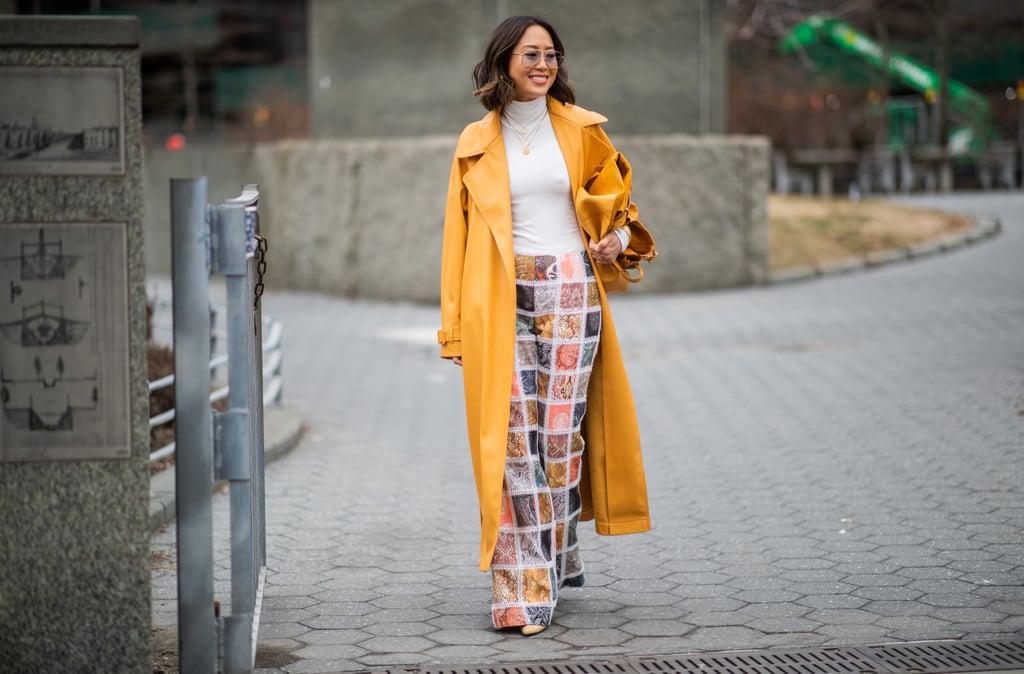 Temper a playful print with a simple white top and tailored jacket.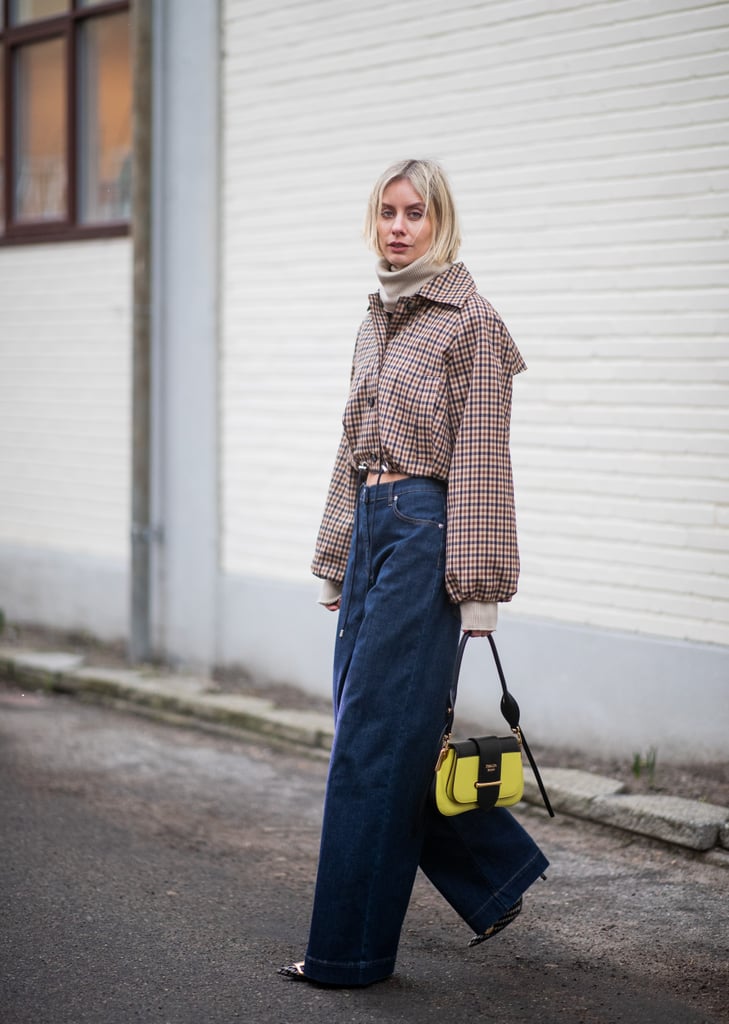 While it's still cool, try a cropped jacket with high-rise wide-leg jeans. A neon bag provides a Spring-y pop.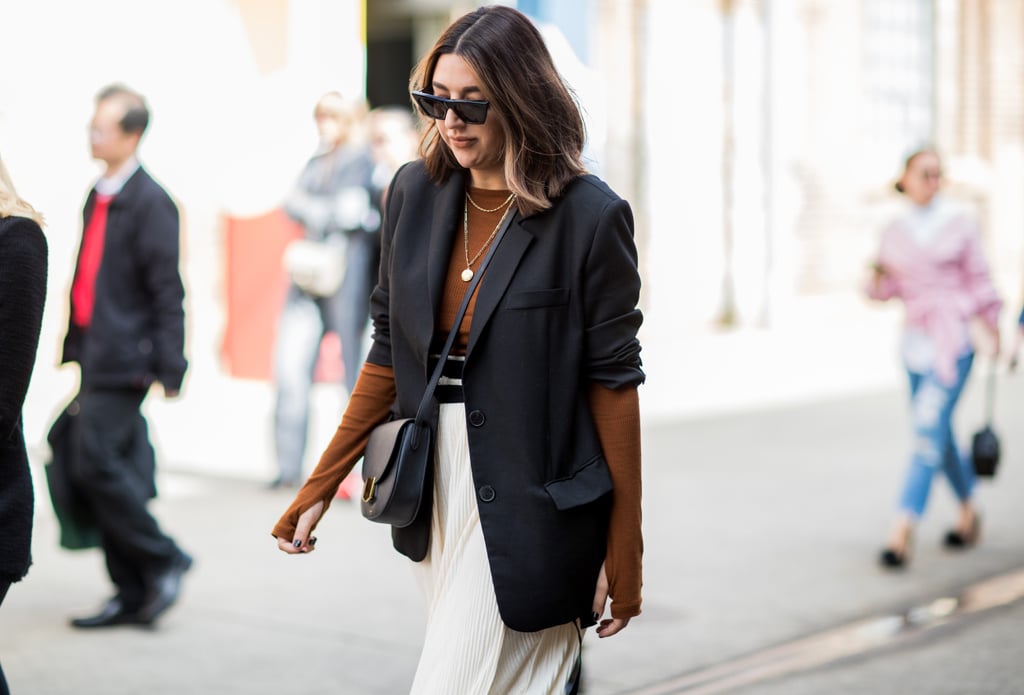 Black and white is classic, but a skosh of brown adds more dimension.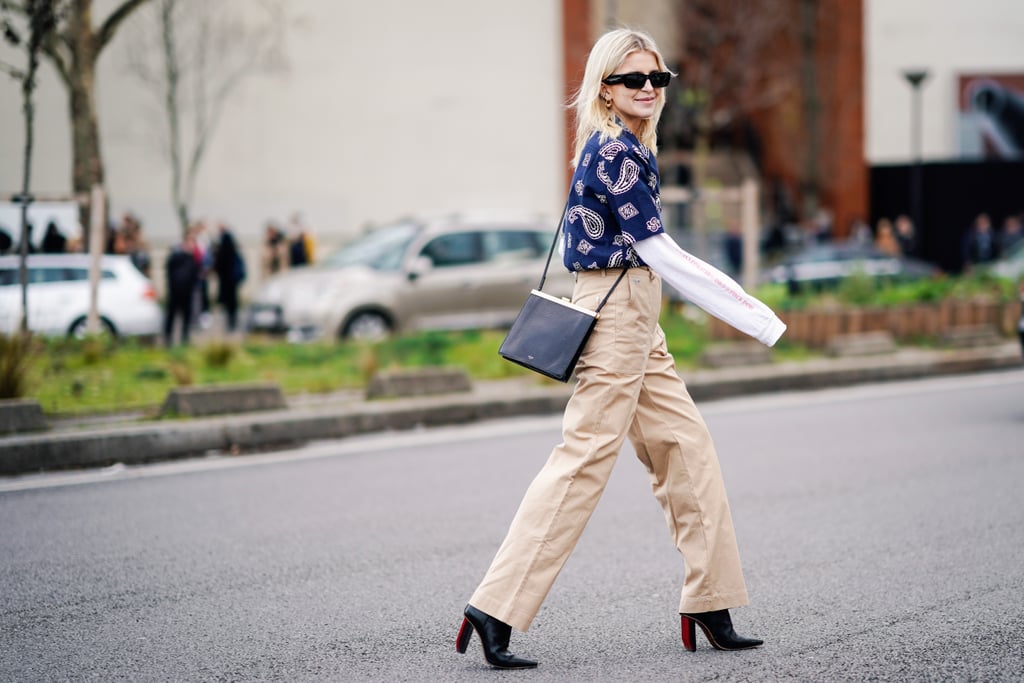 Proof that khaki pants can feel far from boring.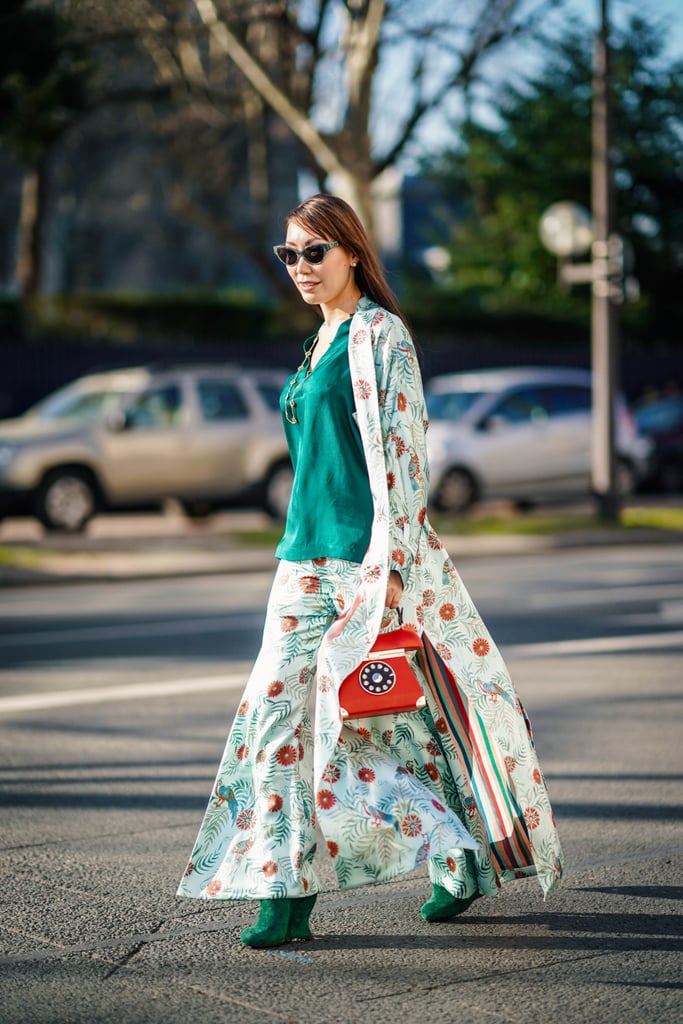 Double up on coordinating floral prints for an easy yet impactful look.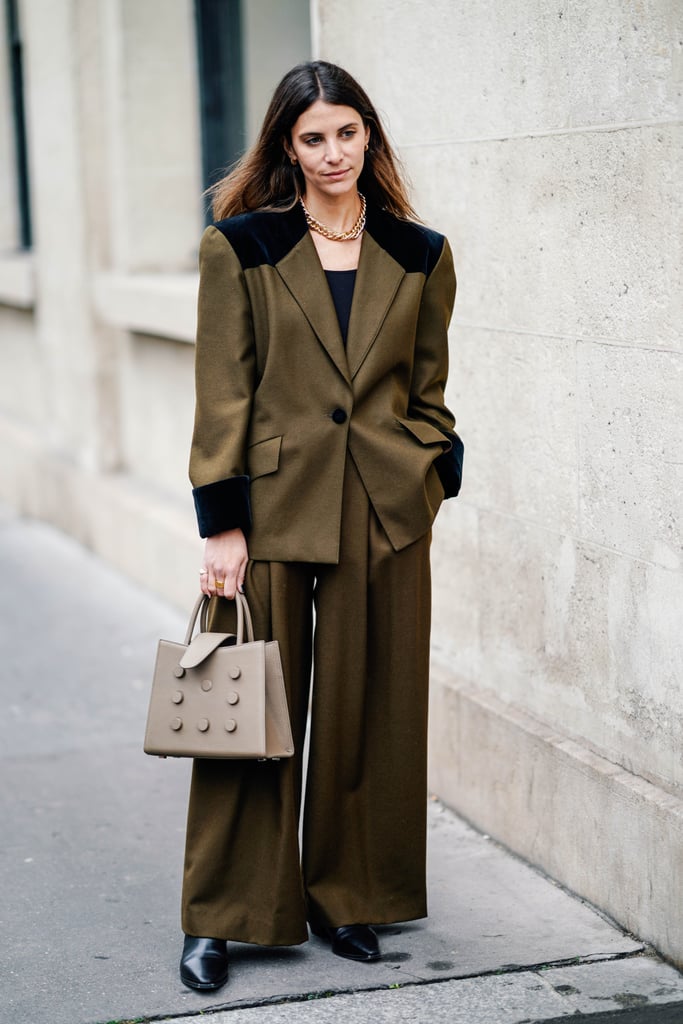 At work, a wide-leg suit is so sharp.
Brown and tan feels decidedly fresh with bold, red accents.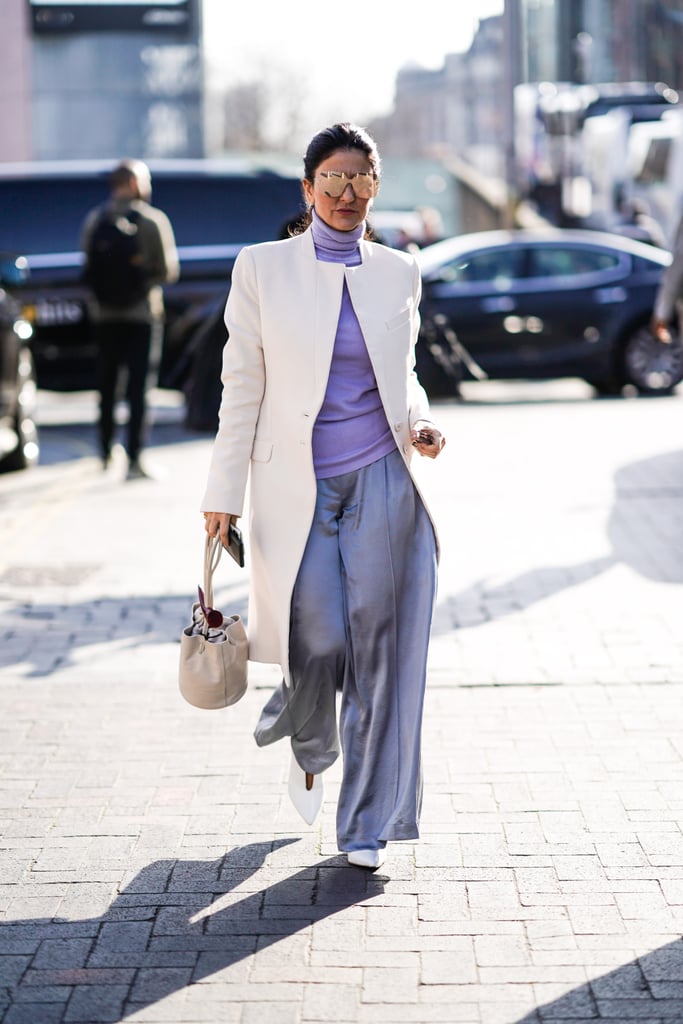 White accessories instantly set off a monochromatic ensemble.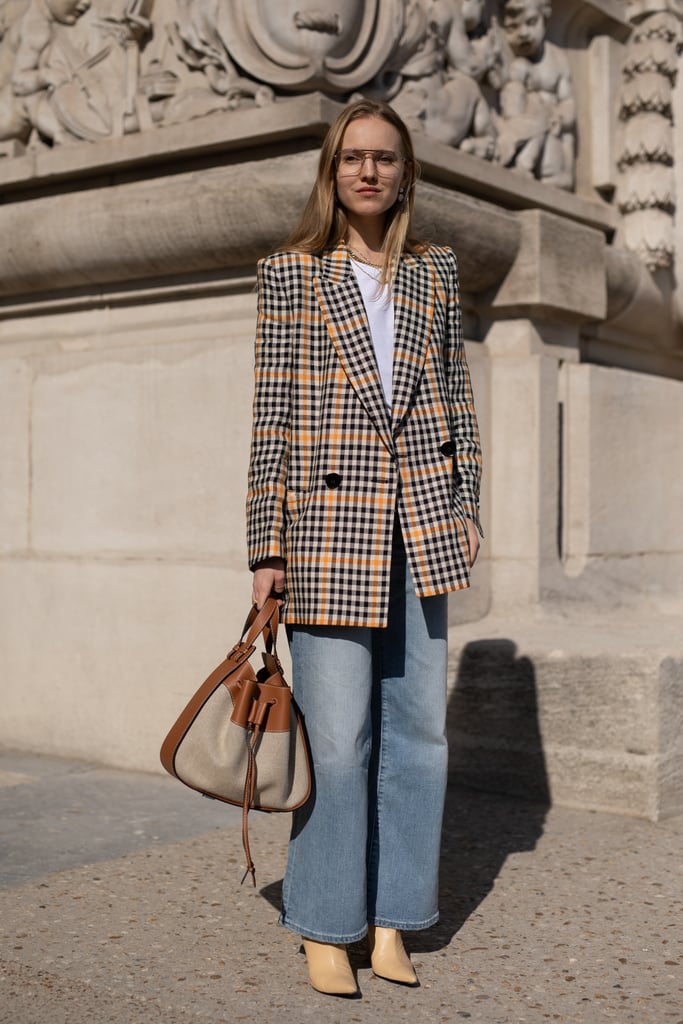 Business casual? How about cool-girl casual. The combo: wide-leg jeans, a punchy plaid blazer, t-shirt, smart bags, and heels.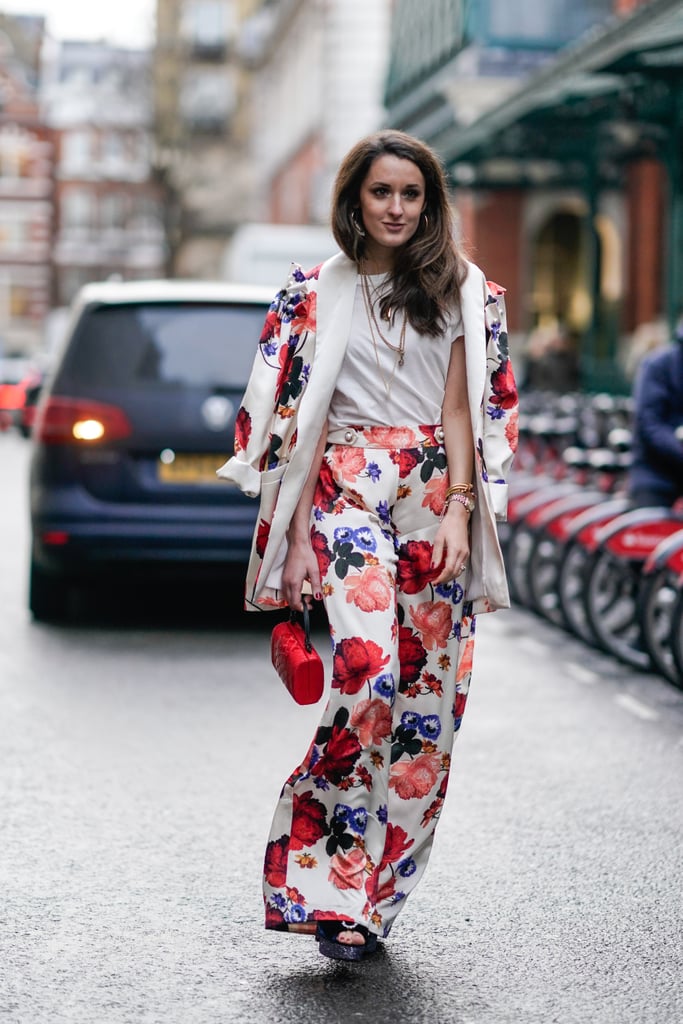 Tone down head-to-toe print with a simple white t-shirt and a coordinated bag.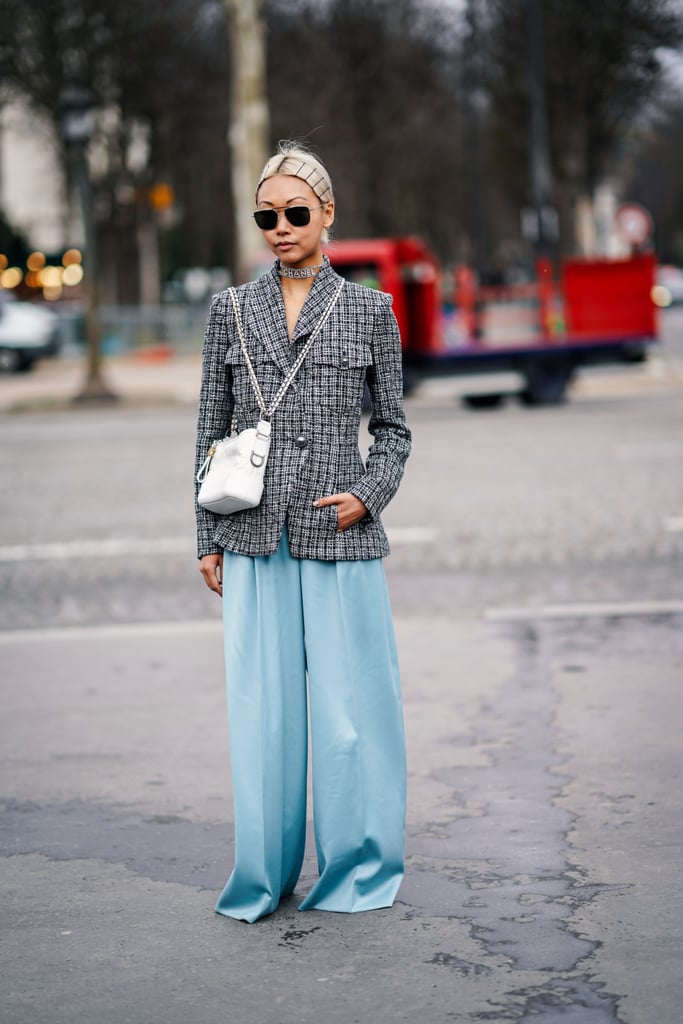 A tweed blazer makes silky wide legs office-appropriate.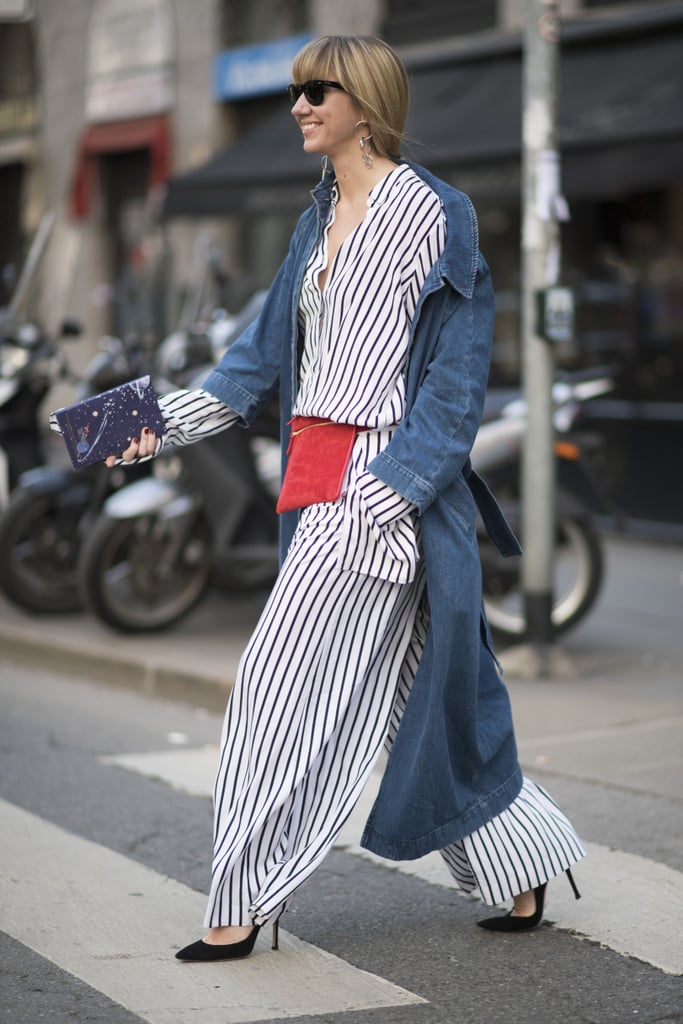 Double up on loose-fitting stripes, but style in a belt bag to define your shape.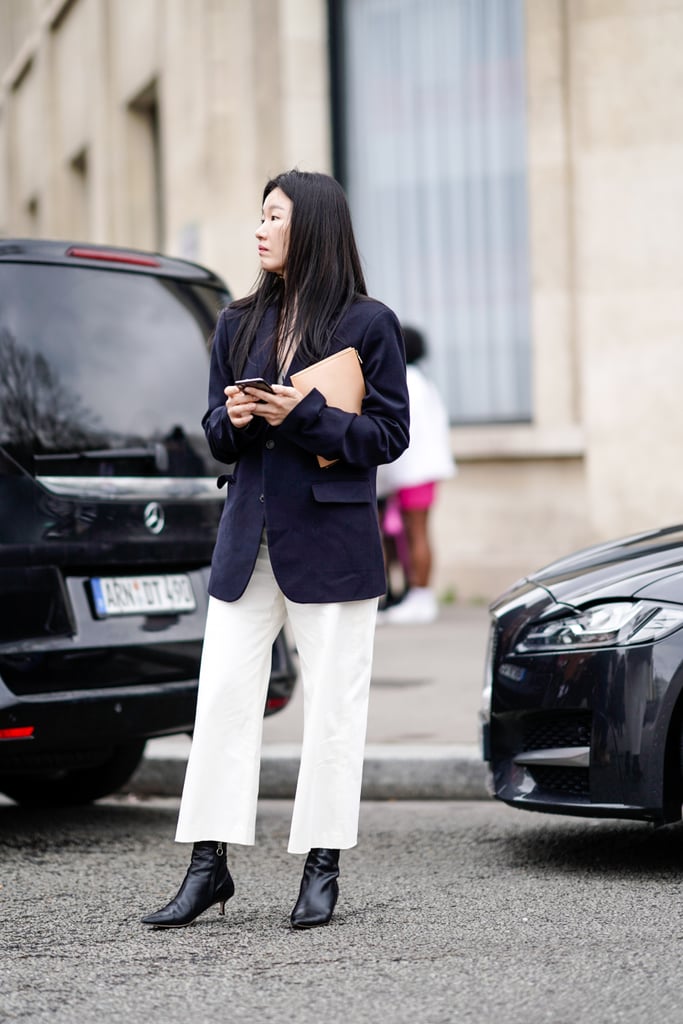 Don't overlook the basics: a navy blazer and black boots ground a cropped white pair.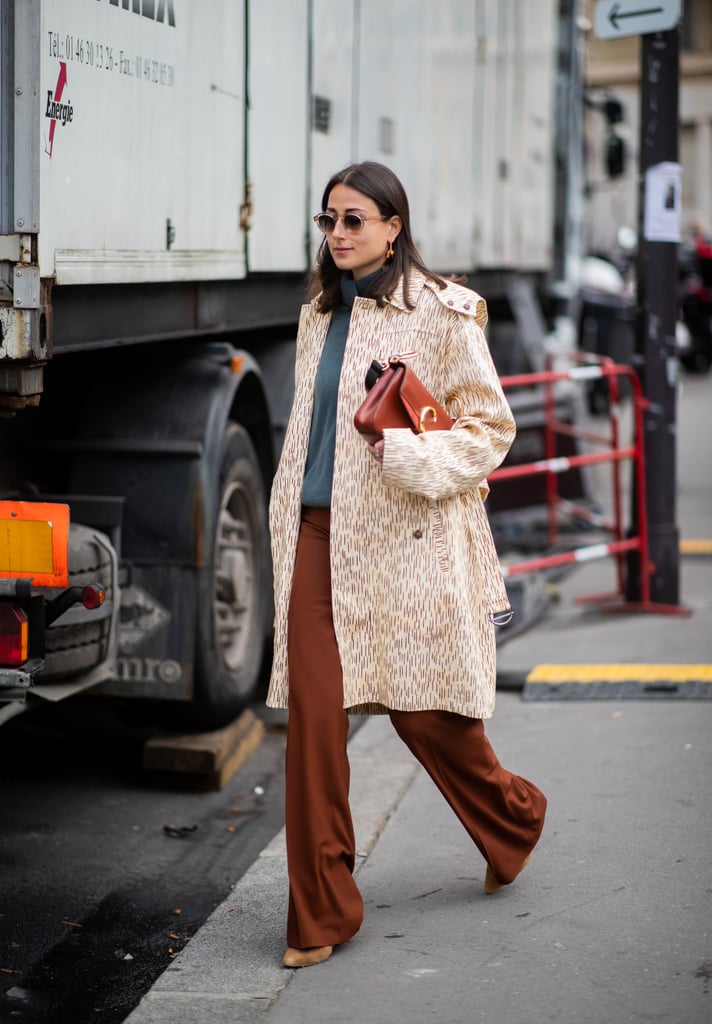 Color (and print) combo to try: teal, rust, and leopard print.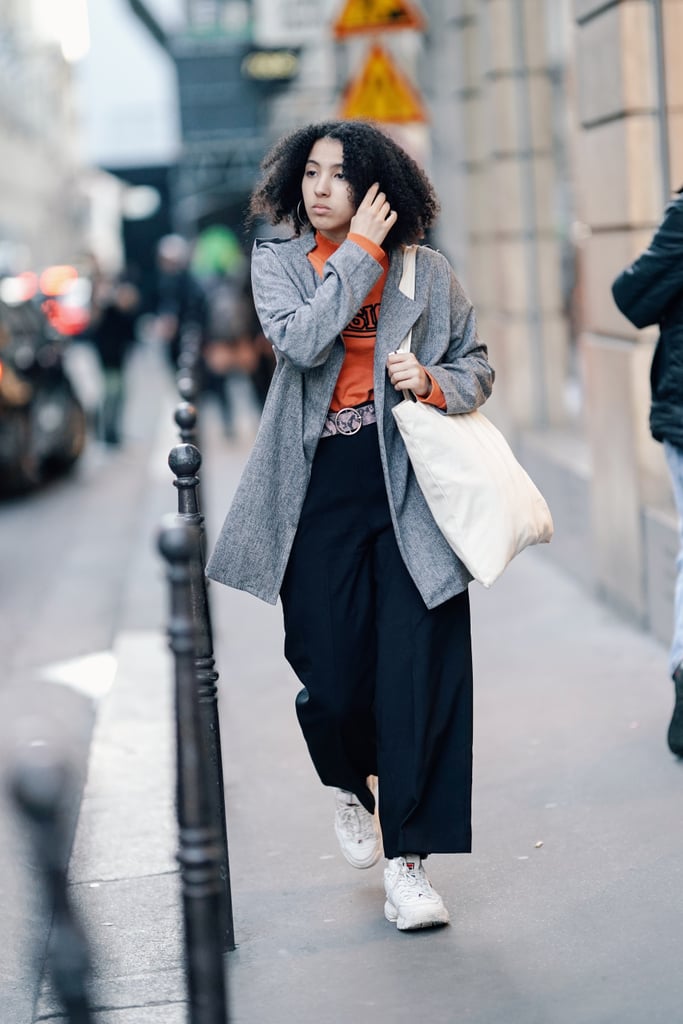 On casual days, cropped wide legs are perfect with sneakers.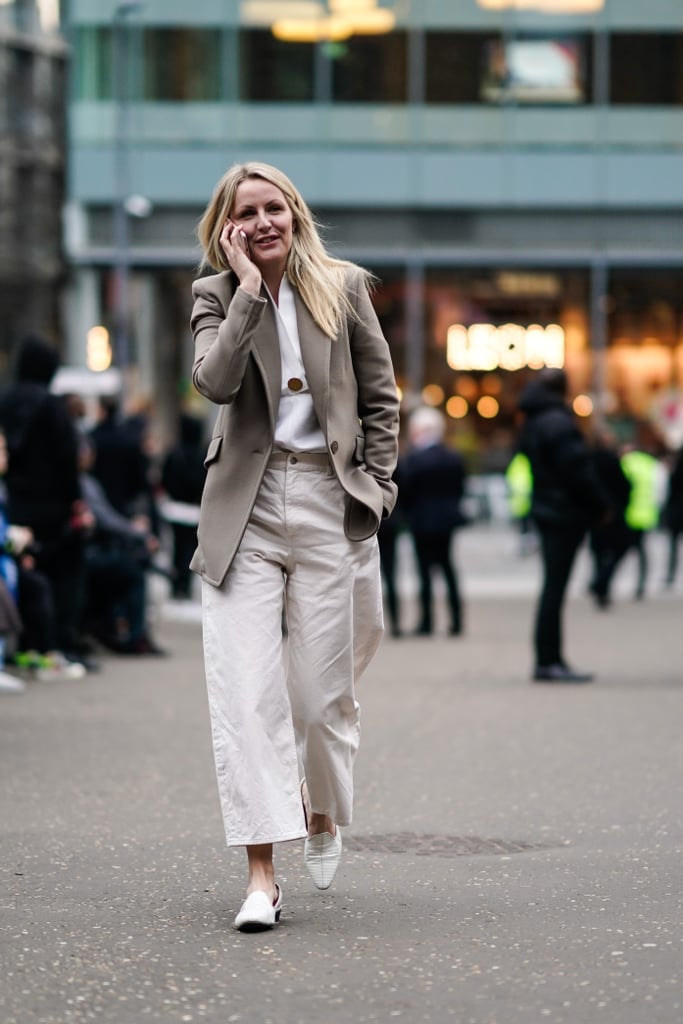 The secret to making wide-leg chinos feel fresh? Go tailored and tonal.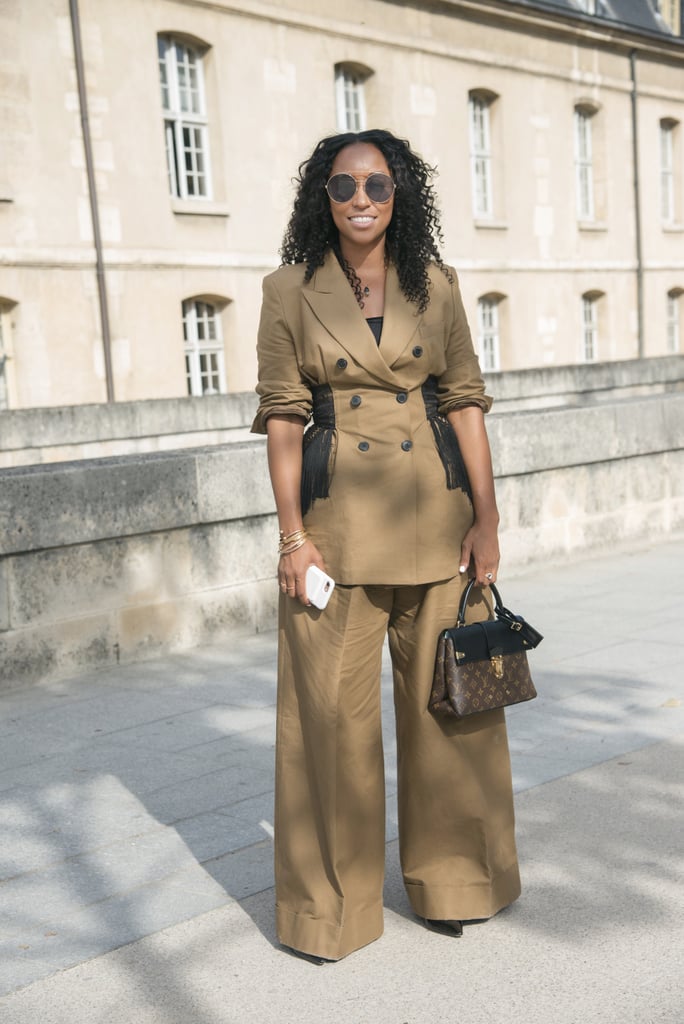 Play up curves by topping wide-leg trousers with a waist-cinching blazer or top.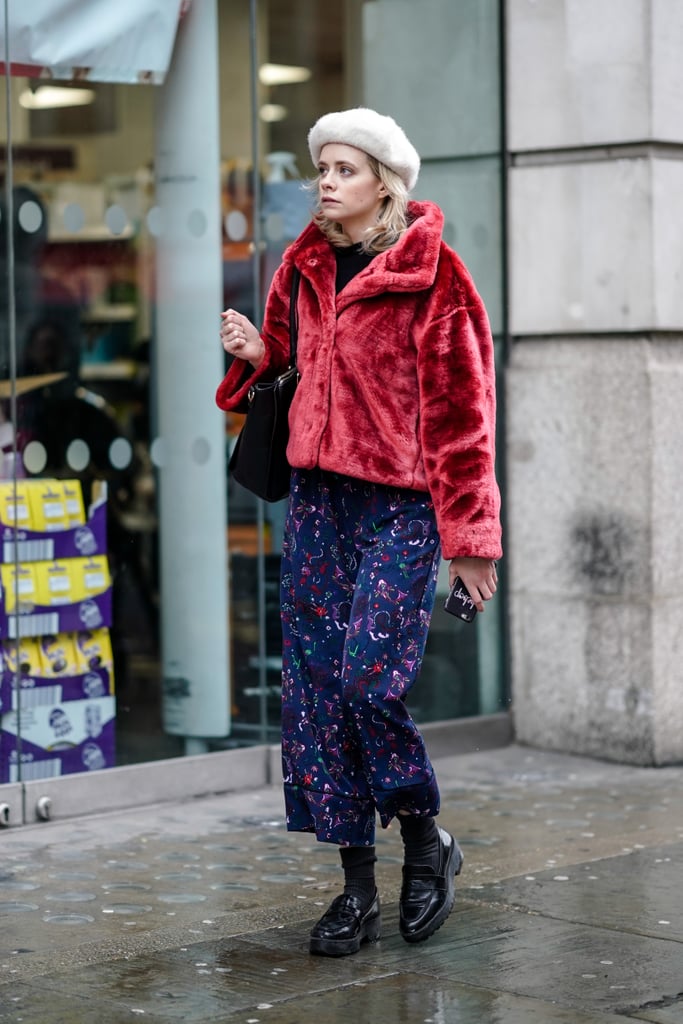 Set off printed wide legs by picking out a color from the motif and wearing it on top.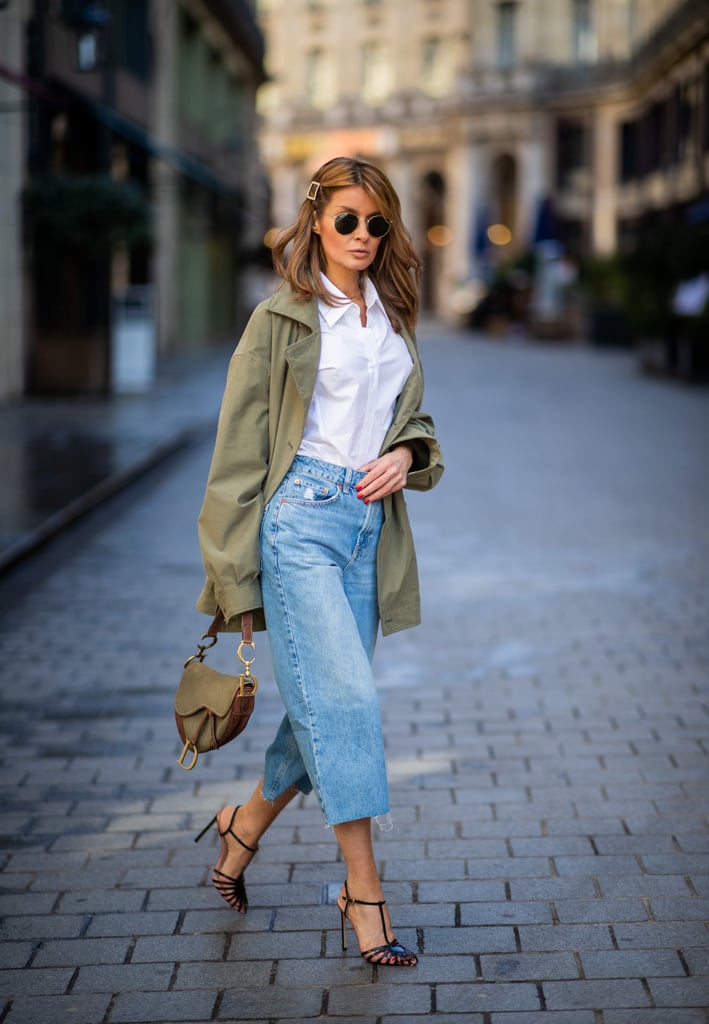 Elevate cropped wide-leg jeans with a utility-inspired anorak, crisp shirt, and heels.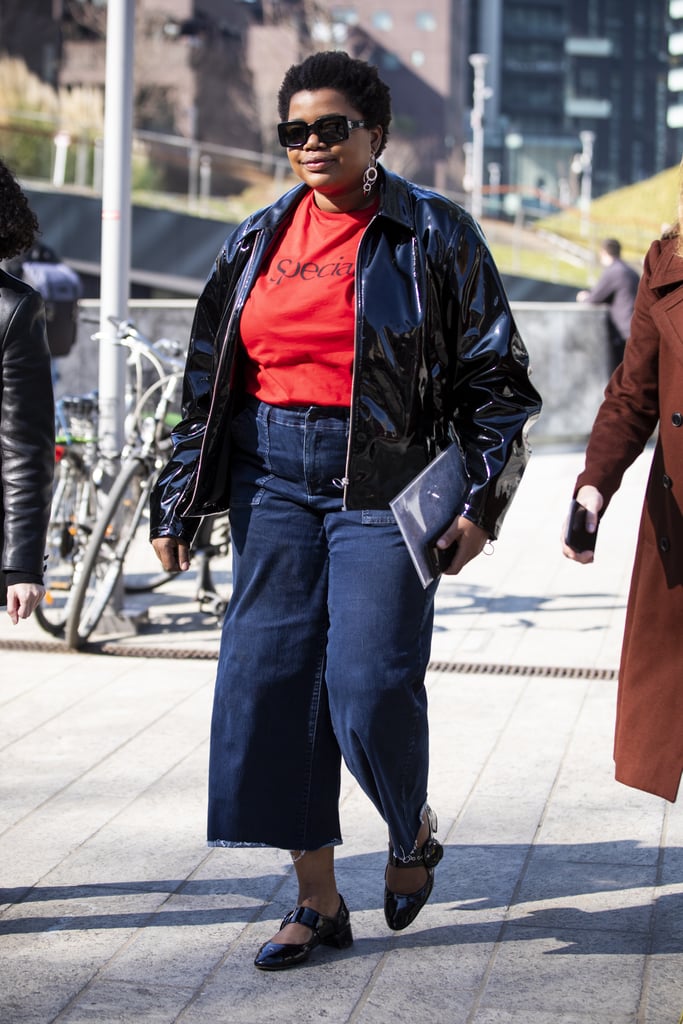 Showcase your cutest flats in a pair of cropped, wide-leg jeans.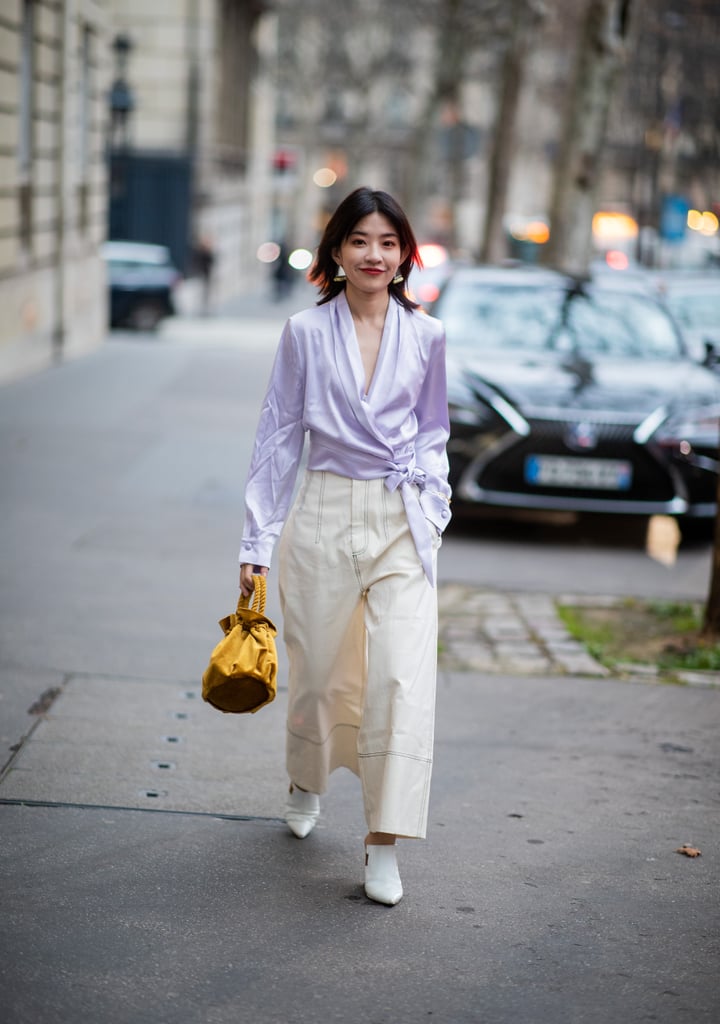 Experiment with texture: a colorful silk top is unexpected with cropped cotton pants.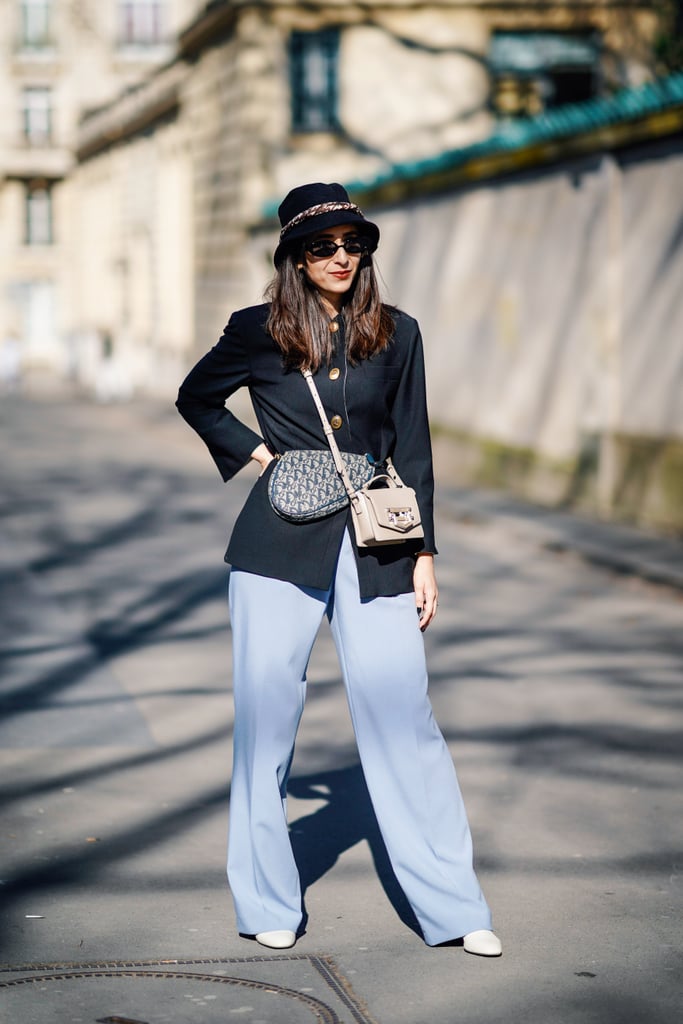 Give classic separates a forward twist by styling with a bucket hat, white shoes, and double bags.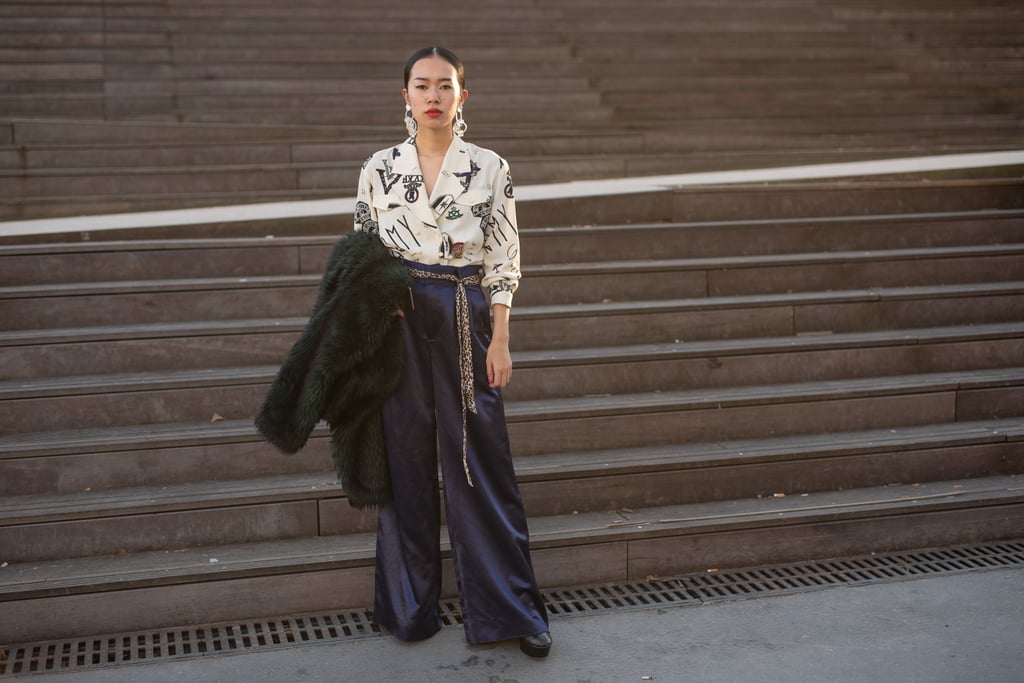 Navy trousers feel exciting with a printed blouse and statement earrings.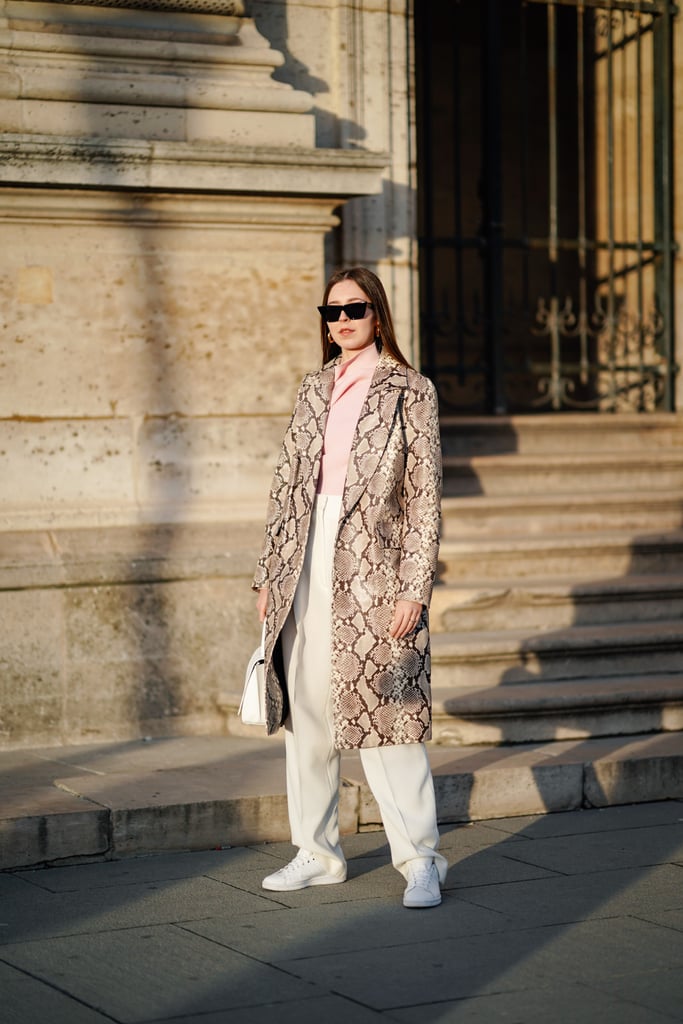 For a sporty-chic look, team full-length trousers with chunky sneakers and a pop of snake print.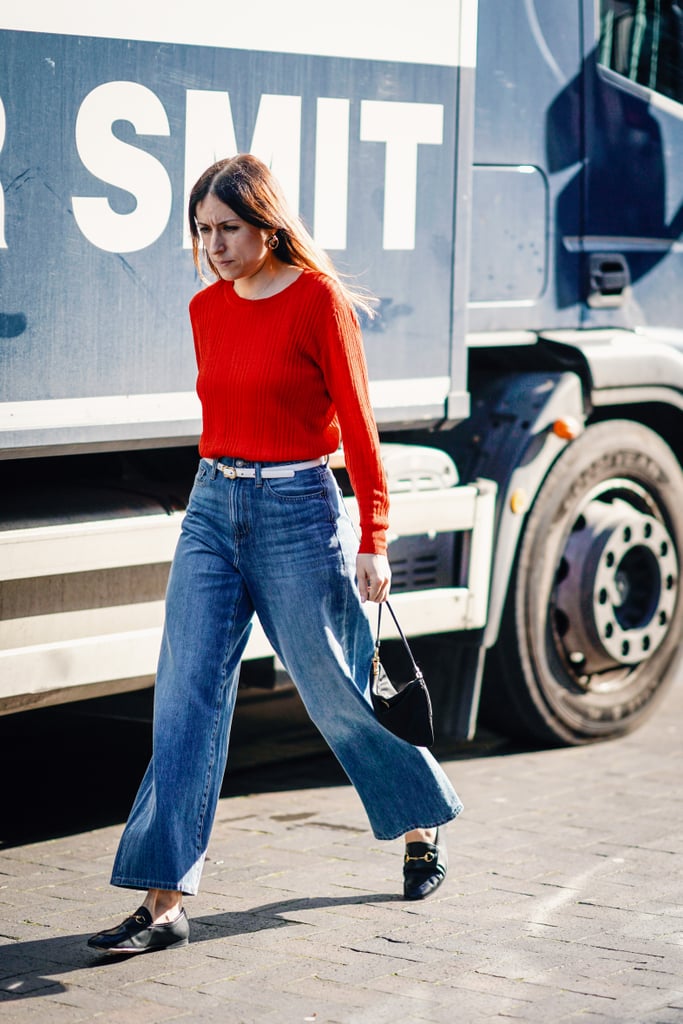 Tie a bright sweater and wide-leg jeans together with an optic-white belt.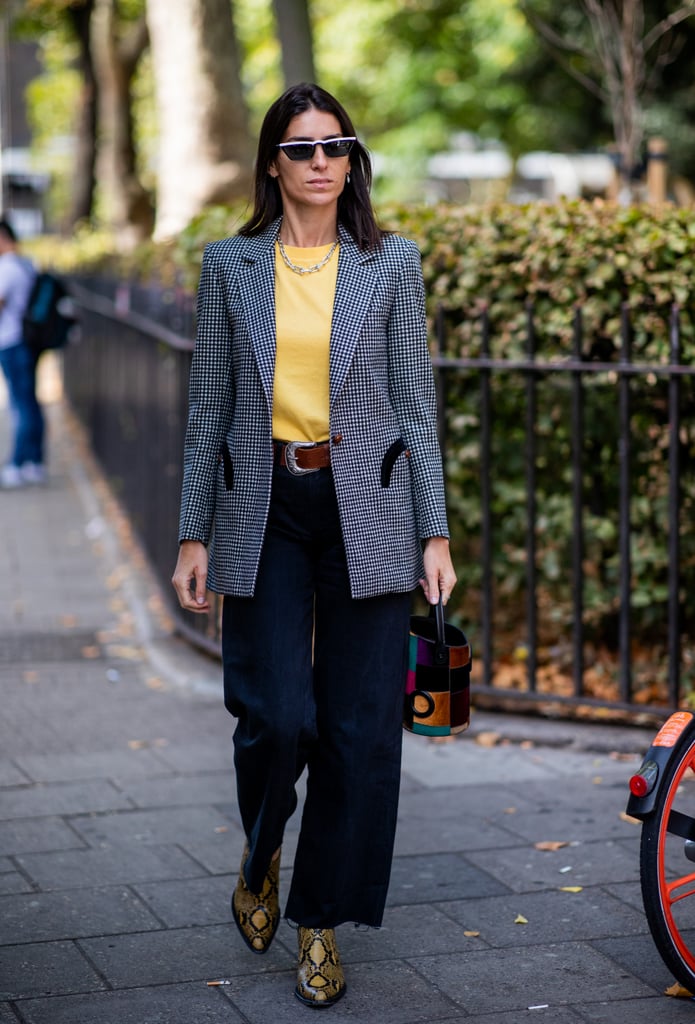 Yellow accents give muted blues a playful boost.
Wide, multi-colored pants feel easy with a simple gray knit.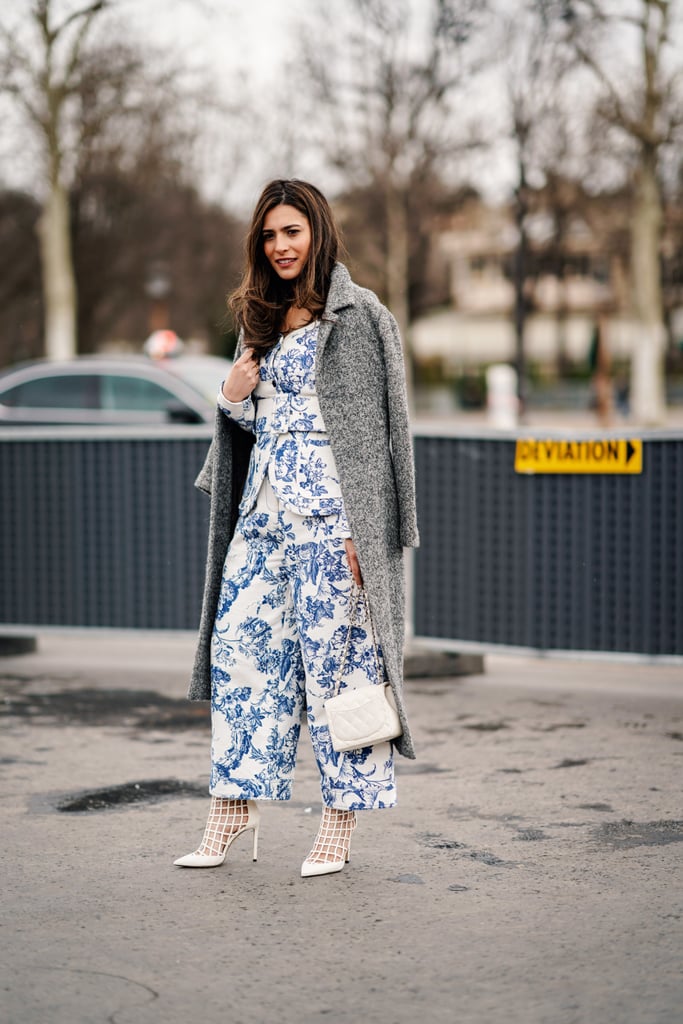 Stand out on dressed up occasions by pairing printed wide-leg pants with a coordinating top and heels.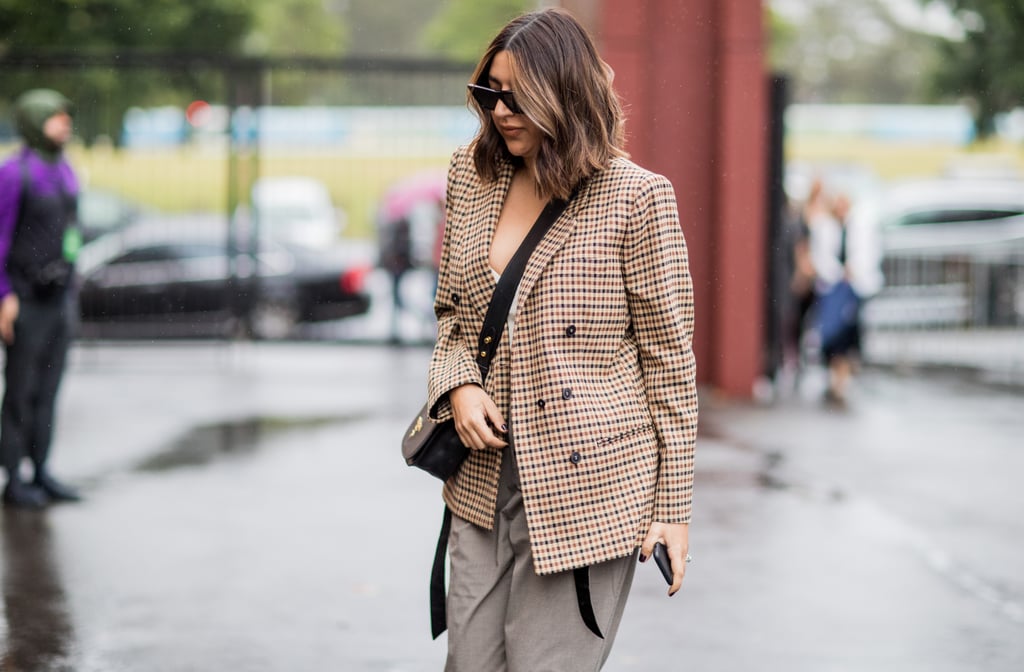 Light brown pants feel cooler with a borrowed-from-the-boys blazer and sharp sunnies.
Make casual wide legs cooler with a graphic t-shirt and red boots.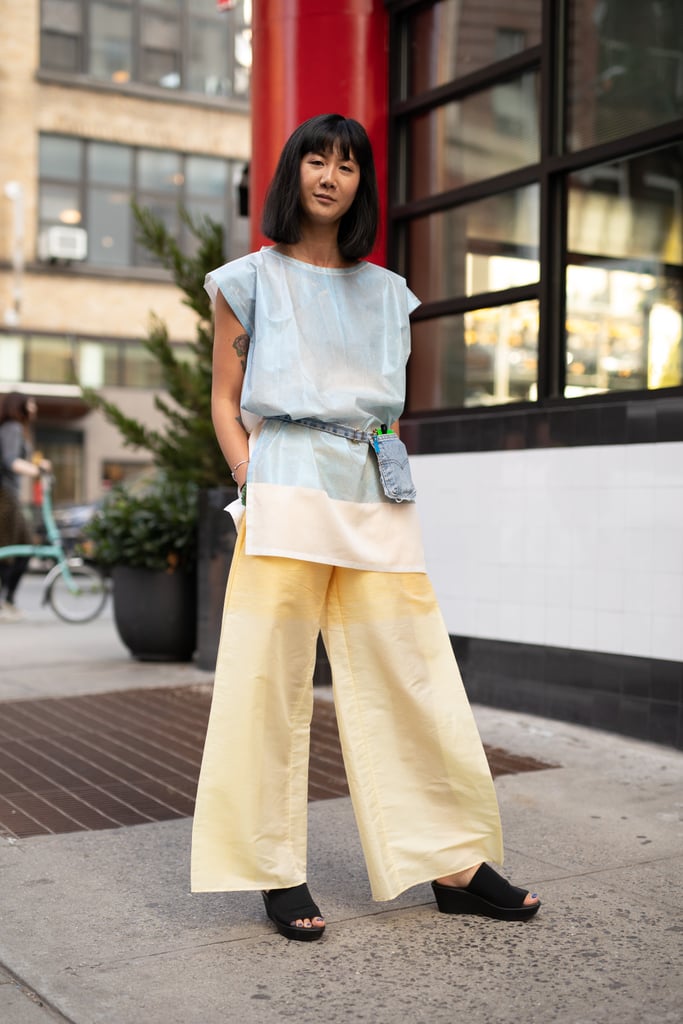 A belt bag and black slides keep pretty pastels from feeling overly sweet.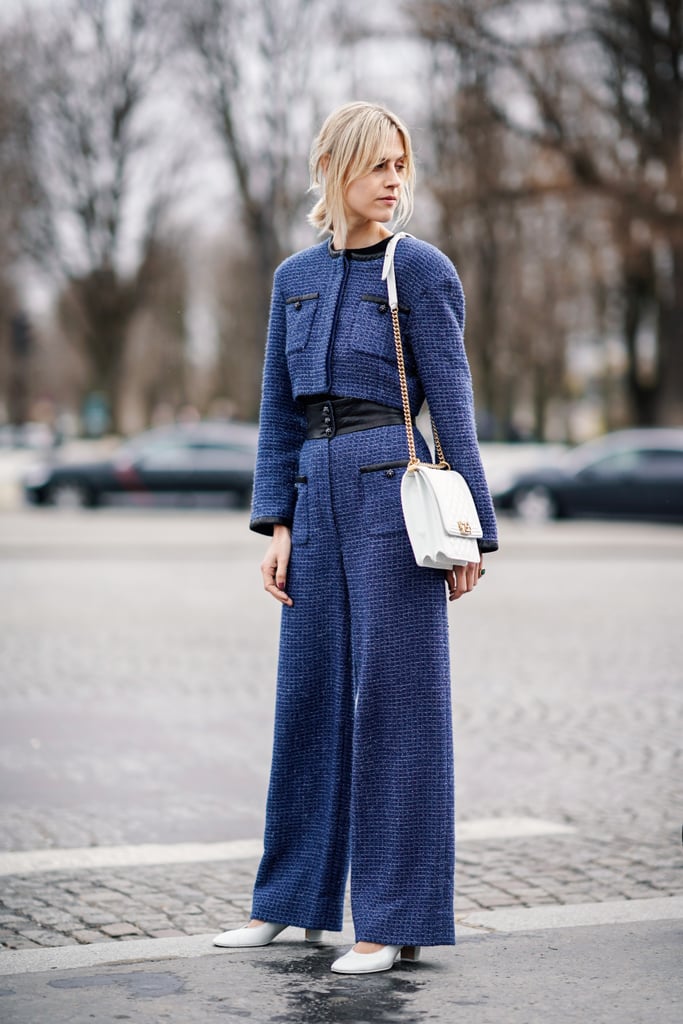 A wide-leg, tailored set is perfectly polished for meetings and interviews.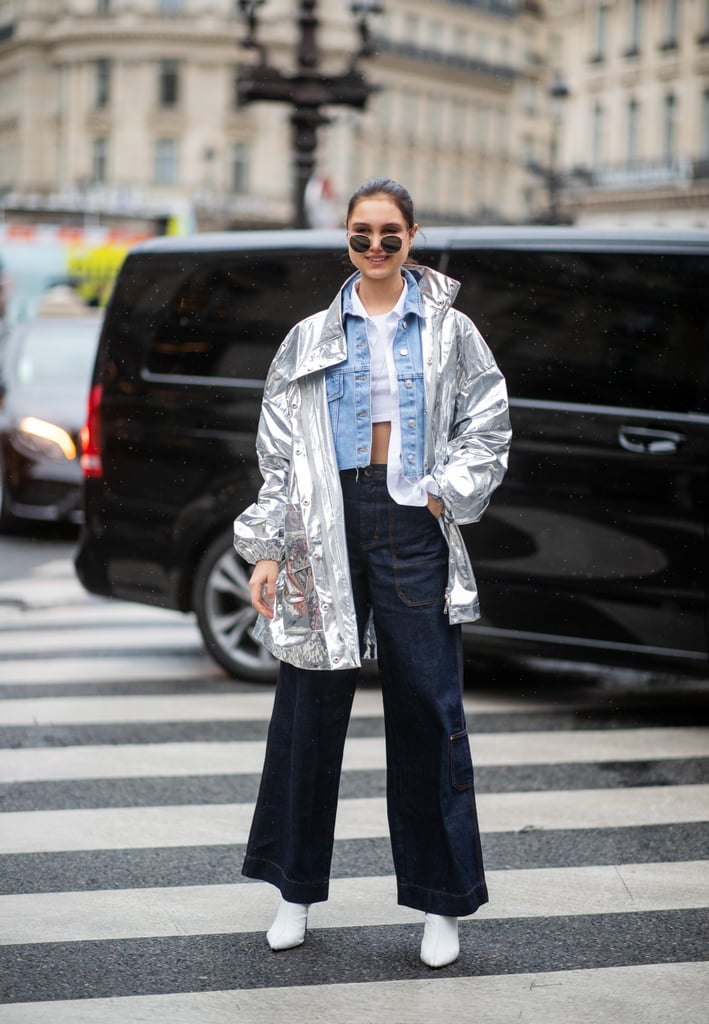 Set off dark denim wide leg with a lighter denim jacket.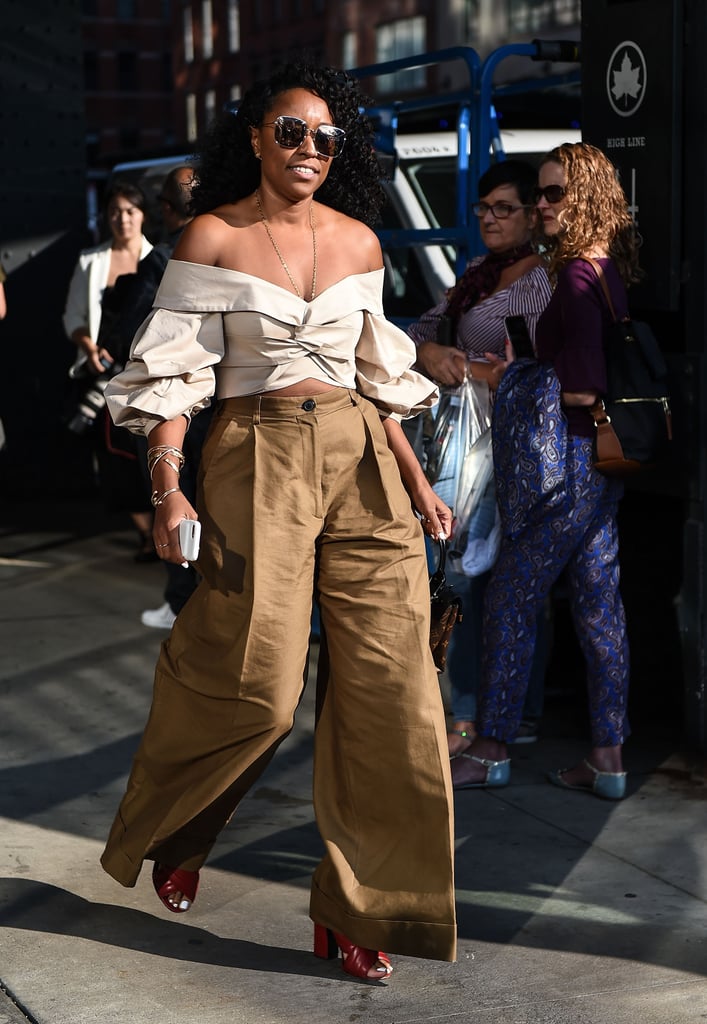 An off-the-shoulder top is the perfect match to lightweight cotton wide legs in the Summer.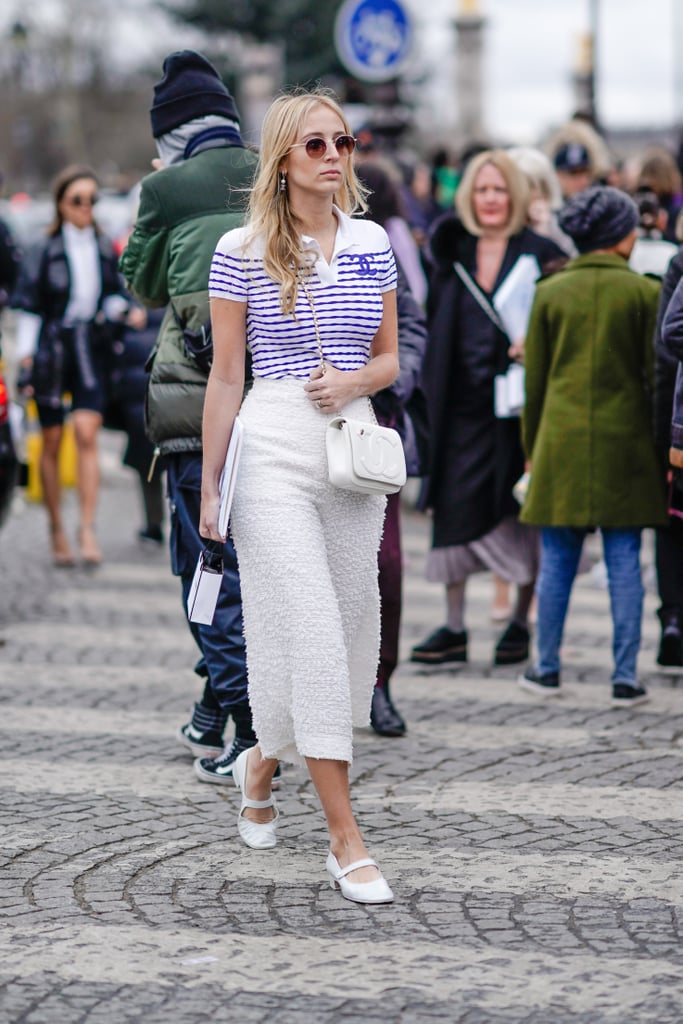 Country club attire, but make it fashion via a striped polo shirt, cropped wide-leg pants, and flat Mary Janes.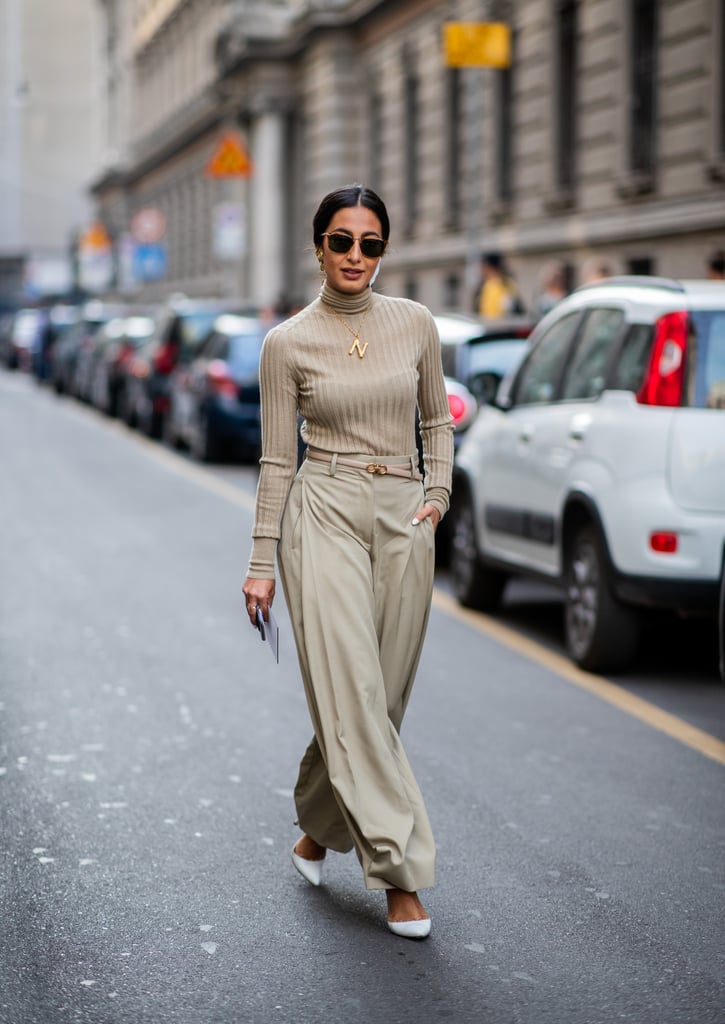 Set off a tonal outfit with white pumps and personalized jewelry.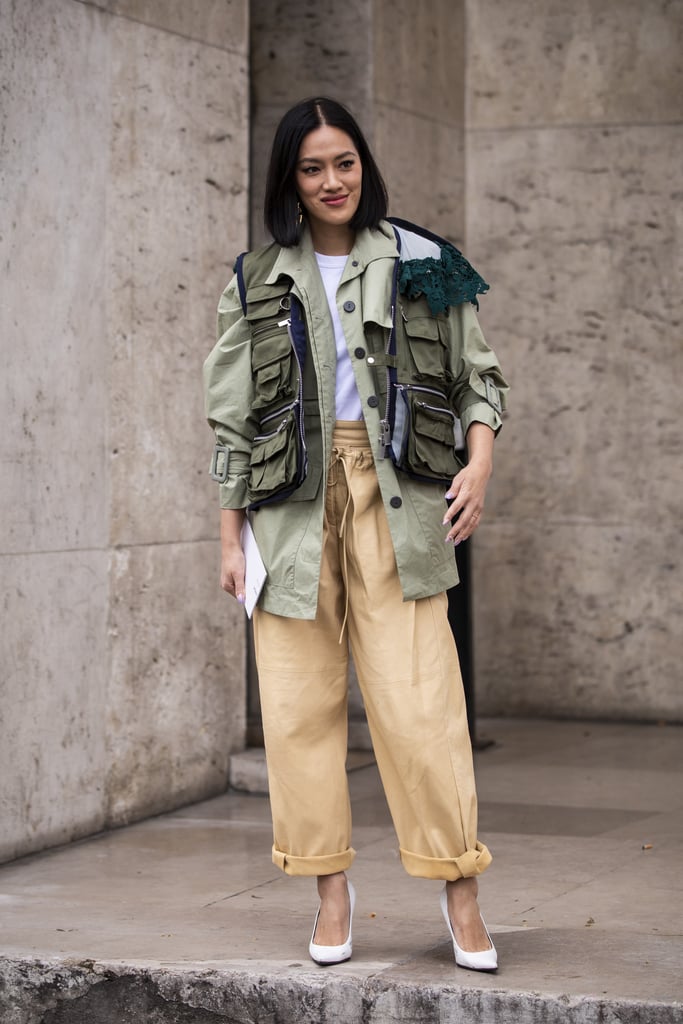 Double up on the utility trend [6] by pairing a multi-pocketed anorak jacket with billowing pants.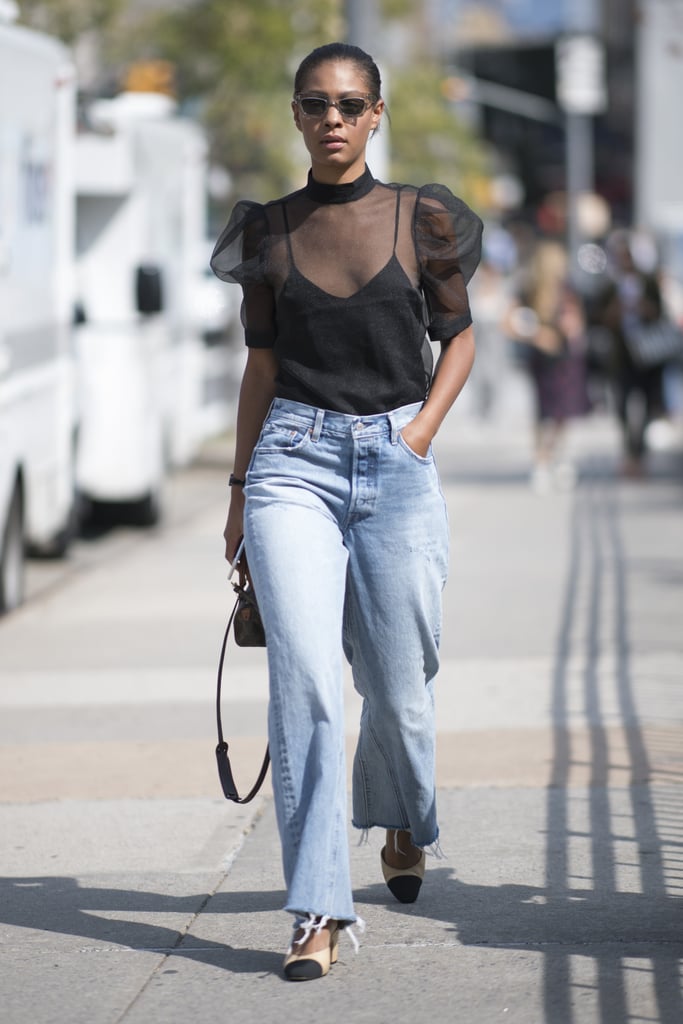 Roomy, raw-edge jeans temper the sweetness of a puff-sleeve top and heels.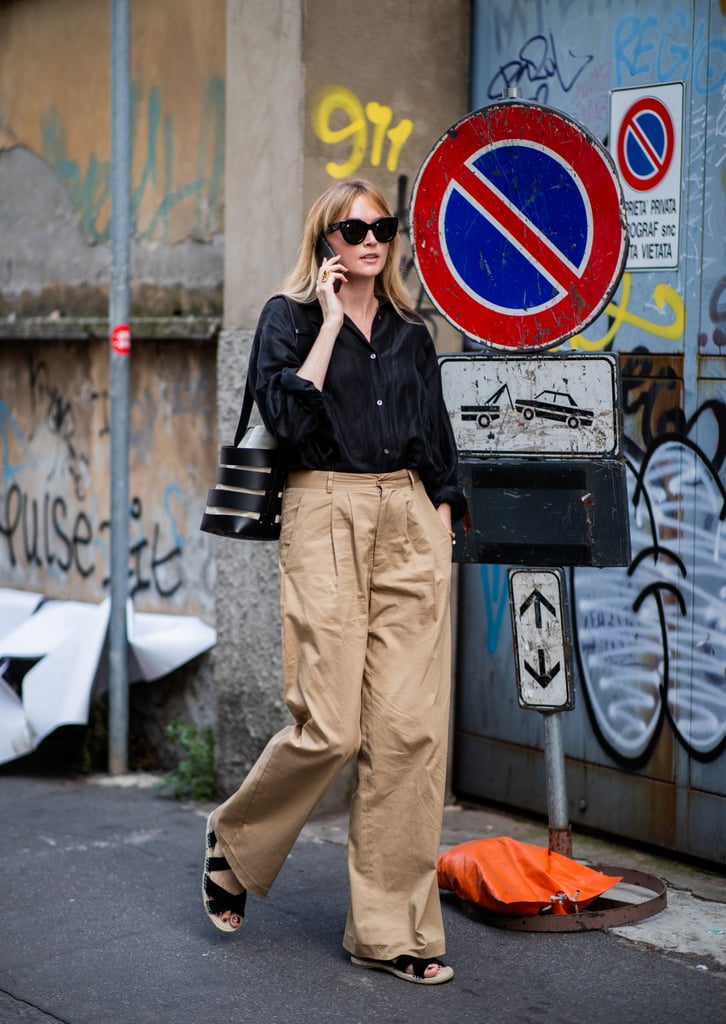 Give high-waist, wide-leg pants a Summer spin with comfortable sandals and a linen shirt.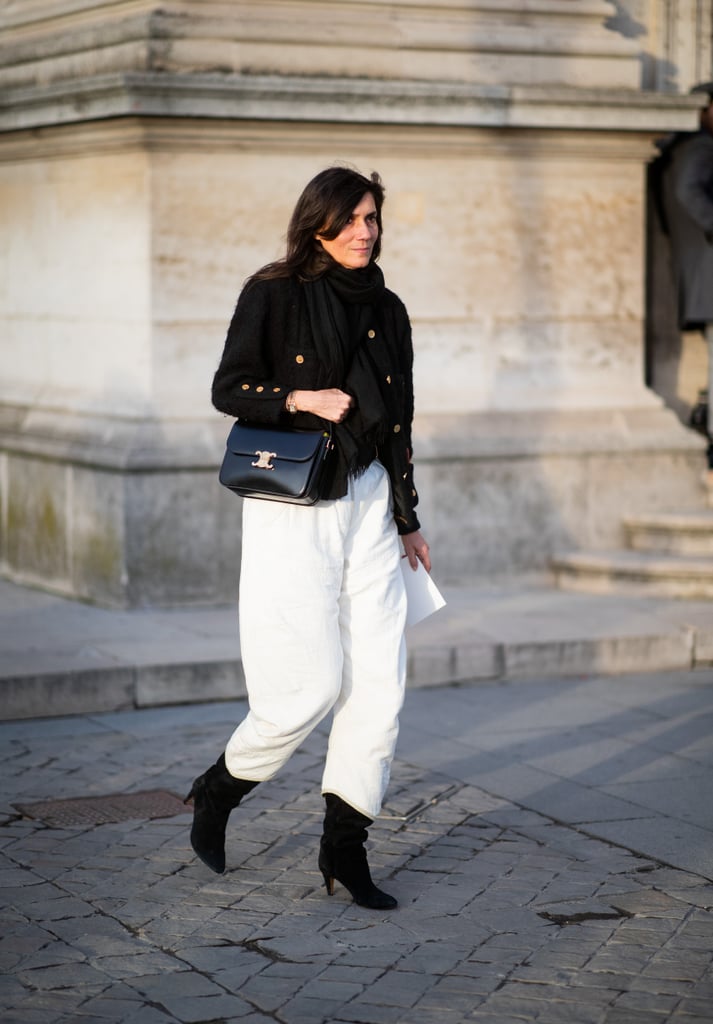 For French-girl chic, tuck a longer pair of wide-leg pants into your boots.
The perfect transitional outfit: cropped wide-leg jeans, a quilted jacket, and sandals.
For an athleisure vibe that's still polished, a cropped hoodie and kitten-heel mules feel easy, yet smart.
A classic trench coat tones down the effect of graphic stripes.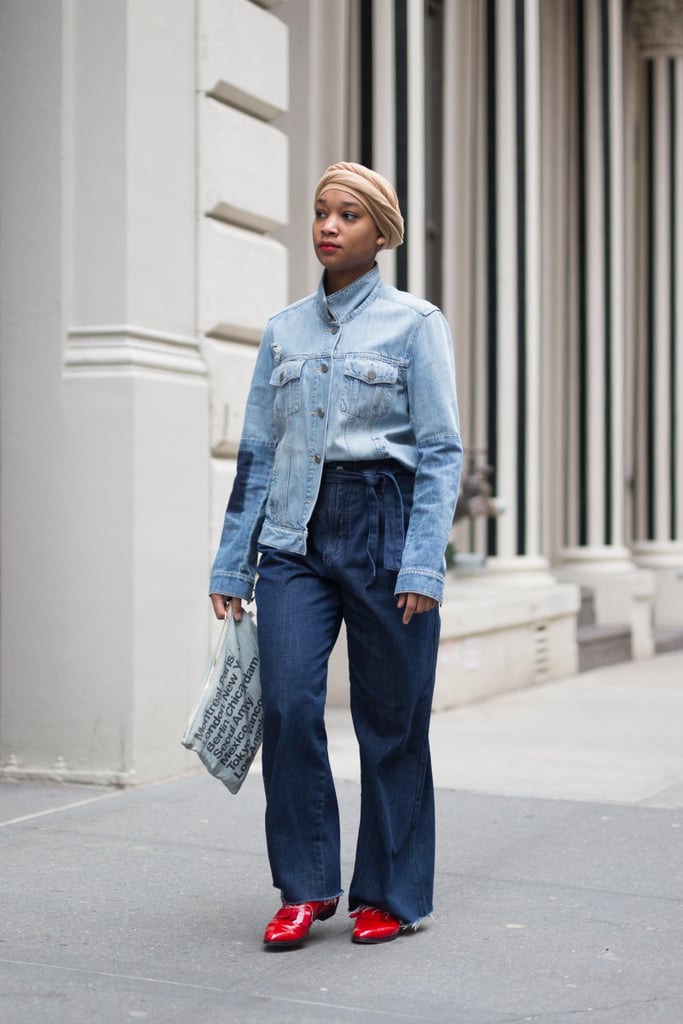 For a fresh take on double denim, half-tuck a denim shirt into wide-leg jeans and finish with bright red shoes.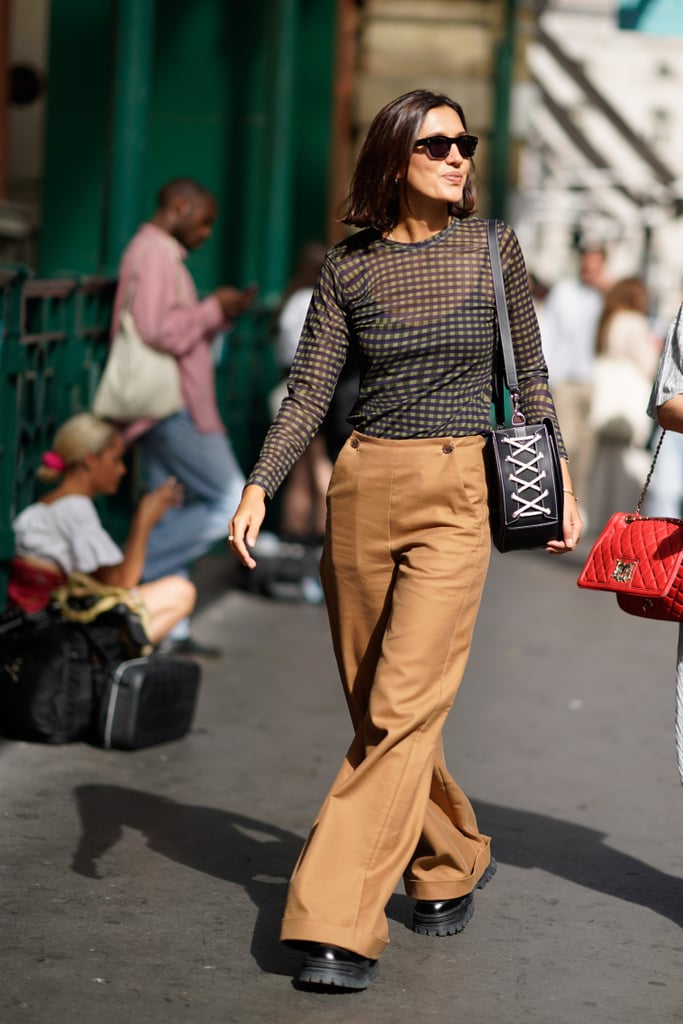 For '90s vibes, try a lug-sole shoe with wide-leg trousers.
POPSUGAR Wide-Leg Pants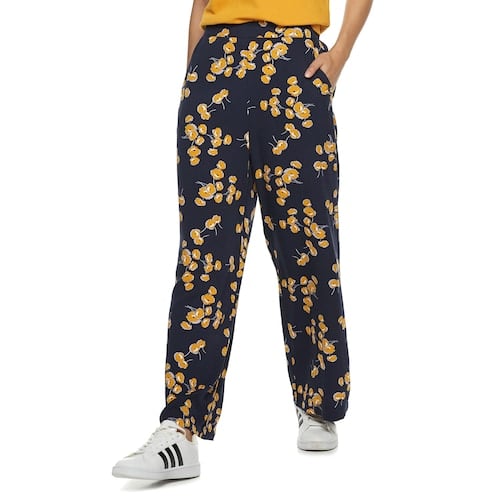 POPSUGAR Wide-Leg Pants [7] ($24, originally $30)
Plus Size POPSUGAR Paperbag-Waist Wide Leg Crop Pants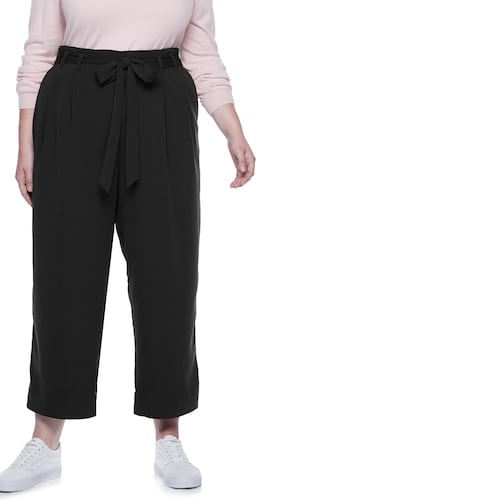 Plus Size POPSUGAR Paperbag-Waist Wide Leg Crop Pants [8] ($13, originally $54)
POPSUGAR Paperbag-Waist Wide Leg Crop Pants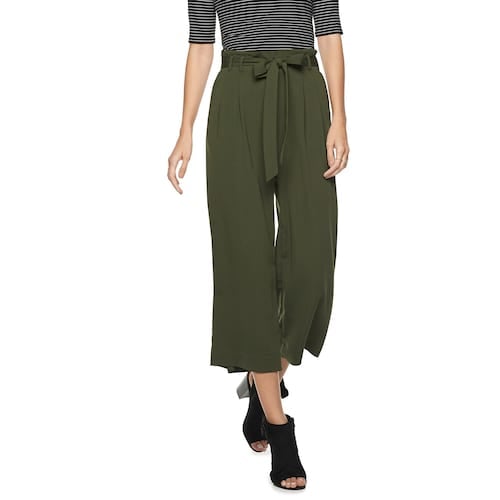 POPSUGAR Paperbag-Waist Wide Leg Crop Pants [9] ($50)
POPSUGAR Wide Leg High-Waisted Crop Pants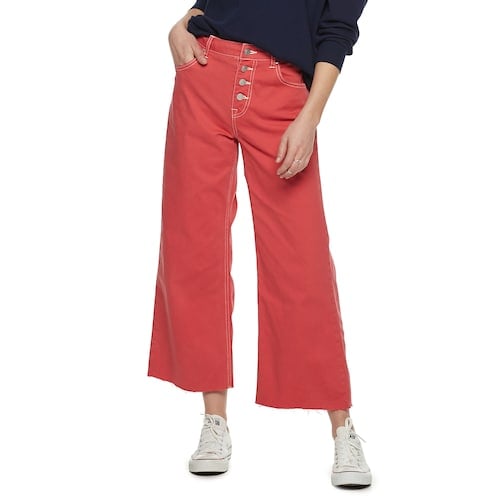 POPSUGAR Wide Leg High-Waisted Crop Pants [10] ($30, originally $50)
Plus Size POPSUGAR Paperbag-Waist Wide Leg Crop Pants
Plus Size POPSUGAR Paperbag-Waist Wide Leg Crop Pants [11] ($13, originally $54)
POPSUGAR High-Waisted Wide-Leg Pants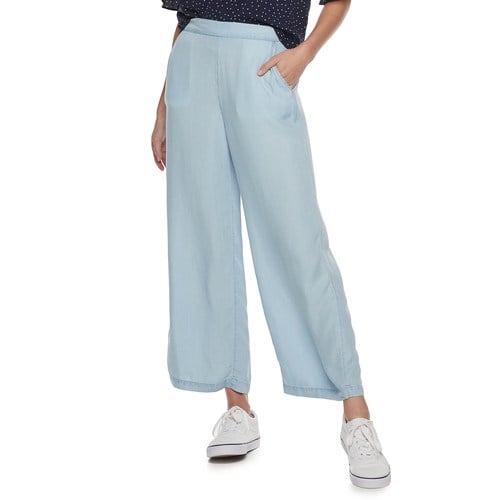 POPSUGAR High-Waisted Wide-Leg Pants [12] ($30, originally $50)
POPSUGAR High-Waisted Wide-Leg Pants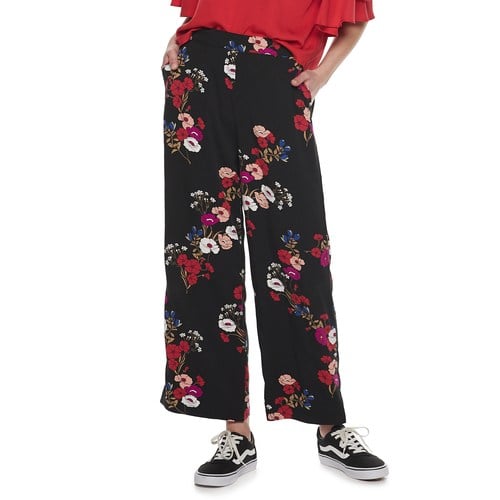 POPSUGAR High-Waisted Wide-Leg Pants [13] ($30, originally $50)
POPSUGAR High-Waisted Wide-Leg Pants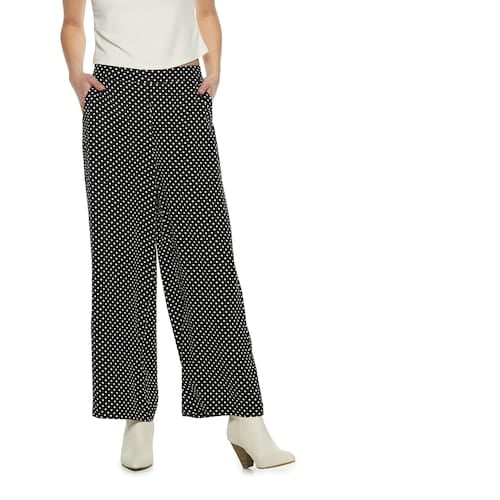 POPSUGAR High-Waisted Wide-Leg Pants [14] ($30, originally $50)
POPSUGAR High-Waisted Wide-Leg Pants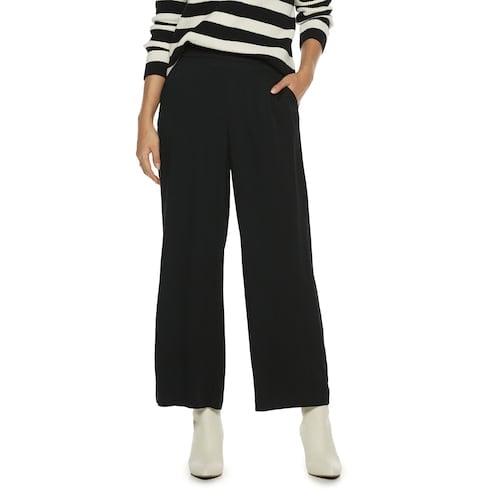 POPSUGAR High-Waisted Wide-Leg Pants [15] ($30, originally $50)
Plus Size POPSUGAR Paperbag-Waist Wide Leg Crop Pants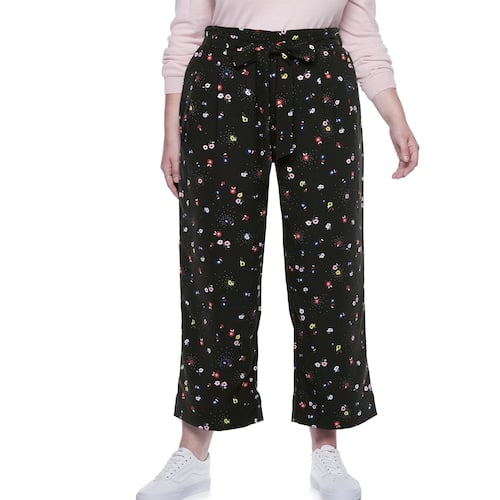 Plus Size POPSUGAR Paperbag-Waist Wide Leg Crop Pants [16] ($13, originally $54)
POPSUGAR Chambray Wide-Leg Pants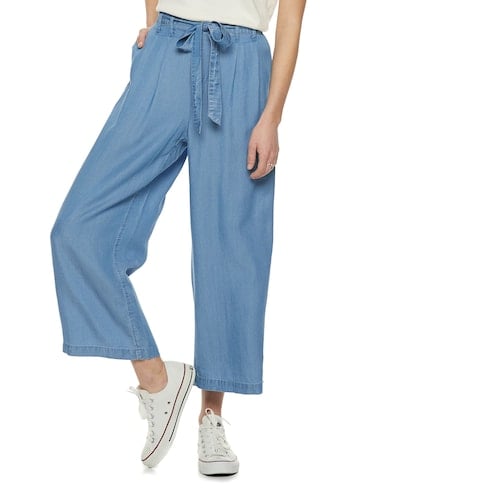 POPSUGAR Chambray Wide-Leg Pants [17] ($50)
POPSUGAR Paperbag-Waist Wide Leg Crop Pants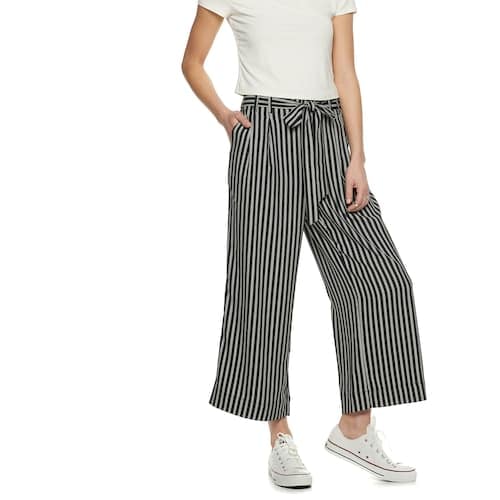 POPSUGAR Paperbag-Waist Wide Leg Crop Pants [18] ($50)
POPSUGAR Paperbag-Waist Wide Leg Crop Pants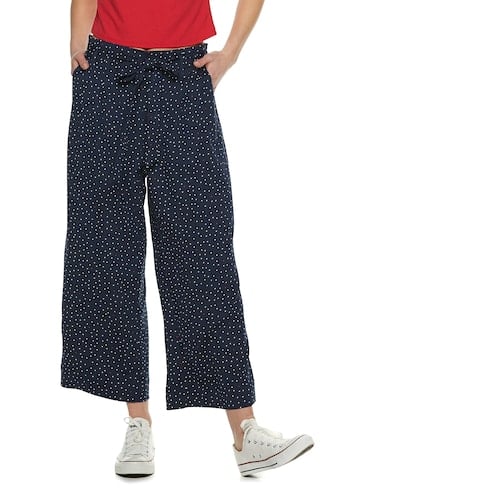 POPSUGAR Paperbag-Waist Wide Leg Crop Pants [19] ($50)
POPSUGAR Flare-Leg Crop Jeans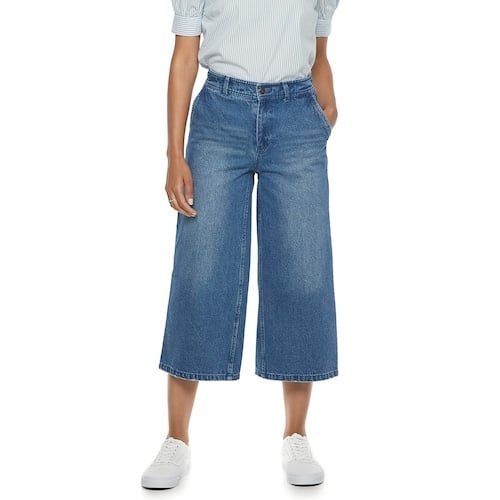 POPSUGAR Flare-Leg Crop Jeans [20] ($16, originally $50)
POPSUGAR Paperbag-Waist Wide Leg Crop Pants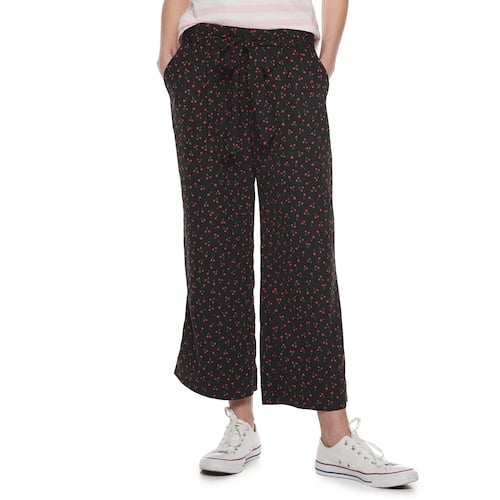 POPSUGAR Paperbag-Waist Wide Leg Crop Pants [21] ($50)