InStyle Magazine White Shirt
Get an Exclusive First Look at Your New Favorite Shirt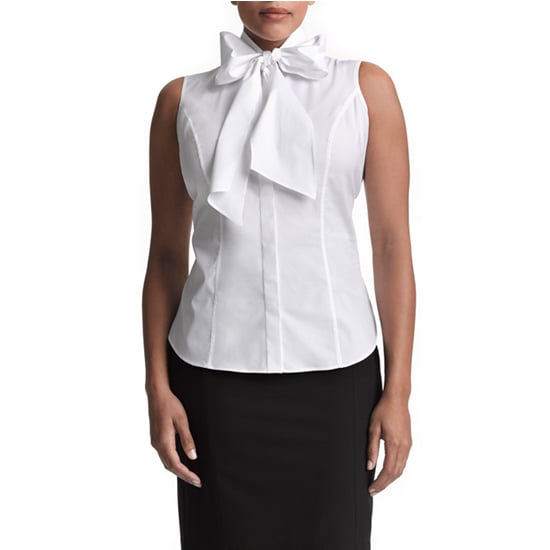 Whether you love button-downs or have had problems finding that perfect shirt in the past, throw away everything you knew about the white wardrobe staple! InStyle's latest release (aside from that mega 716-page September issue) is all you need to complete your workday, nighttime, and weekend looks.
How? The magazine partnered with the TrioFit team to develop InStyle Essentials. The Perfect White Shirt Collection ($60 each) includes a sophisticated Classic Button-Front, flirty Bow Blouse (above), and relaxed Weekend Tunic — all which fit flawlessly, thanks to patented technology that measures sizes (30 total) by bra measurements. That distinction, according to Drew Paluba of the team behind TrioFit technology Rebecca + Drew, "addresses a real problem with one of the building blocks of style."
Gone are the days of bunching and pulling at the chest, a common problem among InStyle readers, according to Deputy Editor Lisa Arbetter, who lists a top complaint as, "If it fits through the body, it pulls across the bust. If it fits the bust, it looks too big through the body." That's good news whether you're a 32B or 40H, because "a white button-down can go anywhere! Of course, you can wear it to work, but it also looks great casually . . . for evening, a classic button-front shirt with a sequined pencil skirt is a stylish look that is totally appropriate for night." Arbetter told us. Scroll down to see the two other styles you'll want to make your personal wardrobe staples!

Need extra styling advice? Take a tip from Arbetter: "I love the classic button-front with tuxedo pants and pointy-toe pumps."

"The tunic looks totally cool and effortless with loose leather shorts, booties, and a long necklace," Arbetter told us.