Inside "American Woman" on View at the Metropolitan Museum's Costume Institute
Inside "American Woman" on View at the Metropolitan Museum's Costume Institute
0
Inside "American Woman" on View at the Metropolitan Museum's Costume Institute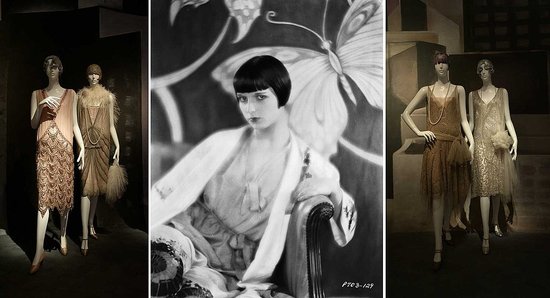 "American Woman: Fashioning a National Identity," the Metropolitan Museum's spring Costume Institute exhibit, kicks off tonight with an Anna Wintour, Patrick Robinson, and Oprah Winfrey hosted gala. Starting tomorrow, the Costume Institute will be open to the public. 
Sarah Jessica Parker narrates the 2010 exhibition, taking viewers through six archetypes of American femininity from the 1890s to the 1940s (The Heiress, The Gibson Girl, The Bohemian, The Patriot and The Suffragist, The Flapper, and The Screen Siren). As we walked from room to room during this morning's press preview, we watched new money princesses of the late Nineteenth century become athletic tennis-loving girls and, through the feminist movement, emerge as bobbed flappers and glamorous film stars.
The last room in the exhibition aims to bring one's gaze back to present day. "American Woman" by Lenny Kravitz plays on repeat along with a video installation created by Trey Laird. Images—mostly sourced from Vogue magazine—of actresses, athletes, reporters, models, politicians, and musicians (like Gwyneth Paltrow, Sarah Jessica Parker, Connie Chung, Janet Jackson, Oprah Winfrey, Condoleezza Rice, and Gwen Stefani) appear alongside sometimes curious video footage (Serena Williams celebrating on the tennis court, Halle Berry and Katherine Bigelow accepting Oscars, Beyonce's "Single Ladies" video). One can assume the viewer is meant to place these modern day American women neatly into the aforementioned archetype, where Michelle Obama becomes our Gibson girl and Angelina Jolie is the new screen siren.
The hand-painted rooms by Nathan Crowley, are a definite highlight—heiress gowns by Worth are presented in a replica of Mrs. Astor's drawing room, while the flapper dresses by Jeanne Lanvin appear in front of an Art Deco cityscape—as are the wigs and headpieces created by Julien d'Y.
"American Woman: Fashioning a National Identity" will be on view May 4 through August 15. The exhibition was made possible in large part due to a partnership with the Brooklyn Museum's Costume Collection, which is currently staging a parallel show on American fashion.
Source: Courtesy of John Kobal Foundation/Getty Images