Interview With Christian Cota and Photos of His Fall 2010 Collection
Fab Exclusive! Christian Cota, Fashion's Next Big Star (Is Already Working on a Lower Priced Line)
You may not be familiar with Mexican-born Christian Cota, but he's about to blow up. He always steps out of the black fashion box, experimenting with color, texture, and prints. And his Fall collection is a step beyond. Cota was inspired by cubism; he took his signature draping and reimagined it to bring us something more structured, more serious. Mineral tones reigned: ochre, crimson, purple, copper, lapis, onyx, and anthracite — cool metals and warm jewels. Socialite Lauren Santo Domingo serves as his stylist, and his presentation brought the whole Vogue crew to bid warm hellos, and oohs, and aahs.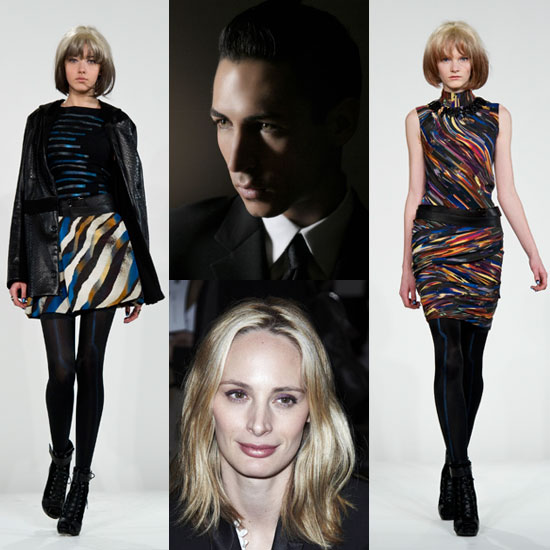 Subtle, sparkling jewelry was by Monique Pean, recent CFDA Vogue Fashion Fund runner-up. And the lace-up, suede, open-toe booties were Aldo (sweet!). Oh, and do you recall Carrie Underwood wore him to this year's People Choice Awards? I talked to Cota about that, and here's more juice.
Your collection has such a variety or textures, fabrics, and silhouettes.
Very boxy, lean silhouettes, with interesting texture and color. And very body-conscious, lean-fitting silhouettes. I wanted to do daywear, so with this jacket I did a wool coating but added some glitz and lurex feel, which I love. I really believe in having color and shine. Usually I do a softer, drapey silhouette, and this season I wanted to explore something more angular. It can still be beautiful and feminine but a little tougher.
To read the rest of my interview and to see the full Fall collection,
.
How did you team up with Lauren?
She was doing a shoot for Vogue. and it was in my showroom. I saw how she was working — she was on her knees, she was really working it — and I said OK, I want to work with you, and we've worked together three seasons now. And Lauren introduced me to the jewelry designer Monique Pean. These bracelets she's showing for the first time; she reworked some of her pieces for the show.
What's brewing in your world?
I actually have another collection I'm working on, in a lower price point. But for now I want to focus on getting into the stores I want and being true to who I am. On my website I am doing a bit of e-commerce; I select particular pieces to sell online, best sellers. I believe in growing that business more.
How did you feel when Carrie Underwood wore a dress of yours to the People's Choice Awards?
I was so excited because 1) she won, and 2) she got great reviews and response in it. I liked that it was a new style for her.
Don't forget to check out all of our New York Fashion Week coverage and follow my Fashion Week adventures on Twitter!