Interview With Taylor Momsen on Madonna Material Girl Collection 2010-07-28 11:00:22
Taylor Momsen Dishes on Madonna, Music, and Personal Style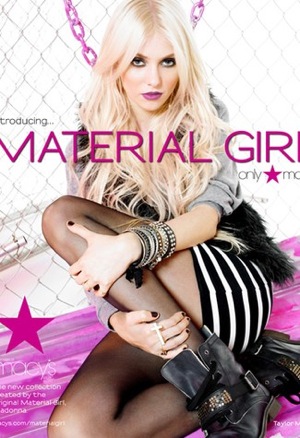 To no one's surprise, Gossip Girl's rebel child, Taylor Momsen, was revealed as the face of Madonna's Material Girl collection, bowing Aug. 3 at Macy's. So just how was she chosen by Madonna to be the face of the brand? "I was ecstatic to be asked. It's such an honor. It's Madonna. I was kind of shocked. She's amazing. The role entails doing the launch of the line on Aug. 3 at Herald Square. And I'll be tweeting and talking about the line. We did a photo shoot for the first pieces of the collection. It's a really great line. It's really cool," said Momsen.
Taylor on being a fan of Madonna's music and fashion.
All her songs are so great. They're so well crafted and really perfect, pure, pop genius. I'm a big fan of "Papa Don't Preach." I love that song. But really all of it is fantastic. She was the one who did it all first. She gave people like me an avenue to do what I'm doing. She was the one who started all the controversy to begin with. I'm a big fan of all kinds of vintage looks and altering them and making them modern. I don't know if I copy anything directly, but I like to mix and match and play around a lot.
Read more about Taylor on Madonna, music, and personal style.
Taylor on working with Madonna.
We worked on the photo shoot together, and Lourdes was there too. Lourdes and she styled it, along with myself. We collaborated on putting the pieces together and finding the right look for each shot. She was very down to earth. It was nice to see after all her success, she's still very grounded. It was cool to see her interaction with Lourdes. She's a cool mom. She shot a couple of the photographs herself at the end. She definitely has a vision and was very hands-on. It was really easy working with her. She's very comfortable to be around — very professional but a lot of fun. I'm very opinionated, so it was nice to work with someone who has such a direct vision and see how they accomplish that.
Taylor on her personal style.
Personal style is just that — it has to be personal. There are things that are inspiring and can give you ideas, but I don't really look at one person or one era. You have to make it unique to yourself. I don't really emulate anything in particular, I take from all different places.
Taylor on not needing a stylist.
I dress myself. But I also work with a local designer in New York who I'm friends with [named Stephanie Paterek]. We design pieces together. And I go shopping and find things I like.
Taylor on the pressures of getting style critiques from the press.
I don't read the critiques because they're always going to critique something. I just dress like myself. I don't really feel any pressure. People are always going to say something about that.
Taylor on her upcoming projects.
My record is coming out this summer, it's called "Light Me Up." So we're touring and playing in support of that. I'll be playing V Fest in England, so that will be exciting. And then coming to New York on Aug. 3 at Macy's. My record is something that I've worked on for a very long time, so it's definitely the priority for now.